Busy times: just three days after I saw Home Free in Hamburg and eight days after the Randall King show in Cologne, I had another concert coverage in my home town. Ron Pope was playing at the Artheater. Not only the main act, but also support Lydia Luce felt to guarantee an amazing evening on 23rd September 2023. Here is my concert report.
This posting comes with 155 major size pictures as part of the concert gallery.
Artheater – About The Venue
The Artheater is a rather intimate venue in Cologne-Ehrenfeld. The number I found regarding its capacity is 400, but they have several rooms in there – the venue itselffelt smaller. The Artheater is close to other key Cologne venues like the Helios37 or the Yuca Club. The public transport situation is excellent: the Cologne-Ehrenfeld station is roughly 100 meters away from the Artheater and drives regional and commuter rail connections. There is also a tram stop in close distance, Venloer Str. / Gürtel. Four tram / underground lines are servicing the station, namely 3, 4, 13 and 18. The parking situation is more challenging, though. A nearby hospital driving a parking garage is the best chance to park your car, likely.
Ron Pope – About The Artist
Ronald Michael Pope is the civil name of Ron Pope. The US Artist, who was born on 23rd July 1983, grew up in Georgia and later moved to Nashville.Not only that this songs have amazing streaming statistics, he is also having very frequent album and EP releases. Between 2020 and 2023, for example, he released three albums and four EPs. His 2023 album was named Inside Voices.
While Ron Pope is typically seen as a pop-rock artist, Lydia Luce is typically put into the folk and Americana genre. She is originally from Fort Lauderdale, Florida. Like Pope, she is now living in Nashville. Her discography includes two EPs and two albums. Her most recent release is the 2021 album Dark River. In this show, Lydia Luce
Ron Pope – The Show
Lydia Luce started right in time at 19:30. The venue was already rather packed, there was not too much space left in the Atheater. Luce, who was supported by producer and musician Paul Hammer on stage, played a rather intimate set with quiet and intimate songs. However, there were also some more energizing songs like Occasionally of her 2021 album Dark River. Luce also teased a song of her new album Florida Girl, which will be released on 27th October 2023. Between the songs, Luca shared some stories of her life, including breaking up with the man she finally married in 2022 or her addiction to German food. The 30 minute set closed right in time with Belly of the Beast – a song Luce likes to perform live on stage even though it has not yet been released on an album.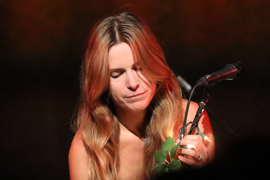 It's not just easier if your support act is (part of) your band – it also also leads to a shorter intermission. Already at 20:15, Ron Pope stepped on stage, accompanied by Hammer and Luce. The opening song was the Bruce Springsteen classic I'm on Fire. Similar to Luce's set, there were majorly quiet and intimate songs. Pope took quite some time and told stories about the songs. For example, he explained that playing FIreflies finally saved his career. Another nice story was when, before playing One Grain of Sand, Pope explained that the studio they recorded the Atlanta album in was next to a bakery. They had a lot of their products during the recording. At one point of the show, the spectators had the opportunity to vote for a song late for the set. The majority went for Cinnamon. Overall, a very versatile set closed at 21:38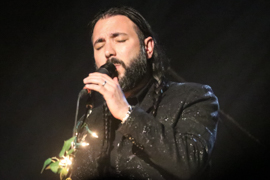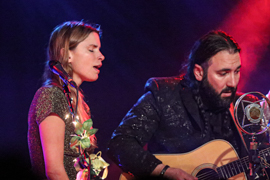 Ron Pope – The Gallery
Here are 155 major size pictures of the show. They are located in the concert gallery:
Ron Pope – My View
Ron Pope celebrated a really lovely concert. The narrow conditions in the club might not always reflect that in the pictures. Both shows, the main act and Lydia Luce, presented beautiful, personal songs, which the fans enjoyed as much as I did. There were just a few minutes to dance and have a relaxed times, but these were also not the moments, which drove the evening.
Cologne Concerts
Here are all my concert reviews related to Cologne:
Travel (Nashville)
Here are all my travel postings related to Nashville: