Holly Humberstone is a BRIT Rising Star Award winner (in 2022) and the BBC Sound 2021 runner-up. That already illustrates that the rather young and emerging artist is already having quite a reputation in your home country. In order to underline that, there is not only quite a global tour,(see below), but also her debut album Paint My Bedroom Black. After I have featured the artists a few times in my Songs of the Week already, I was really looking forward to this 13th October 2023 release.
Holly Humberstone – About The Artist
The first time I introduced you to Holly Humberstone I told you that I might simply feel a connection to her is because she is from Grantham. The English city in Lincolnshire, where she was born on 17th December 1999, is the sister city of German town Sankt Augustin near Bonn, where I grew up. Humberstone wrote songs in early years already. In 2019, she played at Glastonbury for the first time. Her music is a mixture of pop and rock elements and also has a rather typical synth and indie sound. In 2020, she released her first EP, Falling Asleep at the Wheel, followed by The Walls Are Way Too Thin the year thereafter. The title track of the latter was also her best chart placement so far – the song peaked 26th in the United Kingdom. However, it has 60 million streams roughly on Spotify. The two EPs have been merged to a collection, Can You Afford To Lose Me? in 2022.
Holly Humberstone – Paint My Bedroom Black – Track by Track
The thirteen song album lasts 42 minutes.
1. Paint My Bedroom Black
The album opens with the title track. The song has a nice bassy groove, while Holly's vocals lead to a very fragile and fine sound. That's finally one of the key strengths of the album – there are some catching elements for any kind of listener.
2. Into Your Room
So, maybe, take me into your room
Without you, my soul is eternally doomed
You're the centre of this universe
My sorry ass revolves around you
No, I can't do without you
The second song is creating a very strong atmosphere with a touch of melancholy, while the steady drum in the background is driving the song in an almost threatful way. Here and there, the instruments completely stop and the song is fully focusing on the artist. There is always something going on in this song – and this turns it into a beautiful, multi-faceted listen.
3. Cocoon
Cocoon is the first song on the album, which has not been released as a single. In the chorus, Humberstone states I'll break out this cocoon and take the car out for a drive. The song is a pop track, which is also having rock and folk elements. However, on top of the strumming guitar style, there are always some synth elements. Nice.
4. Kissing In Swimming Pools
If you need another proof that Holly Humberstone is not "another new pop artist", I recommend you to start with this song. The ballad-esque setup opens the song for a 4:48 minute listen. The song has a lovely dramatic setup and a great way of telling its story in an intense style – even though it does not need too much support on the melodic and instrumental side.
5. Ghost Me
Ghost Me is a rather straight modern pop track. Again, the drumming is driving the song like a fast train. The chorus of the fifth song is a beautiful listen.
6. Superbloodmoon (feat. d4vd)
This former single release has been recorded in collaboration with US-American singer d4vd. I like the duet parts, where the two, rather gentle and fine, voices are meeting. Apart from that, the song feels very soulful. I would rather like it without the synth parts at the end, though.
7. Antichrist
Am I the antichrist?
How do I sleep at night?
Just need to escape my mind
I guess it figures
In the seventh song, Humberstone is dealing with the struggle after a break-up. While the stanzas make you feel the despair strongly, the core of the chorus is surprisingly melodic.
8. Lauren
While many songs of the Paint My Bedroom Black album feel rather mid-tempo or even slow. the agitated rhythm of Lauren almost leaks to a hectic listen. Unfortunately, I the drumming also feels a bit too present to me. Bad luck, the song comes with some nice elements – like the organ-alike finale.
9. Baby Blues
Just being 78 seconds long, the track does suggest to be an interlude majorly. But there is quite some contents in it. Nonetheless, I guess that is rather a track which does not finally make it on your playlist.
10. Flatlining
And we just can't be friends anymore
Did I use you 'til your heart turned black?
No, there's no coming back from that
The sound of the chorus is touching house music and other electronic music styles. Overall, Flatlining feels very experimental and changes its style rather frequently. Very interesting listen.
11. Elvis Impersonators
This song deals with the mental health issues of her sister. The song focuses on the short message in the chorus I can't be without you in the chorus, while the remaining lyrics feel very intense and touching. Great recording.
12. Girl
And in a perfect world, I'd be your girl – the first words of the chorus already tell you the topic of the songs. Lines like Just wanna be your only or I'm helpless in your gravity illustrate the very metaphoric and personal style of this song and finally also the whole album.
13. Room Service
Room Service seems to be the perfect farewell from this debut album. The song is a rather slow, coming with a beautiful story. We'll take a trip to a place with a view
But, stay inside, watch the TV. And of course, We'll get room service. Nice song, which again has a strong folk music touch due to the dominant acoustic guitar sound.
Holly Humberstone – Paint My Bedroom Black – Spotify
Here is Holly's debut album on Spotify:
Holly Humberstone – Paint My Bedroom Black – My View
Paint My Bedroom Black is indeed a lovely album by Holly Humberstone. It feels very straight and personal, but also comes with a lot of variety and surprising moments. It is never aggressive or too loud, so that it also stays at a very intense, but pleasant level. I absolutely enjoyed it.
Favorite Song: Elvis Impersonators
The Holly Humberstone Show 2024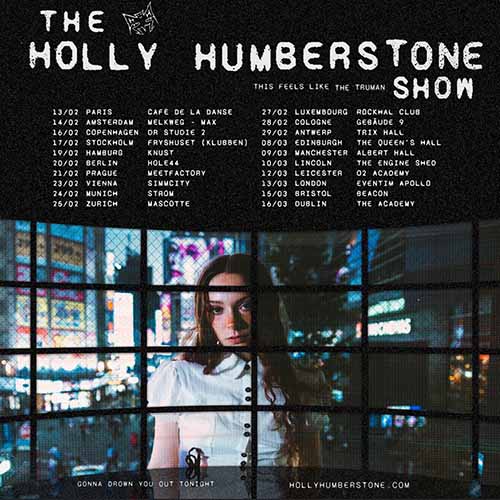 Australia, Japan… and Europe. Holly Humberstone is going on a major travel in early 2024. Here are her European tour dates for next year:
2023 Debut Album/EP Reviews
Here all my Media Reviews of 2022, which feature debut albums and EPs:
Flyctory.com in Bonn
Here are all postings related to the former German capital Bonn: