Last week only, I had to cancel or rebook four trip due to Covid-19 related reasons. Three of them included U.K. shows of my favorite musical Rock of Ages. I introduced it to you in a posting about the previous U.K. Tour, which also brought the English version of the musical to Berlin for the first time. Due to the massive pandemic issues in the UK, they had to postpone the re-start of the show after a Christmas break from mid of January to at least end of April 2022.
That also leads to the funny fact that I am today scheduled to see the first show after Christmas 2021 not any more in Inverness, Blackpool or in Peterborough… But in fact in Pinneberg, a city Northwest of Hamburg. This year, Rock of Ages is surprisingly frequently played on German stages. Some of the ensembles are hobby groups or semiprofessional. On top of that, British musical actors are typically much better trained than German ones. Nonetheless, some of these performances might finally be quite charming. I really liked the one I visited in Zons in 2019. In this posting, I introduce you to the German and Central European shows scheduled for 2022. I may update this list from time to time. Please make sure to regularly check if shows in fact take place – Covid-19 is causing quite a lot of postponements in here. There are also some local shows in North America
Rock of Ages in Germany / Central Europe 2022
Here are the appearances of the musical I found so far for 2022:
March / April 2022 – Pinneberg (near Hamburg, Schleswig-Holstein)
As said above, this will be the first Rock of Ages musical show I will attend in 2022 (under the current planning). The ensemble called Musical-Company Pinneberg seems to be quite well reputed in the greater Hamburg area. The venue is a stage within a hotel / restaurant not too far from Pinneberg station. I was also surprised about the large number of shows they are planning to give. Look forward to see the final two ones.
Show facts:
| | |
| --- | --- |
| Ensemble: | Musical-Company Pinneberg e.V. (hobby theatre?) |
| Venue: | Hotel Cap Polonio (stage within a hotel/restaurant) |
| Dates: | Daily 19:30 shows (10 total) between 24th March 2022 and 2nd April 2022 |
| Tickets: | 22 Euro |
| Remarks: | |
| Website: | Ensemble / Ticket Shop |
April 2022 – Holzwickede (near Dortmund, Northrhine-Westfalia)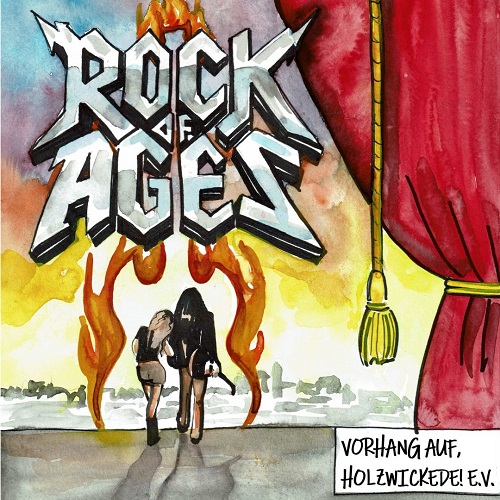 Vorhang auf Holzwickede e.V. is a hobby musical group, who have quite a lot of shows in April 2022 near Dortmund in Germany. The venue right next to Dortmund Airport (DTM) is also quite interesting: the Kinderglück-Halle (namely: "Children's Luck Hall") feels to be a charity place.
Show facts:
| | |
| --- | --- |
| Ensemble: | Vorhang auf Holzwickede e.V. |
| Venue: | Kinderglück-Halle Holzwickede |
| Dates: | Ten shows: 8th to 10th, 13th, 16th to 18th, 20th, 22nd and 23rd April (most shows 19:30, apart from Sunday / Easter Monday) |
| Tickets: | 20 to 24 EUR |
| Remarks: | |
| Website: | Ensemble (with Ticket Shop) |
April 2022 – Warsaw (Poland)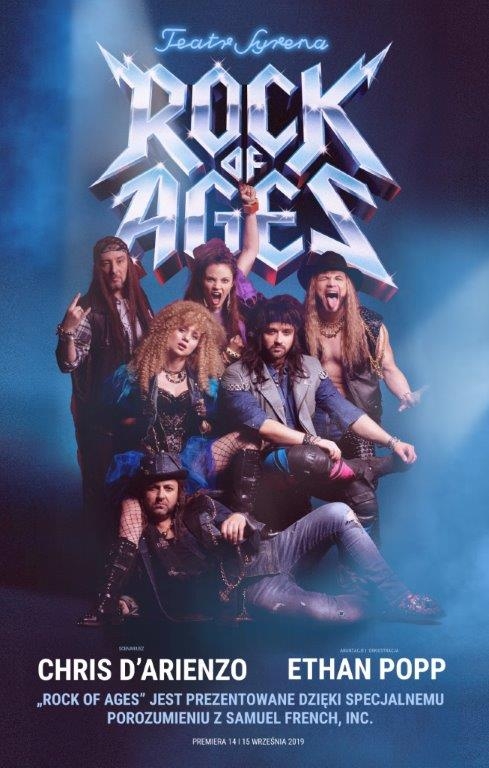 Rick of Ages has been shown in Polish already in 2019. I always dreamed to be there. Unfortunately, the shows scheduled for 2022 do not match my schedule too well, as I am out with the Weird Al Yankovic Tour 2022 most of the time. I am aiming to squeeze in one show, though. Will be a cool experience – I saw the musical so far only in languages I speak (German, English) or at least quite well understand (Swedish). Polish will be very differnt. The Teatr Syrena in the heart of Warsaw seems to have a good reputation and an interesting repertoire of shows – so that could be fun.
Show facts:
| | |
| --- | --- |
| Ensemble: | Professional ensemble (language: Polish) |
| Venue: | Teatr Syrena |
| Dates: | Seven shows: 21st to 24th April 2022, 28th to 30th April 2022 (19:00) |
| Tickets: | between 130 PLN (29 EUR) and 90 PLN |
| Remarks: | |
| Website: | Link |
May 2022 – Eichstätt (near Ingolstadt, Bavaria)
The people around Eichstätt near Ingolstadt seem to praise this hobby ensemble, who do stage, music and acting all by themselves. The ticket pre-sale has not started yet. I saw a price of 19 EUR on a city marketing website, though. I hope to make it to one of their shows, which feels to promise quite a lot of fun.
Show facts:
| | |
| --- | --- |
| Ensemble: | MuT e.V. ("Musik und Theater Eichstätt), hobby ensemble |
| Venue: | Boxerhalle Eichstätt |
| Dates: | Seven shows: 6th, 7th, 13th, 14th, 25th, 27th, 28th May 2022 |
| Tickets: | No presale yet |
| Remarks: | |
| Website: | Link / Facebook site |
June / July 2022 – Zwickau (Saxony)
My guess is that these four shows in Zwickau could be the best performance you see of Rock of Ages on German grounds in 2022. They did the show before and now head to four open air stage shows in late June / early July 2022. It is quite a challenge to reach Zwickau from Cologne, so that I am not sure whether I will finally make it there.
Show facts:
| | |
| --- | --- |
| Ensemble: | Theater Plauen-Zwickau, professional theatre |
| Venue: | Freilichtbühne am Schwanenteich |
| Dates: | Four shows between 30th June and 3rd July 2022 (19:00, Sun 15:00) |
| Tickets: | Ticket sale not yet open |
| Remarks: | Open Air Stage |
| Website: | Link |
July 2022 – Georgsmarienhütte (near Osnabrück, Lower Saxony)
A show which is not too far away is the the one at Waldbühne Kloster Oesede, an open air stage in Georgsmarienhütte South of Osnabrück. There are quite a lot of shows. Some things feel a bit weird: Franz and Hertz are Dutch people in this interpretation and the cast list is also stating the role of Angelenos, which I am not really sure what that will be like. At least they have a Kellnerin #1, a "Waitress No.1", so life won't be too bad. Quite a lot of shows spread over a decent period of time. the venue looks beautiful, indeed.
Show facts:
| | |
| --- | --- |
| Ensemble: | Cast list available here (like semi-professional to hobby artists) |
| Venue: | Waldbühne Kloster Oesede |
| Dates: | Overall, twelve shows between July and September 2022 |
| Tickets: | 20.30 EUR |
| Remarks: | Open Air Stage |
| Website: | Link |
July 2022 – Zwingenberg (near Heidelberg, Baden-Wuerttemberg)
The Schlossfestspiele Zwingenberg are highly likely the most beautiful venue of all Rock of Ages shows listed in here. The venue is an open air stage in a castle right at River Neckar (please be aware that there are several cities in Germany called Zwingenberg, the postal code is 69439). The infrastructure will be a bit of tricky here. There are just small bed&breakfasts around, the train schedule does not allow you to leave the place after the show by public transport. However, beautiful Heidelberg, Sinsheim and Heilbronn are around. You will need a (rental) car to reach this place, though, definitely.
Show facts:
| | |
| --- | --- |
| Ensemble: | Professional cast |
| Venue: | Schloss Zwingenberg |
| Dates: | Six shows (20:30) between 27th July and 31st July 2022, Sat 18:00 and 22:00 hrs |
| Tickets: | Not available yet, presale in March |
| Remarks: | Open AIr Stage within a castle |
| Website: | Link |
Last, but not least, the U.K. Tour
In general, I can highly recommend to travel see the U.K. Instead of finishing in September 2022, Rock of Ages is currently expected to tour until July 2023. I will be at a couple of venues. At the time of publishing this posting, I still expect significant changes to the tour plan.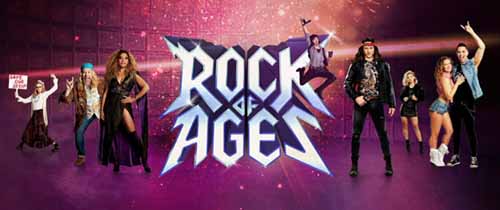 | | | |
| --- | --- | --- |
| 27 to 30 Apr 2022 | Woking – New Victoria Theatre | |
| 03 to 07 May 2022 | Crawley – Hawth Theatre | |
| 10 to 14 May 2022 | Edinburgh – Playhouse | |
| 17 to 21 May 2022 | Cardiff – New Theatre | |
| 24 to 28 May 2022 | Aylesbury – Waterside Theatre | |
| 31 to 4 June 2022 | New Brighton – Floral Pavilion | |
| 7 to 11 June 2022 | Wellingborough – Castle Theatre | |
| 14 to 18 June 2022 | Portsmouth – King's Theatre | |
| 24 to 25 June 2022 | Southhampton –  Mayflower Theatre | |
| 5 to 9 July 2022 | Southend – Cliffs Pavillion | |
| 23 to 27 Aug 2022 | Inverness – Empire Theatre | |
| 30 Aug to 3 Sep 2022 | Glasgow – Kings Theatre | |
| 6 to 10 Sep 2022 | Sunderland – Empire | |
| 20 to 24 Sep 2022 | Poole – Lighthouse | |
| 7 to 11 Feb 2023 | Bromley – Churchill Theatre | |
| 14 to 18 Feb 2023 | Aberdeen – His Majesty's Theatre | |
| 20 to 25 Feb 2023 | Blackpool – Winter Gardens | |
| 2 to 6 May 2023 | Llandudno – Venue Cymru | |
Title picture: Rock of Ages UK Tour Banner
All pictures and logos in this posting are taken from the respective websites and are under the theatres / producers copyright
Postings with Tour Dates
Here are all Flyctory.com postings, which include tour dates:
Flyctory.com in Greater Los Angeles
Here are all Flyctory.com postings related to Greater Los Angeles: