The German artist Det Haggard is a new name in the German lyrics country music scene. After he had some success with the single release Blinker Raus, he is releasing his debut album Teamwork 2.0 on 15th October 2021. Here is my review.
Det Haggard – About The Artist
Det Haggard is a German country singer. His artist name is a reference to his first name Detlef and to his favorite country music artist, Merle Haggard. Even though Detlef Hagemeyer, which is his civil name, worked in several bands in the Ruhrgebiet region, Teamwork 2.0 is his debut album under this solo alias. Nowdays, he feels to live in the Hamburg region.
Det Haggard – Teamwork 2.0 – Track by Track
The album contains 17 songs. The total playtime is 55 minutes.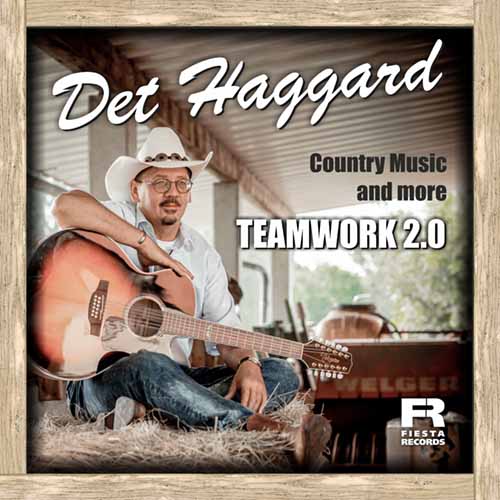 1. Echtes Teamwork
My first getting in touch with Det Haggard. The song is having a very traditional sound like Truck Stop is promoting in Germany. No chance for music listeners to lean modern country music styles. At least, the track is not feeling too schlager-like. Nice vibe, good instrumental work. Quite a good starting track.
2. Ich komm nie richtig an
The second track has a slight touch of rock – the guitars are just a bit more present than in the song before. Nonetheless, you just recognize that Det Haggard is a Truck Stop fans – both songs just have that special "German country signature". At least it really feels like honest, personal songs –
3. Ehrbares Mädchen
After the first two songs don't even make it to a duration of three minutes, this "honorable girl" has a presence of four and a half minutes – the longest song of the album. The album is made for traditional country listeners, the song is overall really nice. Good vocal performance, relatable song and – again – versatile stories so that you don't feel to listen to other genres, recorded in country music style.
4. Blinker raus
This song has already been one of Det Haggard's singles and received a bit of reputation. The song is catchy, but the lyrics feel a bit too simple to me. Thus, I struggle a bit with this one. If you don't speak German, though, it may be one of your favorites – the song, indeed, has a nice vibe.
5. Aus den Augen
I feel it is a bit of sad that on the one hand, the lyrics cover a quite range of topics – this one is about friendship, for example. The melodies, on the other hand, feel too close to me. However, the song somehow stays in your mind.
6. Sturm, Wind und Regen
Stum, Wind und Regen
Lässt mich nicht untergehen
Hab für alle mein bestes gegeben
Doch von dem kann man nichts sehen
("Storm, Wind and Rain
Does not let me go down.
I have done my best for everybody,
but you cannot see all that.")
This song is about pursuing your dream, even though it makes you lonely. To me, the song illustrates the strength of Teamwork 2.0 – even though Det Haggard is not the author of most tracks, the album is a great collection of very different, very personal stories. Even though this track is having this schlager music touch in the melody, which I typically hate in German country songs, I really like this song.
7. Beste Freunde
In this song, Det Haggard reminds me of great German singer-songwriters like Reinhard Mey. Especially the verses are really good – I would have loved the song about about "Best Friends" to also be in the chorus in that style.
8. Endlich wieder auf Tour
Wann geht es endlich wieder auf Tour – "When will I be back on tour again?" is the eighth song of the album. The song is praising being a country music artist. Even though some of the rhymes feel a bit of too set up, the song is actually not too bad.
9. Die Nadel im Heu
I am sorry to say that, but the way the song is arranged in the verses and the way Det Haggard is singing strongly reminds me of German party schlager singer Christian Steiffen. Luckily, the Osnabrück artist would not perform the chorus like Det Haggard does in Die Nadel im Heu.
10. Wozu soll ich weinen
Wozu soll ich weinen?
Mädchen gibt es doch wie Sand am Meer
Nur Männer gibt es keine wie mich
Da lauf ich doch nicht einer hinterher
("Why should I cry
There are girls ten a penny
But there are no men like me
Thus, I am not running after a single one")
While I typically rather struggle with the melodies of Det Haggard songs rather than his lyrics, songs like this make me change my thoughts about that. One of the songs I can least identify with.
11. Auf dem Weg
Song number #11 now – and there is more and more this "Didn't we have a song like that?" feeling. I am looking for various songs, for a surprise. I simply feel that producers nowadays just don't dare to be a bit of different.
12. Das Glück trägt Deinen Namen
So good to have the first real ballad on the album now – this adds a different flavor to the album. Even though the love song is one of the weakest vocal performances on the album, I absolutely appreciate this moment.
13. Mittendrin
Why now? After the emotional ballad, Mittendrin has a lot of power, much more feels like modern country than any other song of the album. To be straight, I wonder how many listeners really make it to the twelfth and thirteenth track to see that Det Haggard may sound well in very different songs. What a shame.
14. Die guten alten Zeiten
Just after these two contrasting songs, I had to look up whether Die guten alten Zeiten is a Truck Stop cover. The song feels that much like the country legends. It's no cover – and the longer the song lasts, the more it develops really good lyrics.
15. Wir sind Cowboys keine Indianer
With the clapping in the background, you feel that this song could be a live recording. The song has a nice vibe, the song is full of male stereotypes like strength, not crying or complaining. Nashville doesn't do better in that regard, unfortunately. Country music is likely one of the most stereotype genres – why should that be better when being "Made in Germany"?
16. An deiner Seite
An Deiner Seite is the only song apart from Blinker raus, which has been released before the album. A rather slow tempo country music song with a ballad touch. Good listen.
17. Ich bin dein Mann
Det Haggard meets Josh Turner – right after the the Nashville artist released his Christmas album, the German artist covers his Your Man. Nice version, good vocals. Definitely rather on the "makes me smile" side of life.
Det Haggard – Teamwork 2.0 – Spotify
Here is Teamwork 2.0 on Spotify:
Det Haggard – Teamwork 2.0 – My View
In general, I like what Det Haggard is doing. I would just ask for more power, more daring to move out of the comfort zone. And maybe taking care that the lyrics and songs are not getting too thin. Teamwork 2.0 can too easily feel monotonous. Bad luck, as there are some really nice hidden pearls it it.
Country Music in Germany
Here is any Music & Media posting related to country music and Germany on Flyctory.com:
Car Rental Reviews
Here are all my car rental reviews so far: