Joe Bonamassa meets Abbey Road studios? This definitely sounds like an interesting co-production of two legendary parts of music history! The somehow never-relaxing blues rock giant is back with his new Royal Tea album – and he recorded it where the Beatles or Pink Floyd did it as well. The album has been released on 23rd October 2020.
Joe Bonamassa – About The Artist
Joseph Leonard Bonamassa was born on 8th May 1977 in New Hartford, New York, USA. He founded his own band, smokin' Joe Bonamassa, at the age of twelve and had roughly twenty opening gigs for B.B. King in the same year. Nonetheless, his debut album, A New Day Yesterday has been released some eleven years later, in 2000. The album got quite some reputation in Germany especially, where it peaked 13th in the charts. This was definitely no international breakthrough, as his following four albums all struggled to create measurable chart positions at all – only the last one of them, You & Me ranked in the Top 100 of the Netherlands. With the 2007 album Sloe Gin, this very slowly got better, but Bonamassa had to wait until 2011, when Dust Bowl was the first album to make it into the Top 10 of an international album chart (Germany #10, Norway #7). Even though he is having huge international reputation among the critics, his chart success is limited – his 2016 Blues of Desparation has been the only long player so far which hit the top of any album chart (Switzerland). Royal Tea is Bonamassa's fourteenth studio album (on top of four albums where he collaborated with other artists and 17 live recordings).
Joe Bonamassa – Royal Tea – Track by Track
The ten song album lasts 53 minutes.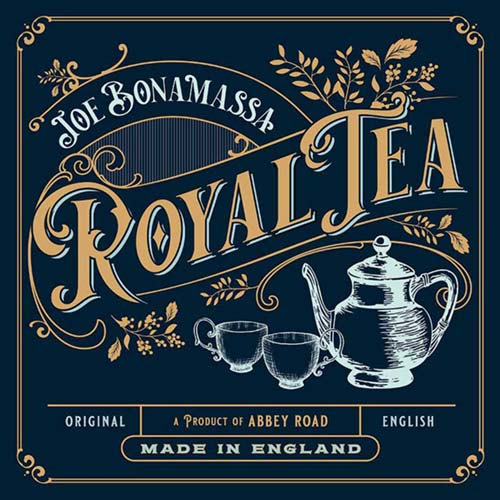 1. When One Door Opens
Royal Tea starts epic: When One Door Opens incepts with orchestral sounds, but more and more turns into a rock slammer with a lot of power – to become nice and quiet in the very final minute. Very final one? Yeah, this tiny little masterpiece lasts more than seven and a half minute.
2. Royal Tea
Blues rock? Blues rock! While the first track has rather been something like an orchestral-rock-symphonic epic track, Joe Bonamassa is doing what you would expect of a Bonamassa track on the title song of an album. Powerful, slow, a touch of marching forward on and on with catching backing vocals. Genius.
3. Why Does It Take So Long To Say Goodbye
The level of blues is increasing, less rock than before: Why Does It Take So Long To Say Goodbye is powerful, rocking, has different parts like a small symphony in its own – to make it short: it is just another fantastic composition, in which Bonamassa deals with the split from his girlfriend.
4. Lookout, Man
Oh, berry in the champagne
Messing up my campaign
No shame in the fame game
Cause look out, here I come
The song has a strong bass line, which gives it a slightly darker touch.
Look out, man, I'm as quick as I am fast
Look out, man, just ask the Caveman
Look out, people, don't keep me in a cage
Look out, people, the storm's about to rage
5. High Class Girl
I'm a different breed of brother
Don't believe me, ask my mother
I'm a stone-crazy roll another girl off my shoulder
As evil as I can be
You're a high-class girl
Low-class ways
If I stay any longer and I sit and I wonder
Gonna throw it all away
That's how love affairs sound in the Joe Bonamassa world of music. Reese Wynans on the keyboard has to work a bit harder on this track (and therefore receives a bit more presence).
6. A Conversation With Alice
I'm growing old and I'm weary
Sick and tired of tired and sick
My conversation with Alice
Was the best thing I ever did
The song starts with a guitar intro but then turns into a rather soft track. The song strongly reminds me of some Mike & the Mechanics songs: very melodic, but still powerful – and all of that in the just-expected Joe Bonamassa musical quality.
7. I Didn't Think She Would Do It
Angry, powerful – I Didn't Think She Would Do It is blues rock at its best. Really amazing sounds on the guitar as well as on the keyboard. The track is just at top level.
8. Beyond The Silence
Quite a contrast to the track before: after so much power in I Didn't Think She Would Do It, Bonamassa takes us on a trip Beyond The Silence. The first two minutes of this route are very quiet, before scattered powerful elements break into these silent atmosphere. Beautiful.
9. Lonely Boy
Being in some sort of meditation mood after Beyond the Silence, I had to smile when Lonely Boy started – the rock'n'roll, swinging style of this song has just been such an surprising atmospherical change to me. WIth 4:06 minutes, it is the shortest song on the album – but it just makes you move and smile, so it is some sort of hidden hero of the whole Royal Tea collection.
10. Savannah
For sure, I am open to any kind of surprise now – and Savannah just hits another genre on Royal Tea – it is just a beautiful country song. This guy can play all kind of tunes. Yee-hah, Mr Bonamassa!
Joe Bonamassa – Royal Tea – Spotify
Here is the Spotify widget to Royal Tea:
Joe Bonamassa – Royal Tea – My View
Wow, this is just a statement of outstanding talent! Joe Bonamassa just does not have his typical genres blues and rock in his Royal Tea, but is even touching hard rock elements in the opener or country music in the final track of his album. He is a globally successful artist, but somehow this album makes me feel again that he even deserves more love from the world of music listeners than he actually is receiving already. Close to a masterpiece, for sure.
Top Pick US Media Reviews
Here are all other US media reviews, which have been awarded with Top Pick! status:
Flyctory.com in Amsterdam
Here are all Flyctory.com postings related to Amsterdam: