If someone is publishing his/her 16th studio album, you must already be quite a constant in the music business. Country singer and songwriter Tracy Lawrence did so on 16th August 2019, publishing his Made in America. Here is my review.
Tracy Lawrence – About the Artist
Tracy lee Lawrence was born in 1968 in Atlanta, Texas. Though he started performing at the age of 15, he moved to Nashville at the age of 32 and published his first album, Sticks and Stones, one year thereafter. He had two double-platinum records, Ailbis and Time Marches On, both dated as of the 1990s. Overall, there are more than forty chart entries. Seven of his solo recording songs topped the US Country Charts, six the Canadian ones. His last song doing so in the States, though, was Texas Tornado of 1995. In 2006, though, he partnered Tim McGraw and Kenny Chesney for Find Out Who Your Friends Are, which topped the Country Billboard again. He is also working as a songwriter and producer.
Tracy Lawrence – Made in America – Track by Track
Made in America is a twelve song album. The playtime is 38 minutes.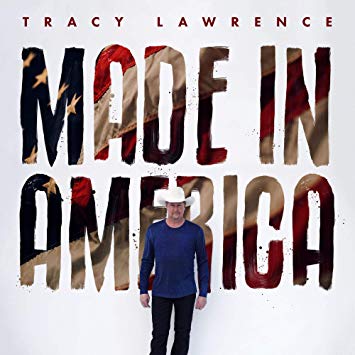 1. Made in America
The title track has been published some two months before the album. It is what you would expect from the title – an anthem on the USA, its people, its spirit. Do we need another one of that? Likely not, but the people over there love it. And to be honest: it is really well done. Thus, it is a nice track!
2. Forgive Yourself
After the title track, Forgive Yourself is surprising have a quite classic country music sound. However, the song is quite powerful. On the one hand, I am not too much a fan of the melody – but the way Lawrence performs it really catches me and makes me dance.
3. Running Out of People to Blame
Your runnin' out of time running out of answers
Burning up the road and all your 2nd chances
You got a ways to go and the wind's still blowing
Hell bent and bound but you keep on rolling
While everybody's praying some day you'll change
Your running out of people to blame
Wow, this album seems to be really versatile. The song feels to start like a country music ballad, but then turns into a "Lite" version of the Made in America sound. Nice song, definitely.
4. When The Cowboy's Gone
Where The Cowboy's Gone is a rather slower track. I like the storytelling of Tracy Lawrence in general – and in this track. But it is not catching me too much:
Who's gonna ride in and save the day
Who's gonna throw that big John Wayne
Right hook when it look'd like the every things gone to hell
Tell me who
What we need is more walk than talk in the windshield not the rear view
Like some long lost song
Cause this world's in trouble when the cowboys gone
5. Nothin' Burns Like You
The first line of the chorus is They say nothing burns like Tennessee whiskey. A ballad track about broken love – and alcohol. Two traditional male country music topics – the song is not bad, but  also not too catchy to me.
6. First Step to Leaving
The sixth track on the album has a quite traditional sound with a strong fiddle. I somehow feel it is remarkable and a track which characterizes this album – on the other hand, I feel that I start counting down the tracks already. The first step to leave Tracy Lawrence's 2019 album?
7. It Ain't You
After i troubled with the album the last tracks a bit, It ain't you got me back a bit. I am not too much a fan of this very traditional sound, but this track is speedy, catchy, makes you dance. I like it much more when Lawrence performs this way.
8. Givin' Momma Reasons To Pray
Givin' Momma Reasons To Pray is a slower number again, but not too bad. A praise to all the mothers outside going through all the tough situations in a boy's life like
Mama always believed in me
She knew the kind of man that I could be
But every time I'd get on track
The devil made me stray
And I'd be
Givin' momma reasons to pray
9. Work On My Willie
Let's fire up the band plug them guitars in
Light the dance floor up and watch those cowgirls spin
Ice the long necks down dim the lights and let that good buzz hit me
And work on my Willie
Hmm, sometimes I struggle with not being a native speaker. Is there any word joke in it or shall I really translate it literally? Hard to believe in that very traditional honky-tonk track.
10. Chicken Wire
The chicken wire
Bottles breaking while the Fenders fire
Beer dripping off the amplifiers
Howl and scream, playing while your fingers bleed
Paying dues and doing time
Behind the chicken wire
Nice track looking back at the the tough start with a band. To me, this is one of the best tracks of the album. Traditional, a nice touch of rock, makes you want to dance and nice story.
11. Just the South Coming Out
This track is about Southern State music and all the different styles, e.g.
I think rock and roll was born in Memphis
I like anything that's fried
When it's all over I'll be resting
Below that Mason Dixon line
To me, it is rather on the average side, unfortunately.
12. Stay Back a Hundred Feet
Made in America concludes with a truck driver country song. What I like about this song is its very own and characteristic sound. To me, definitely on the good side of these twelve tracks.
Tracy Lawrence – Made in America – My View
Made in America definitely has some really strong tracks. The title track is a radio song just how it is popular. I also really like the second track Forgive Yourself. Thereafter, there are some good ones and some which do not touch me too much. Lawrence offers a quite wide range of songs and still keeps his style. He also found a nice compilation of songs and stories which illustrate what Americans think and feel about life in America. Thus, US people may like this album more than I do. To me, there are not too much reasons to rate this album better than average. Sad, because the first three tracks are promising.
Flyctory.com Media Reviews
Here are all CD, book and movie reviews: