Especially in the first years I got into country music, Kelsea Ballerini was a key artist for me. Since then, I am following her career and looked forward to have a listen to her new album released on 23rd September 2022. Subject To Change sounds interesting – and some of the singles indeed had a quite unexpected signature. Here are my thoughts about Kelsea's fourth studio album.
Kelsea Ballerini – About The Artist
Kelsea Nicole Ballerini is a Tennessee-origin artist. She is active since 2014. I gave some more bio information in the review of her third studio album, Kelsea.
Kelsea Ballerini – Subject To Change – Track by Track
The fifteen song album lasts 47 minutes.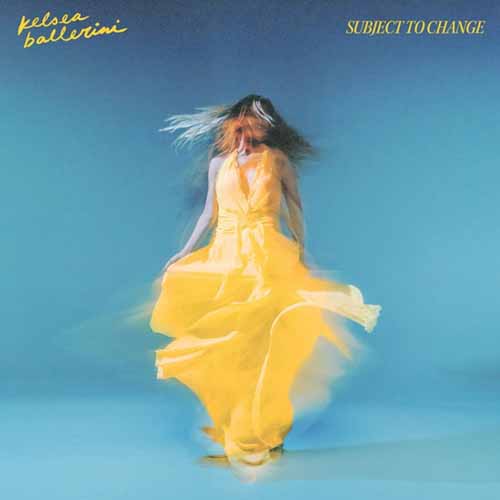 1. Subject To Change
I'm subject to going from zero to feeling obsessed
To happy and laughing, then being upset
But if one thing's the same
It's that I'm subject to change, yeah
I guess, haven't decided if I'm gonna stay brunette
A little unpredictable, I confess
That if one thing's the same
It's that I'm subject to change, yeah
The album opens with the title track. The so-far unreleased track is a nice pop track with an uplifting character. These first three minute definitely catch you in a very promising way.
2. The Little Things
The second song has been one out of five single releases so far. The style is very similar to the opener, there is a stronger usage of guitars, though. It also feels a bit more like a country song. Nice one.
3. I Can't Help Myself
I Can't Help Myself has the strongest country music touch so far to me. The song reminds me of Shania Twain songs. Quite on the top of my "hidden gems" list of this release.
4. If You Go Down (I'm Goin' Down Too)
The song has been released a week before the album and already made it to some half a million Spotify streams. Nice, accentuated sound, in which the fiddle leads to a rather traditional feeling. The melody as such is rather a pop one, though.
5. Love Is A Cowboy
Take you dancin' in that neon, leave you crying in it too
Yeah, gets you drunk like whiskey, and higher than that moon
So, when you get that feeling, hold on to your boots
Love is a cowboy
This ballad comes with an interesting plot – there is no real chorus. Or are all verses choruses? Take it as you like – but don't analyze it too deeply. You might miss that Love is a Cowboy is a real beauty.
6. Muscle Memory
A country-pop song with a nice R&B touch – Muscle Memory has a really nice and strong groove and melodic line and makes you move to the music from the very first moment. Nice song.
7. I Guess They Call It Fallin'
I guess they call it fallin' 'cause you end up on the ground
You can't live forever with your head up in the clouds
Think it's written in the stars til they burn out
The seventh song reminds me of later songs by Tailor Swift: I Guess They Call It Fallin' has a bit of a county music heart, but is in fact a write to attract mainstream pop listeners. Cheeky, nice sound, which definitely suits Kelsea well.
8. Weather
Are we really lovers if you're changing your mind like the weather? – Subject To Change is a post-break up and divorce album and songs like Weather give a clear reference. Great write.
9. Universe
The three minute track Universe leads to one of the emotional highlights of the album. A beautiful, gentle ballad with a very fragile touch. Love to listen to this one.
10. Walk In The Park
Sometimes I'm a summer day, sometimes I start raining
Always one season away from everything changing
I'm always looking for greener grass, on a carousel that goes too fast
Up and down like a swing set heart, I'm no walk in the park
The tenth song is unique in many ways. The rather slow melody has many folk elements, the lyrics are very special as well. Kelsea's high voice make it a nice fit, even though I prefer other tracks on this album.
11. Heartfirst
26 million streams on Spotify only – on the commercial side, Heartfist has truly been the leader of the promotion campaign towards the album release. And I won't argue against this vote – the song is simply a great one.
12. You're Drunk, Go Home
Yeehaw – and then there is You're Drunk, Go Home. Quite straight and traditional country vibes turn this song to a real gem on Kelsea's 2022 release. 2:55 minutes full of fun. One of the best tracks of the album, indeed.
13. Doin' My Best
2020 was a weird year
Album dropped at a weird time
Ain't the homecoming queen, but better believe I cried
And therapy for one turned
Into therapy for two
When you get married that young, you got a lotta shit you gotta get through
The thirteenth track starts with these lyrics. The song is a very personal way of looking back to what has happened to Kelsea the last years. The clapping rhythm in the background is distracting me from the words of the songs a bit too much, I feel.
14. Marilyn
The slow song, which for quite a while just does not need more than Kelsea's voice and guitar chords, is one of the most impressive listens of the album. Did you miss Norma Jeane? Or did you always wanna be Marilyn? A lovely ode to a superstar with a lot of self-reflection.
15. What I Have
I got the air, good eyes to see
Got so much more than I'll ever need
Even the bad days ain't all that bad
With what I have
Kelsea Ballerini and her team chose this song to close her 2022 album – and it is a perfect selection. A very personal, thankful, which also closes the breakup and divorce-themed thoughts in a peaceful way. Lovely listen.
Kelsea Ballerini – Subject To Change – Spotify
Here is the album on Spotify:
Kelsea Ballerini – Subject To Change – My View
Kelsea Ballerini does what songwriters are supposed to do: they put their life into lyrics and melodies. Regarding Subject To Change, Kelsea is doing it in an amazing way, though. Subject To Change is a great listen, which comes with party moments like You're Drunk, Go Home or very straight and intimate sounds like the closer. A true Top Pick!
2022 Women Country Music Top Pick!s
Here are all my 2022-published Media Reviews of female country artists' releases leading to a Top Pick! rating:
Hotels reviewed in 2021
Here are all Hotel & Accommodation reviews published in 2021: