While I posted my review about Lukas Nelson & Promise Of The Real's new album on 14th June 2019, most music fans likely looked forward to the latest long-play of Bruce Springsteen. Western Stars is an album released without his legendary E-Street Band and is some sort of time travel to the classic Western movie times. A very unique Springsteen to listen to!
Bruce Springsteen – About the Artist
Is there really anything you need to say about Bruce Springsteen? Born in New Jersey in 1949, he is one of the very big names in rock music. One of his most impressive statistics is that we won 20 Grammy Awards in his career. He is of course a member of the Rock and Roll Hall of Fame. Being a member of the Songwriters Hall of Fame also states that his writing is excellent. It is hard to pick a single song, which characterizes him best. Most people likely thing about Born in the USA. Streets of Philadelphia was a massive success in Europe. The Springsteen Song which influenced me most is likely Hungry Heart. Here is the amazing Berlin 1995 video version, which by the way also shows one of Cologne's most famous musicians, Wolfgang Niedecken.
Bruce Springsteen – Western Stars – Track by Track
Western Stars contains 13 tracks. The playing time is 50 minutes.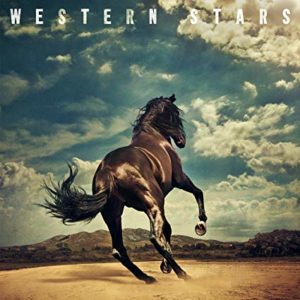 1. Hitch Hikin'
A very slow, but impressive song to start the album with.
Thumb stuck out as I go
I'm just travelin' up the road
Maps don't do much for me, friend
I follow the weather and the wind
Bruce Springsteen's way to tell stories is just amazing. This song is perfect to take me into the world of Western Stars.
2. The Wayfarer
I'm a wayfarer, baby, I roam from town to town
When everyone's asleep and the midnight bells sound
My wheels are hissin' up the highway, spinning 'round and 'round
I love the arrangement of this song, having strong acoustic guitar rhythms, strings and even brass instruments. Must be impressive to listen to this story on stage.
3. Tucson Train
The first track on the album, which also has a touch of happiness, fun, dancing. It describes how the storyteller is waiting in San Francisco for his girl coming from Tuscon. Not a sad song at all, as it ends with.
On the Tucson train
Waitin' on the five-fifteen
Here she comes
4. Western Stars
The title track sounds to me quite close to a what you would expect from a Bruce Springsteen song. It reminds me a bit of Streets of Philadelphia, for example.
5. Sleepy Joe's Café
Saturday night the lights are bright as the folks pour in from town
Joe keeps the blues playin', at the bar May lays the beers down
I come through the door and feel the workweek slip away
See you out on the floor and Monday morning's a million miles away.
Springsteen describes the scene in a cafe in this song. Sleepy Joe's Cafe is close to a dancing and party track – at least, it is a lot of fun!
6. Drive Fast (The Stuntman)
What am amazing storytelling about the life and thoughts of a stuntman. May be unfair to publish the finish of the song here – but it has a sad ending:
I got two pins in my ankle and a busted collarbone
A steel rod in my leg, but it walks me home
7. Chasin' Wild Horses
This song has an arrangement, how I love stories to be told by music: a lovely bed of sound, on which Bruce Springsteen's amazing voice gives you amazing lyrics. May be a different class of music, but I had to think of Sarah Darling's Wonderland songs here. Wow!
We're out before sunup
In after sundown
There's two men in the chopper
Two under saddle on the ground
In the evenings we'd hop in the pickup
Head into town for a drink
Make sure I work 'til I'm so damn tired
Way too tired to think
8. Sundown
What a lovely song (with more rhythm and fun again):
I'm twenty five hundred miles from where I wanna be
It feels like a hundred years since you've been near to me
I guess what goes around, baby, comes around
Just wishing you were here with me, in Sundown
9. Somewhere North of Nashville
What a lovely country ballad. Springsteen's voice is very dominant in here again. Amazing song!
Came into town with a pocketful of songs
I made the rounds
But I didn't last long
Now I'm out on this highway
With a bone-cold chill
Somewhere north of Nashville
10. Stones
I woke up this morning with stones in my mouth
You said those were only the lies you've told me
Those are only the lies you've told me
I pulled my collar to the wind and spit them on the ground
You said those are only the lies you've told me
Those are only the lies you've told me
It is hard to find words for these songs. Just impressing. You need to listen to them!
11. There Goes My Miracle
In a series of amazing songs and stories, There Goes My Miracle is maybe the most outstanding track of the whole album. The chorus is catching, the storytelling amazing – I just love it!
12. Hello Sunshine
You might not expect that from Springsteen, but Hello Sunshine is very country music-alike. A very thoughtful, catchy track towards the end of the album.
13. Moonlight Motel
Wow, what a great finale. The song describes someone being lonely in a motel, missing his love and describing what is going on. A very slow, melodramatic track – but you just love to listen to it!
Bruce Springsteen – Western Stars – My View
The more often you listen to Western Stars, the more you love it. Without his E-Street Band, he is still a great storyteller, which turns back the time to the classic Western movie era. I give in, the first time I listened to the album, I was looking for a song like Streets of Philadelphia or Born in the USA – but once you accept that this another part of Springsteen's story, you will just have an amazing musical travel with "The Boss". A definite Top Pick!
Flyctory.com Media Reviews
Here are all CD, book and movie reviews: