The album Peacemeal is a mixture of several genres from 90's hip-hop to jazz and punk – that's at least what the press package told me before listening to the album. I felt that this sounded really promising (and strange), so that I had to review this one for Flyctory.com. The artist is the US-American Ron Gallo, the album will be available from 5th March 2021.
Ron Gallo – About The Artist
Rom Gallo is a US-American singer, musician and songwriter born on 29th September 1992 in New Jersey. He grew up in Philadelphia, where he also was part of the band Toy Soldiers, which gained quite some reputation between 2007 and 2014, when the band broke up. Gallo decided to pursue his musical career as a solo artist thereafter. During the recording of his first two albums RONNY (2014) and HEAVY META (2017), he still lived in Philly before moving to Nashville. He was extremely active, released two more albums in 2018 before he decided that the load on him was too high. He took a hiatus and cooled down in Italy. In 2020 he came back with some singles, which are all part of Peacemeal, his fifth solo album.
Ron Gallo – Peacemeal – Track by Track
The twelve track Peacemeal lasts 30 minutes. All the track titles are written in caps, no typos from my side.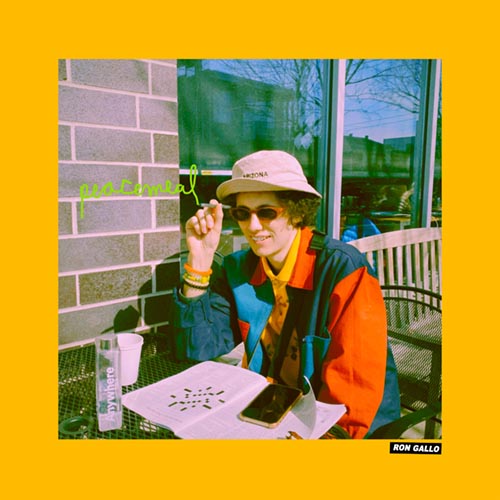 1. (UOY DNIHEB FLESYM) EDIH
Why not starting the album by doing the first full-duration song of the album in reverse direction? That's at least what my guess about this intro is – even after listening to it multiple times. 38 seconds duration – no need to analyse it too deep.
2. HIDE (MYSELF BEHIND YOU)
I would love to hide, hide from myself behind you
This song is already quite a promising one. I really like the melody, which is coming with a nice pop-ish vibe. Ron Gallo gives me a certain summer and dancing feeling – not too bad nowadays.
3. WUNDAY (CRAZY AFTER DARK)
It's all I wanna do
Is just not see you on wunday
Another track with I would descibe as "happy mood pop". It reminds me of one of my favorite German artists, Andreas Dorau. Melodic pop tunes made to dance, sometimes a bit naive in lyrics. Cool.
4. PLEASE DON'T DIE
PLEASE DON'T DIE is a slower, more melancholic song, which is contrasting between a slow sung chorus and spoken verses. I liked the opening songs more – but this fourth track leads to a nice variety on the album.
5. SATURDAY PT.1
There are two interlude tracks, which also melodically fit to each other – as they are just spoken lyrics with some background tunes. The first one is Saturday Pt. 1 – I am sure you can already guess the name of the second one.
6. EASTER ISLAND
Traveling to EASTER ISLAND is definitely not too realistic this year, so let's do it with Ron Gallo. The just slightly more than two minute song almost feels like a hip hop track with electronic background at the beginning – the bridge is then changing the character. I can't relate to that one too well.
7. A PLATE IN MY HONOR
While I struggled with EASTER ISLAND, I really like how A PLATE IN MY HONOR is made up. Nice one, which is a nice variation of rather melodic and powerful parts. Nice.
8. SATURDAY PT.2
After 57 seconds of Saturday Pt. 1, here is the second intermission. 40 seconds, even not enough to grab a cold one from the fridge.
9. CAN WE STILL BE FRIENDS?
Can we still be friends
Now that I can't help you?
The ninth song is only one of two songs which are longer than three minutes on this album. The chorus even has a touch of sounding whiny – but overall, it is a not too bad one.
10. CANCELLED!
Some songs on Peacemeal like cancelled are just a bit too complex to me – I could also name CANCELLED! confusing. Too much for one song.
11. YOU ARE ENOUGH
This album is an up and down to me. After songs which really confuse me or which I simply do not like at all, this album has songs like YOU ARE NOT ENOUGH, which I can definitely relate to.
You are enough
Fuck what they told you
Just 'cause you had the heart
To wanna fix the broken
And they didn't know any better
So they did what hurt people do
They projected all their pain onto you
Very nice lyrics in this one as well – one of my album favorites.
12. ALL THE PUNKS ARE DOMESTICATED (2020 VERSION)
After all the compact and short songs, the album finishes very differently. Peacemeal is an album of contrast – and ALL THE PUNKS ARE DOMESTICATED is a song which is longer than the two tracks before – together. A very critical song towards the end, which is also creating a very nice mood. Lyrics like
All of the punks are domesticated
All of the freaks have gone to bed
All of the pioneers are saved for
Information tech
or
I will be forgotten in two generations
What will have been my big mark?
A couple little tears dangling in the dark
An impressive collection of digital remarks
An apple falls at the park
Where your body lay
Deep within the clay
It's just another day
Definitely worth listening.
Ron Gallo – Peacemeal – Spotify
Here is Peacemeal:
Ron Gallo – Peacemeal – My View
Peacemeal is a roller coaster to me. Sometimes you feel up in the sky and enjoy to listen – but then there is a drop which is just that hard that you would love to exit. The two sweetest fruits of the meal are definitely the two closing tracks. The opening of the album is good as well. Then, there is the middle part. This one leads to a rather average rating.
Flyctory.com in Philadelphia
Here are all my postings about Philadelphia:
Airport Hotels
Here are all hotels with a good airport connection: