After I had a very intense and interesting chat in my Spotlight interview section in May 2020 with him, I was very happy to read from Tommy Atkins that he is going to release his debut EP Kiss Me, Cowboy on 24th September 2020 (on a Thursday… No typo). Here are my thoughts about the songs.
Tommy Atkins – About The Artist
Tommy Atkins is a gay country music artist from Newcastle. He had his breakthrough with Wild in the Wind, which peaked fifth in the UK country charts, but even second in New Zealand. He already drew some international attention, including playing at the legendary Bluebird Cafe. In order to avoid telling you too much about facts you can read in the interview, I refer to the very deep and interesting chat:
Tommy Atkins – Kiss Me, Cowboy – Track by Track
The four track EP lasts 16 minutes.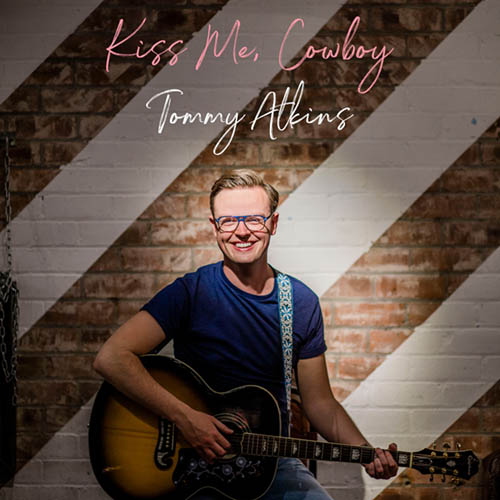 1. Kiss Me Cowboy
The title track is the only which is in fact a new song. I unfortunately feel a slight discord in the vocals, but overall, it is a beautiful track dealing with homophobia. Great songwriting!
2. Freedom
The George Michael cover Freedom was one of the key topics of the Spotlight interview. The song had quite a long presence in my playlist as well. Absolutely love it, great version with a country touch of the classic tune!
3. Cinderella's Had a Drink
The cheeky present voice over very classic country tunes – Cinderella's Had a Drink is very different compared to Freedom and may feel a bit old-fashioned at first sight, but I love that song. Makes me smile and dance – always a good combination.
4. Wild in the Wind
Wild in the Wind is a country music ballad. Tommy's voice is very present and thereby very catching. Even though I feel to spot a weak tone here and then, the artist is catching me and creates a story musical story and enter at the very beginning an dleave after 3:31 minutes (the shortest song of the album, by the way…).
Tommy Atkins – Kiss Me, Cowboy – Spotify
Here is Kiss Me, Cowboy on Spotify:
Tommy Atkins – Kiss Me, Cowboy – My View
I definitely would love to have more than four songs, but Kiss Me, Cowboy is a nice showcase of Tommy Atkins. He is showing quite different songs with unique characteristics, but all are catching and good listens. Some of the recordings do not feel perfect to me, but overall, it is worth to give the cowboy a listen.
British Country Reviews
Here are all music/media postings regarding country music and the United Kingdom:
Spotlight – Flyctory.com Interviews
Here are all postings of my interview section Spotlight: