At the end of September, some miraculous things were happening on the Instagram accounts of the Country To Country Festivals in the Netherlands and Germany. While the British dates have "traditionally" been announced during the 2023 festivals (with a shift from Dublin to Belfast as the third location), there felt to be fading hopes that Central Europe will have their dates again, after the great 2019 and 2020 events. I was personally rather surprised by the announcement, especially as it came rather late in the year. Germany (Berlin) and Netherlands (Rotterdam) are back with their own C2C events. On Monday, 16th October 2023, the headliners for the 2024 festivals have finally been announced. A time to look forward to a – hopefully – great March 2024 in regards of country music.
Country To Country 2024 – The Dates
Similar to the events in 2019 and 2020, the German and Dutch Country To Country events will take place the weekend before the "big events" in London, Glasgow and Belfast. They are also one day shorter – likely in order to insure that they are not too much competitive compared to the British events. Especially London, which is also coming with more minor stages, is getting quite expansive nowadays, if you include transport and accommodation.
The SSE Arena in Belfast is a new venue. The up to 11,000 spectator arena is replacing the 3Arena in Dublin. I could not find any reliable source what finally lead to the change.
Country To Country 2024 Netherlands / Germany – The Venues
Another venue which is new to the Country To Country is the Rotterdam Ahoy. The previous editions of the festival have been held at the AFAS Live ArenA in Amsterdam. The Ahoy is a congress center, which also includes the up to 16,000 people arena, but also several minor venues on the grounds. There is also a hotel, a small shopping mall and other facilities around. The closest metro station is Zuidplein, which is serviced by the lines D and E and connects to the main station of Rotterdam as well as The Hague (Den Haag).
Compared to the Ahoy, the Verti Music Hall is a well-known venue for country music lovers. It also held the German events in 2019 and 2020. It is located at Mercedes-Benz Platz, which also means that the some 15,000 people Mercedes-Benz Arena is right next door. However, there are also several restaurants, hotels, a cinema around, which lead to a rather nice spread of venues in the previous editions. The public transport is majorly done by the Warschauer Platz, which is having underground and S-Bahn commuter rail services. The next national rail station is the close Ostbahnhof, there are also bus services.
Country To Country Central Europe 2024 – The Main Acts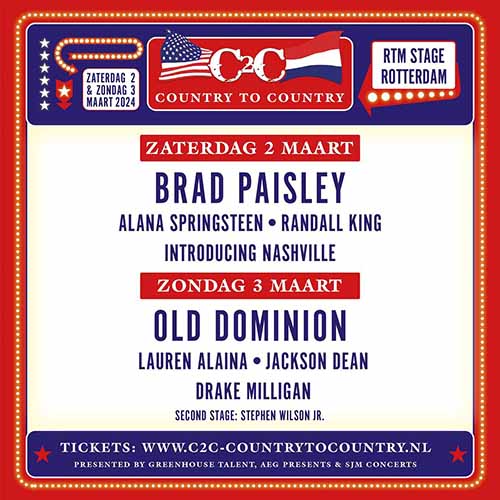 As expected, the Berlin and Rotterdam line-up fully match, just with a twisted order. The Rotterdam Saturday shows match the Sunday in Berlin and vice versa. I feel that the somehow nicer start of the festival on main stage will be in the Netherlands, where Introducing Nashville will open the show with a songwriters' round. With Randall King and Alana Springfield, two acts step on stage thereafter, who have been touring Central Europe in 2023.
That's in general the key downside I feel on the line-up. While you would hope that the appearances of some major acts like Luke Combs this year rather open the door for other major acts, most artists did also have minor or major appearances here already. However, especially the Randall King show in Cologne suggests to me that this afternoon will be a blast. Last, but not least, there is Brad Paisley, who is a known act here already and will come with a major fan base.
Rotterdam Sunday / Berlin Saturday Line-Up
In case the initial announcement matches the running order, Stephen Wilson Jr.will be the opening the festival in Berlin. I loved his recent Cologne show as a support act for Everette and Austin Jenckes. Especially with his song Sounds Like Something I'd Do, Drake Milligan got into focus of the country music industry. I am sure he will be fun on the big stage, even if he might not feel as a headliner at first sight. Jackson Dean has recently been part of the Heart To Heart events and underlined his amazing talents. He will be great on the major stage.
Lauren Alaina is completing the list of female artists. Two out of eight listed artists being female might be still in line with Nashville expectations, but I would have loved to have one of the bigger names in here. You have to clearly state that even the British shows with high ticket prices and a much higher budget struggle in this regard. Even though I am personally not a die-hard fan, Old Dominion is definitely taking over the role of the biggest name on the Dutch and German poster. After they cancelled their 2020 Country To Country appearance due to the first signs of a pandemia, it is really great to have them on stage. Again, Rotterdam will have the opportunity to close with them, which is favorable in my point of view.
Country To Country 2024 – The Additional UK Acts
Quite a few names of the Central European show acts don't pop up for London, Glasgow and Belfast – which likely just means that they are booked for the minor stages. The London Friday evening closes with Kane Brown and Carly Pearce. The latter is the only really major female country music act on the announcement poster. I featured her Hamburg show in 2023 and chatted with her before the show. Brown is also known as a great entertainer.
The London Saturday features three "new" names. Jake Owen is definitely a cool artist on the list. I also liked the music of Brian Kelley and Priscilla Block in my reviews and features. Nonetheless, you see a clear focus on two major acts per night for the British shows. With Brad Paisley, London will have an absolutely pleasing close of the second festival day.
Old Dominion close The O2 on Sunday. Even in this enlarged British lineup, I clearly see them as the top act of the second C2C weekend. However, with Brothers Osborne, they will have a very strong pre-closing act that evening. Elle King and Drake Milligan are contracted to heat up the masses at the major stages. King's 2023 album Come Get Your Wife is a well-reputed one, this could lead to quite some fun after visiting the minor stages.
Country To Country Lineups 2024 – My Thoughts
The European fans dream of Luke Bryan, Carrie Underwood, Eric Church, Blake Shelton, … and they don't get them. The ticket prices for the two-day events in Germany and the Netherlands have already reached a reasonable amount (the U.K. prices are even worse – and especially London comes with high additional costs), but we have to stay realistic: these superstars will not make it for these festivals. However, we should party the acts on main stage and – I am looking forward to that even more – the evolving and developing artists on the side stage.
Rotterdam and Berlin will host amazing country music. More than that, they will host an amazing country community. The Country To Country is also a festival to develop the branding of the music. If the venues sell well, this will be another step to even better festivals the following years. And with Old Dominion, Brad Paisley or also artists like Randall King, two great days of country music are almost guaranteed, regardless if you party at the Rotterdam Ahoy or the Verti Music Hall.
Local Artists I would love to see on stage as well
Okay… That's a bit of a wishlist. But there are some artists, who would be really cool to see in Berlin and Rotterdam as well. I feel all of them are in a realistic range, most of them are Europeans as well. Look forward to discuss with you. Here is my choice of eight artists for the minor stages:
More Than Words, because Stefanie Hertel and her family deserve to party with a larger country music audience.
Kenny Foster, because a C2C is just boring without this amazing guy
Kyle Daniel, see Kenny Foster
First Time Flyers – I simply love Jake Morrell and Vicky Manser. And Tim… And Poppy…
Sylvia Aimee – such an amazing Dutch country-pop artist. I would love her seeing sharing her stories in Rotterdam and Berlin
Royale Lynn, the country music hard rocker… Because I want to rock hard from time to time
The Cumberland River Project. Can Frank manage to bring his songs on stage.
The Pete Wolf Band. Likely an unrealistic wish, but it would be cool to see Wolfgang Petry doing country and folk in a rather intimate setting.
Flyctory.com about Country To Country
Here are more postings related to the Country To Country festivals in the UK, Netherlands, Ireland and Germany:
Rotterdam & The Hague
Here are all my postings about the Rotterdam & The Hague region: