The second half of 2019 features a massive lineup of country music stars in Germany. As you can see in my concert overview (which feels close to impossible to be updated), well-reputed acts like Eric Paslay, Kiefer Sutherland, Morgan Evans, Old Dominion, Lauren Jenkins or Brad Paisley are expected to make it to the country at least for a couple of shows within a short period of time. Texan country singer Wade Bowen was one of the first to step foot on German soil. On 6th August 2019, he played in Cologne.
There is a dedicated 243 major size picture gallery for this concert.
Blue Shell Cologne – The Venue
The Blue Shell is a nice and cozy club in the heart of Cologne's party district. From a photographer's perspective, you wish for some more light, but you just need to make the best out of it. I have been at the Blue Shell already at the Sound of Nashville concert with Lindsay Ell, Twinnie and the James Barker Band in March 2019 – thus, I do not give too many details. Despite the photographic challenges, I was really looking forward to be back in the Blue Shell again – the staff there is just amazingly friendly.
Wade Bowen – The Artist
1977-born Wade Bowen from Waco, Texas, initially played in bands before he started a solo career in 2002. He typically plays quite modern country songs with a touch of the Red Dirt genre. Despite his debut album Try Not to Listen received some popularity, his first album chart entry is dated six years later: If We Ever Make It Home reached #29 in the US Country album charts and #2 in the US Heat album charts. In general, Wade Bowen is more successful on the album side. Three of his albums made it to the album Top 10. The highest country single charts postion is dated from 2011, though, when Saturday Night reached position 39.
The supporting artist for the Wade Bowen shows in Germany is Jamie Freeman. The UK based artist is coming from an entertainment-prone family – his brother Martin is an actor and for example played in The Hobbit, while his brother Tim had some UK chart entries with the band Frazier Chorus in the 1980s and 1990s. Jamie released his latest album Dreams About Falling in early 2019. There are productions since 2011, though.
Wade Bowen & Jamie Freeman – The Show
The concert was scheduled to begin at 21:00, doors 20:00hrs. Jamie Freeman stepped on stage at about 20:45 already and incepted his set after a very brief technical check. His first song of the set was Standing on a Star. His playing and storytelling was impressive and he caught the (unfortunately: quite small) Cologne audience from the very beginning. The first highlight of his set was The Man I want to be, his third song, to me. Emotionally, the song which touched me most, was Rum & Smoke, in which Freeman tells about his father, who was alcoholic and weakened the family in other ways as well.
Another bet 
A losing horse 
And nothing left for us 
My dad did all my drinking for me 
He concluded the some 30 minute set with All in the Name, to which the people cheered and clapped.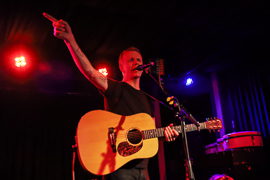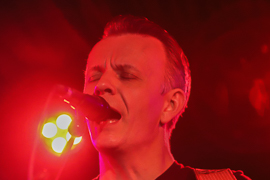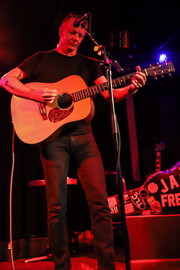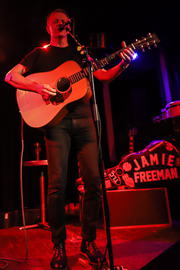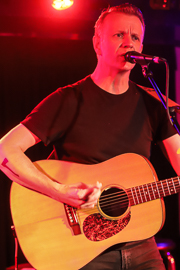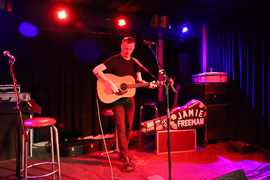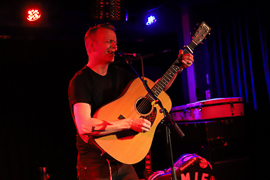 Wade Bowen
As both artists were playing acoustic sets, setting up the stage for Wade Bowen was just a matter of some ten minutes. He was supported by another (acoustic) guitar player. Bowen started his set with the 2008 song Trouble. For the second song, Couldn't make you love me, he also used the harmomica. Like at Freeman, the audience listened to his stories like the 7:30 song about the morning after breaking up or the lovely West Texas Rain. The songs got more and more powerful, I loved Fell in love on Whiskey or When I woke up today. Saturday Night was the fourth last song of the 19 song set, which finally gave an even better atmosphere. During the set, Bowen again and again stated how much he enjoyed these European shows – the audience was just in the triple digits at this point maybe. At short before 23:00hrs, he played his very last song, Mood Rings, finishing a very special evening.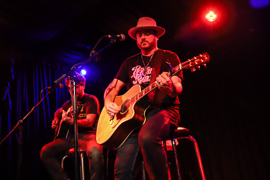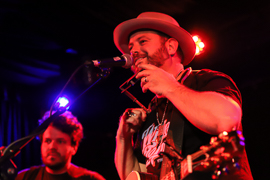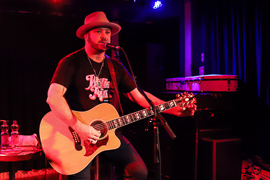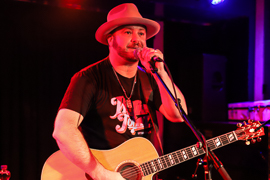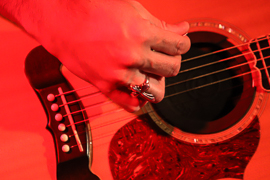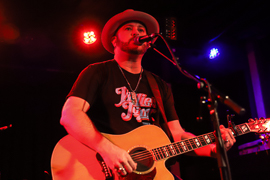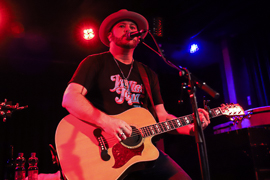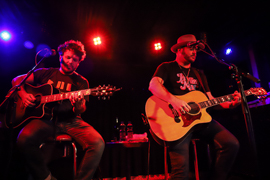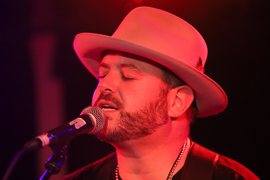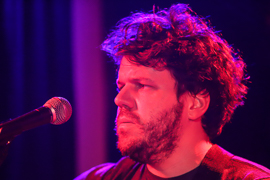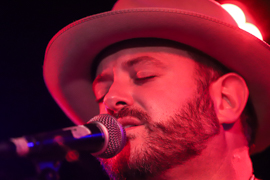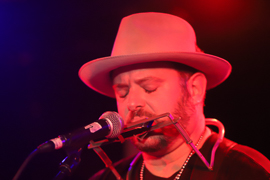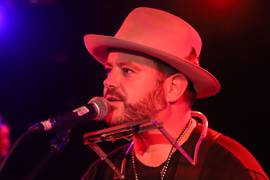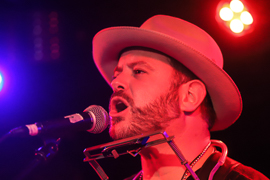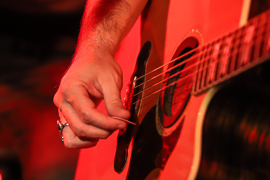 W. Bowen & J. Freeman at the Blue Shell – My View
This show was a setup of two amazing artists. I loved Jamie Freeman, who also lead his show and interacted with the people in the very special British way. His songs were excellent songwriting and lovely presentation. Bad luck that one of his songs got interrupted by a person trying to step on stage – but this did not change that Freeman absolutely convinced on the small Blue Shell stage.
Wade Bowen proofed in Cologne that he belongs to the absolute stars of the country music genre. You just need to keep in mind that he has about 360,000 followers on Facebook only. The way he performed in front of that compact audience in the not-too-crowded Blue Shell was impressive. You could really feel how he enjoyed it and he even promised to play his next German shows together with his band instead of an acoustic set. He is fantastic musician, who lets you travel and feel other worlds and stories. A very memorable close to 90 minute set leads to a well deserved Top Pick! rating. Really a shame that so few people made it to the Blue Shell – but I am sure it will be more next time.
Wade Bowen & Jamie Freeman – The Gallery
There is a dedicated gallery of 243 major size pictures of that concert:
Postings about Concerts
All postings about concerts I visited:
Flyctory.com about Country Music
Here are all Country Music-related postings on Flyctory.com: