I definitely love Tenille Arts and her music. The more, I was looking forward to listening to her 2021 album Girl To Girl, which has been released on 22nd October 2021. Here is my detailed review.
Tenille Arts – About The Artist
Tenille Arts is a Canadian / Saskatchewan artist born in 1994. At the beginning of 2020, I reviewed her most recent album, Love, Heartbreak, & Everything in Between. In this review, you also find some more bio information. Girl To Girl is in fact Tenille's third studio album.
Tenille Arts – Girl To Girl – Track by Track
The thirteen track album lasts 43 minutes.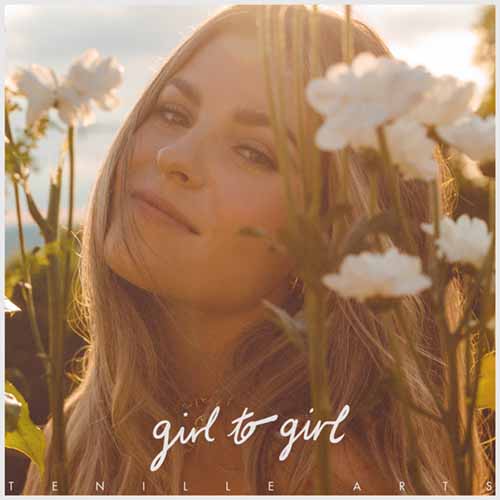 1. Back Then, Right Now
Ten million streams on Spotify only – with that opening track and previous single release Tenille Arts definitely proofed that she is already moving quite close to the top division of female country music artists. Lovely instrumentation (is that an ukulele which is scrumming all the time in the background?) and a song, which is catching you from the very first second. Girl to Girl is welcoming the listener with a really good one.
2. That's My Friend You're Talkin' About
That's my friend you're talkin' about
The one in the mirror you're looking at now
Girl, you should borrow my view
So you see what I see in you
I don't like the way you put yourself down
'Cause that's my friend you're talkin' about
The song comes with good lyrics and a nice contrast between a bit of melancholic verses and an energetic, angry chorus. Tenille Arts does a great job on the microphone here and the song is smartly arranged. Good
3. One Bedroom Apartment
One of my favorite lyrics of the album. So beautifully and picturesquely describes story. And Tenille's voice is just beautiful in this song. A song with a lot of memories, looking back in time. That's why country music is really a magical genre.
It ain't a mansion in a millionaire's market
But you'll be surprised at the memories you can fit
In this one bedroom apartment
4. Breakup Songs (feat. Callista Clark)
At the beginning of 2021, I reviewed Callista Clark's debut Real To Me. Thus, it was really interesting to listen to her alongside Tenille Arts in this duet. When the two young ladies sing together, this leads to a really beautiful, wide sound. The solo parts are not that thrilling to me, though. Their voices and also the way they sing are just too similar.
5. Life Goes Like That
Life Goes Like That has a lovely groove. A song which feels a bit of naive and childish in the chorus, but overall simply makes you smile and move to the music. Good recording.
6. Girl To Girl
The title track of the album is at the sixth position of songs. Again, a really good country song with pop elements – and nice storytelling.
Who went from drinks on Friday
To sittin' in the driveway
Midnight kissin', to more than that
You went from thinkin' better, to talkin' 'bout forever
Falling so hard that you never looked back
But he'll go from sweet, to out all night
From a little distant, to 'goodbye'
From stealing your heart, to wreckin' your world
That boy only knows how to go
Girl to girl
7. Heartbreak Regulars
Tenille Arts presents a typical Tenille Arts song with Heartbreak Regulars. The song especially has a nice touch with a beautiful flow in the chorus. Good one.
8. Mama's Boy
Another really good song, which again lives from good stories and Tenille Arts' amazing voice. However, I am more and mor looking for a special song. A song with an outstanding atmosphere. Let's see what is still available.
9. Over You Is You (feat. Matt Stell)
Over You Is You is the second duet on the album. A typical Nashville-style collaboration. Matt Stell feels a bit of thin in this song. Nonetheless, it is a really nice recording and leads to a nice contrast in listening, just as the two previous songs felt to bore me a bit.
10. Give It To Me Straight
Give It To Me Straight is a nice one, which is even having a tiny touch of rock music to me. The second most popular single release of the album, having about 2.3 million streams on Spotify only. Tenille Arts is just a good name in the country music business nowadays.
11. High School Sweetheart
He broke your high-school sweetheart
And it feels like your life's over before it starts
You think your whole world revolves in those hallways
But it won't always
You'll just have to trust me
One day it'll just be high-school sweetheart
A bit slower and a bit more kitschy than other songs of the album. I personally rate the song rather average – but there is a certain contrast to other tracks on the album, at least.
12. Sweet Sixteen
In the second last song, Tenille Arts is looking back to her teenage years. I just love the way she is telling stories – there could be more variety on the melodic side.
13. Growing Old Young
The rather slow Growing Old Young is one of this songs, which is adding character to Girl to Girl. This leads to a happy ending of these 43 minutes with the lovely Canadian lady.
Tenille Arts – Girl To Girl – Spotify
Here is Tenille Arts' album on Spotify:
Tenille Arts – Girl To Girl – My View
Tenille Arts does Tenille Arts music. That's overall not too bad, she is a great artist and is doing her thing. I just struggle that the range of Tenille Arts songs on this album is too narrow. Individually, there is no really bad song, one or two are significantly weaker than the others, though. But they are too similar. This album risks to be a fail. But then there are two elements on this album, which prevent it: the lyrics are really good and give beautiful, picturesque stories. And then there is Tenille Arts herself and her voice. What a talented artist. Nonetheless, she could do better.
Canadian Country Music Reviews
Here are any media reviews related to Canadian country music:
Postings with Gallery
Here are all Flyctory.com postings, which come with a larger size picture gallery: