The second album by Lordi from the Lordiversity box is SuperFlyTrap. It comes with another ten songs, but is significantly longer than the opening album. As you could already see from the single release: Mr. Lordi and his monsters do pop music in here. Due to this unexpected genre change, SuperFlyTrap was likely the album I have been most curious about. Enjoy the tour to the SuperFlyTrap.
Lordi – SuperFlyTrap – Track by Track
The ten track album lasts 38 minutes.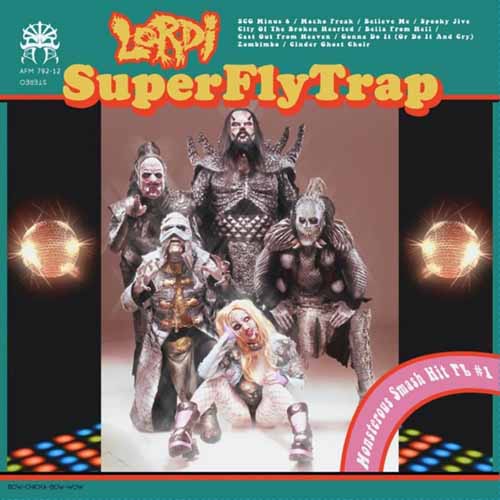 1. SCG Minus 6: Delightful Pop-Ins
Like on the other albums, this is a seventy seconds introduction to the album. The song comes with the Finnish style horror touch… and a pop-ish groove.
2. Macho Freak
I feel I would have really never imagined to say that, but: Lordi are doing disco. And they are doing it well. Macho Freak is no Staying Alive and the monsters are not the Bee Gees, but they are doing good in this. How much beer did it cost Mr. Lordi to make Mana on the drums for this shuffling rhythm? Simply enjoyable! Balloon pants on the next tour, please!
3. Believe Me
In the order whole set of Lordiversity albums, this is the very first new song released as single. When Lordi released it, it felt strange at first sight – but somehow, it was also a good and catchy listen. Don't you feel the monsters on the dance floor as well.
4. Spooky Jive
Okay, when Mr. Lordi is going for a jive, it just has to be a bit of spooky, doesn't it? There are parts of the song, in which Mr. Lordi feels like a hard rock hip hopper – which is maybe the most enjoyable part of the song. Maybe not excellent at all, but at least really quirky.
5. City Of The Broken Hearted
After the first songs were rather made to dance, this fifth song is rather a pop-rock track with powerful riffs. And, by the way, one thing is typically Lordi about this song: they just cannot do that 2:30 minute mainstream stuff. The song lasts over four minutes.
6. Bella From Hell
I know you by your name,
You got me hypnotized
Bella from Hell
No, I know by your fame
You got me paralyzed
Bella from Hell
Even though the groove is shuffling and the song feels like a late 1970's one, the lyrics and the stories are still Lordi-like. Scary, precise, a bit of tacky here and there. Maybe the first pop songs loved by Finnish metalheads.
7. Cast Out From Heaven
That song rather reminds me of early 1980's pop-rock ballads. My favorite music era meets my favorite rock band – I enjoy to listen.
8. Gonna Do It (Or Do It And Cry)
If Lordi is playing on the next tour, I just might not be able to stop laughing. This one feels so trashy. Lordi singing about the boogie-woogie – you have to dare a listen here.
9. Zombimbo
A familiar song – Zombimbo has been on the Killection album already. The song is pop-ish, but has much more rock than other songs on this album. Catching chorus, though.
10. Cinder Ghost Choir
While Skelectric Dinosaur simply closed with a melodic outro, the Cinder Ghost Choir starts like a piano ballad and then turns into a six minute epic rocker. One of the most fascinating tracks in band history – even though the song has likely just low potential to be played on stage one day. Great showcase for Amen.
Lordi – SuperFlyTrap – Spotify
SuperFlyTrap is the only Lordiversity album available digitally at box release date:
Lordi – SuperFlyTrap – My View
I was sooo curious about this pop album – and, hey, they did it. I like SuperFlyTrap more than the opener, just because it feels so odd that the band is doing songs like that. Travel back in time with these guys and dance. It might be a unique opportunity.
Lordi on Flyctory.com
Here are all postings related to the hard rock/metal band Lordi from Finland on Flyctory.com:
2021 Pop Music Reviews
Here are all my media reviews dated as of 2021, which are related to pop music: