After I visited a couple of Sound of Nashville shows in Cologne and surroundings, I felt lucky to do my debut in Switzerland during a business trip. The band of the day were the Canadian James Barker Band, supported by Texan Julia Cole. As reviews of previous shows were good, I was really looking forward to an amazing evening of country music.
This review comes with 278 major size pictures, which are displayed in the concert gallery.
Komplex 457 – The Venue
Komplex 457 is located close to the Letzipark mall in Zurich.  By public transport, it is a some 15 minute ride from the main train station, where my hotel was located that time. On two levels, the main venue holds up to 500 spectators.  This concert was held in the Klub, though, which is located on the lower level and have a capacity of roughly 350 people. The admission was 39 CHF, which is equivalent to 35 EUR. The club was very nice – and I especially have to mention the great light they did during the concert – you will see some examples for that in the pictures below. The audience was about 150 to 200 people.
James Barker Band & Julia Cole – About the Artists
I did not know too much about Julia Cole. However, as Zurich was the last stage of this Sound of Nashville episode, so that I new that the emerging Texas artist had quickly touched the heart of the German fans in Cologne, Munich, Hamburg, Frankfurt and Berlin. She got some quite significant success already. For example, her current single Trust You has been played over one million times on Spotify already.
I wrote a bit about the James Barker Band when I reviewed their latest EP Singles Only in May 2019.The Ontario-based band are amazing on stage – and also before and after the concerts. Thus, they have a major and very supporting fan base all over Europe. The EP produced two Top 10 hits in their home country Canada, Keep It Simple (which even topped the charts and became gold) and There's a Drink For That, which is quite likely a typical Feel-good track by the band. The crowds in Cologne also loved them when they played an intimate show in March 2019.
James Barker Band & Julia Cole – The Show
The concert was scheduled to incept at 20:00 hrs. Julia Cole stepped on stage some ten minutes thereafter, performing a thirty minute set, in which she performed seven songs, which were a mixture of originals and covers. She featured Call it, but also Dan & Shy's 10,000 Hours, which I also featured in my last Country Music Picks.  She closed her set with Be Where We Are and, of course, Trust You.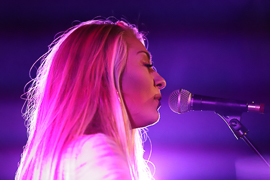 The James Barker Band did an eighty minute set starting at 21:10. Drummer Connor Stephen even had a tough time before the concert – because he had trouble with his shoes after announcing "the wickedly awesome, amazingly talented James Barker Band". He could not solve that and finally played in socks. Their first songs were Good Togehter and Keep It Simple. The first part of the set also featured If It weren't for Girls and She's a Hit. There were some few covers, apart from a cover medley towards the end of the set. One of them was the amazing interpretation of Teenage Dirtbag by Wheatus. Before the encore, the set ended with Slow Down Town.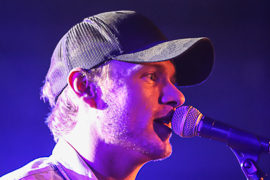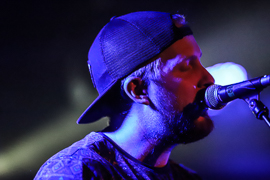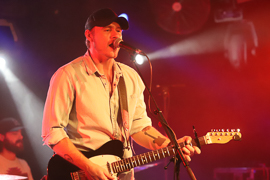 James Barker Band & Julia Cole – The Gallery
Here are 278 major size pictures of the show. They are located in the concert gallery:
James Barker Band & Julia Cole – My View
It was simply a magical evening in Zurich. First of all, so good to see that country music and the Sound of Nashville concept seems to have some fan base there already. But of course, both acts were great at the end of their European tour. Julia Cole showed an amazing stage presence, played a lovely set and also acted very friendly to the people after her set – she definitely see a lot of familiar faces again when she comes back to Switzerland on stage one day. Even the security guys fell in love to her.
I sometimes struggled with the James Barker Band, but during that performance in Zurich I seriously asked myself how I could be that wrong. Wow, the guys partied Zurich from the very beginning and just gave the people a great time. I had a lot of fun watching them – and so did all the others. A lot of people were laughing, dancing, enjoying themselves – the Canadians just gave them a great one!
Postings about Canada
Here are all Flyctory.com postings dealing with Canada:
Postings about Concerts
All postings about  concerts I visited: