One evening with six different artists? The opening night of the Heart To Heart concert series definitely came with high ambitions – and a huge risk that this will be a long night. On 29th August 2023 Semmel Concerts invited four artists to bring the songwriters' round concept to Germany, supported by Brooke Eden and Avery Anna. After I had already introduced you to the concept in my press call report recently, I was really curious how "Heart To Heart" will work out in practice.
This posting comes with 436 major size pictures as part of the concert gallery.
Capitol Theater – About The Venue
The Capitol Theater is a rather central location in Dusseldorf. It is a some ten minute walk away from main station. The closest public transport is Worringer Platz, which is serviced by several tram lines and buses. It drives two venues. In 2023, I have been in the major one during the Weird Al Yankovic European Tour.
Heart To Heart – About The Artists
Four artists in the round plus two additional acts – this evening was definitely packed. The organizer aimed to present domestic act alongside international ones. The two international guests, Breland and Jackson Dean, were rather unexperienced on German soil. Breland just had hist first gig in Germany at an US Army-driven event in Wiesbaden. He is a 1995 born artist from New Jersey. In 2020, he released two EPs,  Breland and Rage & Sorrow. The first one had some chart placements. In September 2022, he added his debut album Cross Country, which did well (peaking 15th) in the US Country Charts. Together with Dierks Bentley and Hardy, Breland had a #1 Airplay hit in the USA with Beers on Me.
Jackson Dean, however, is born in 2000 in Maryland. Like Breland, he released his debut album (named Greenbroke) in 2022. The year before, he also had a self-titled EP. In 2023 the Academy of Country Music nominated him for the New Male Artist of the Year award. His 2022 single Don't Come Lookin' peaked 3rd in the US Country Airplay Charts as well as in the Canadian Country Charts.
The Local Acts
On the local side, there were Pohlmann. and Kelvin Jones. The press call already suggested that these guys would likely be rather entertaining to the German crowd. Ingo Pohlmann (whose artist name is his surname with a dot) was born in 1972 in Westphalia. He latest moved to Hamburg and started to do professional music in the very late 1990's. In 2006, he released his solo debut album, Zwischen Heimweh und Fernsucht. So far, there are six Pohlmann studio albums so far. The debut album also featured the song Wenn jetzt Sommer wär, which has been streamed over 15 million times so far on Spotify only.
Kelvin Jones is a singer-songwriter with a British and Zimbabwean passport. However, the 1995-born artist is living and working in Germany since 2016, one year after he released his first album, Stop the Moment. So far, he released two studio albums and two EPs. Two of his single releases, Call You Home (2014) and Love to Go (2020, with Lost Frequencies and Zonderling), received a golden record in Germany. Likely, his most successful release so far was a collaboration with Alle Farben and Younotus in 2018. The song Only Thing We Know got a golden record in Germany and Austria and a platinum one in Switzerland.
Special Guests
The female artists this evening were only in the special guest role. Brooke Eden She was born in West Palm Beach in 1988 and grew up in Loxahatchee. She turned into a professional musician at the age of 20 and has released four EPs so far. I featured her in a review of her third EP, Choosing You (2022). This year, she released Outlaw Love. Even though the chart positions don't reflect that completely, the 2017 song Act Like You Don't was really successful. It has been streamed 24 million times on Spotify only.
Last, but not least, there was Avery Anna. Born in 2004, she is the youngest artist of that evening in Dusseldorf. However, she already had two singles, both released in 2021, which have more than 10 million streams on Spotify, Narcissist and Just Cause I Love You. Her popularity is also reflected by 170k followers on Instagram and 1.6m ones on TikTok.
Heart To Heart – The Show
Avery Anna was the first act on stage in front of some 400 specatators in the larger of the two capitol venues. Almost on time, she did a 30 minute classic support set. Her selection of songs mainly contained originals. However, she also disclosed herself (her fans know it anyway…) as a big Taylor Swift fan and gave her version of Love Song. In the whole set, the young girl did an impressing job. Just her and her keyboard. You also saw how experienced and professional she already is – that helped her to more and more create a close relation to the German crowd in her first first show there. The closing song was Say something, which can likely be named her breakthrough. Thereafter, there were lines at the edge of the stage, where she chatted with fans and took pictures.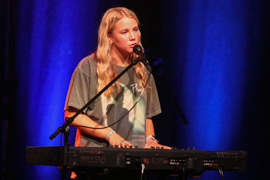 The Round, First Part
One nice feature about the round is that the artist come with rather limited instrumentation on board. This lead to a short break of at most ten minutes (plus the welcoming by the host), before the four artists stepped on stage. In fact, there were five musicians on stage, Breland, who opened the round, came with his own guitarist. Even though there were some nice moments already, you felt that the four acts, hosted by Kelvin Jones, needed to get into the setting and get in touch with the crowd, The first round came with rather emotional, romantic tracks. The "ice breaker" was definitely Kelvin Jones, whose Cry A Little Less was absolutely touching.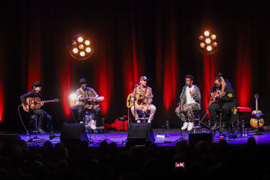 The second turn was much more intense. Breland explained about his feelings these days. On the one hand, he won his first major award – on the other hand, his grandmother recently died. Explaining, that this made him call his tour the The Extra Mile tour was absolutely touching. Pohlmann. was overall in a challenging position, speaking English in a group of three mother tongue artists. However, he compensated limited routine in the language with a lot of enthusiasm and humor. His second song was even an English one, singing about meeting the former Bob Marley band musician Bunny Wailer in a little bar again and again. The story was a bit confusing, but everybody enjoyed it, which finally also lead to a close connection to the audience.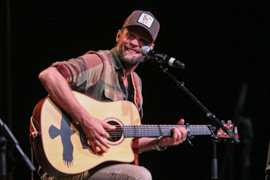 Jackson Dean underlined his great musical talent again with the catching and touching performance of Fearless. One of the most catching moments of the evening, though, was the next song, when Kelvin Jones started one of his songs and then handed over to Breland, who continued the melody and lyrics without having tried that before. Amazing. After these two rounds of songs, the applause was already enthusiastic.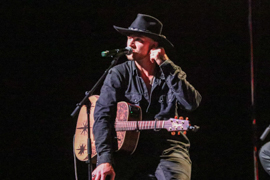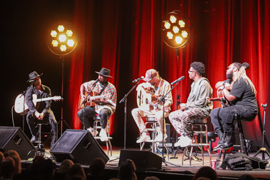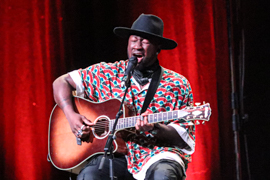 Brooke Eden's Two Song Set
The five boys had a chance for a little break, which was given them by a short two song intermission set by Brooke Eden. She also took time and talked a lot about the two songs she played in Dusseldorf. Both songs, Knock and All My Life have been fan suggestions, by the way. Eden also talked about being married with a woman and how different the reactions on that are between Nashville and Europe. Dusseldorffell in love with Brooke – hope she is having more time on stage next time.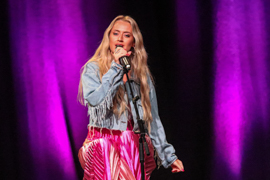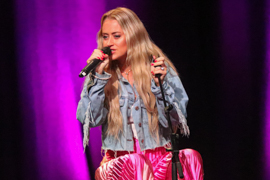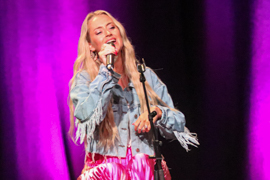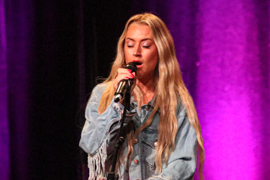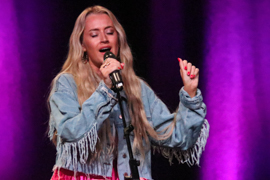 The Final Countdown
After that intermission, it was time for the last round. The four artists changed the order. However, before playing songs they chatted about the Heart to Heart press call a few weeks before the show. Kelvin Jones, for example, gave in that he initially had forgotten that there is press in the call. The mood in the Capitol was great now and Pohlmann. even heated the people up even more, telling amazing details about his Wenn jetzt Sommer wär. Jackson Dean added another really cool one – bad luck that I struggled with his deep hat – sorry for the poor picture quality – his Don't come Lookin' was a nice treat.
Before his final song If I Can't Help You, Kelvin James asked Jackson Dean to swap guitars – only to find out that Dewn's talent on that instrument is just superior. The song about a friend suffering from depression was amazing and touched the people. For the last song of the evening, in which Breland explains that he is religious, but still breaks some religions laws here and there, people stood and clapped to the rhythm, while the musicians on stage joined in with their instruments or as backing vocalists. The evening ended with a lot of applause for the artists after almost three hours.
Heart To Heart – The Gallery
Here are 436 major size pictures of the show. They are located in the concert gallery:
Heart To Heart – My View
The very first Heart To Heart show was a blast – I just hope for more. Even though (or maybe: because) the four artists were so different, they had a great evening together. You felt the fun they honestly had on stage. And that's what the people like as well. Hard to believe that this was a three hour show, time passed so quickly. The two female country acts did a great job as well. Especially Avery Anna felt amazing to me.
Flyctory.com in Dusseldorf
Here are all my postings about Dusseldorf:
Sound of Nashville on Flyctory.com
Here are all postings related to the Sound of Nashville concert series in Germany and the Netherlands: