Just two days after I touched German soil back from CMA Fest 2019, I flew to London for another country music happening. My friend Vic Allen headlined a show of four young female artists of that genre at the Camden Chapel of the London Irish Centre. I felt flattered to see Vic live on stage for the very first time. Here is my concert report.
There i a designated major size picture gallery for this event.
Write Like A Girl – The Venue
The London Irish Centre has been established to offer support and services for young people coming from Ireland to the British capital. It is located not too far away from the Camden Road Overground Station. Underground Connection is served by Camden Town.
It was very hard to find out something about the venue. The chapel is named due to its unique form. It can host up to 450 people. However, for this show, there were chairs at the walls and cushions to sit on the middle of the room, leading to capacity of maybe 70 people. The event was sold out. Tickets were 7 GBP.
Write Like A Girl – The Artists
This event lined up four artists on stage. Write Like A Girl already had a couple of previous episodes and intends to promote upcoming (female) songwriters.
Vic Allen
Vic Allen is the most popular artist of all four. She acted as the host of the event. Some of her songs have already made it to my favorite country music picks, e.g. Blinded in October 2018. Vic Allen opened for some major acts like Sarah Darling (review of Sarah's album Wonderland). Her last two singles reached the Top 5 of the UK iTunes Country charts. Talk is the latest one. She is also one of the founders of the Write Like A Girl initiative promoting young female artists.
Lucy May Walker
Lucy May Walker is from Worcestershire, but now living in London. She made it quite far in some contests and did a couple of interesting support act gigs. About one week after the concert, on 21st June 2019, she was expecting to release a new single, Safety Net. Here is a former song of her.
Erin Bowman
Erin Bowman is 1990-born songwriter from Hamilton, New Jersey, who is just about to release her debut EP. She is writing pop music with an R&B touch. Her debut single is dated of 2011, though. The independent Bowman was also participating in movie music projects.
Maisie Johnson
With just 17 years, Maisie Johnson is the youngest of all artists in Camden. At the end of 2017, she released the EP Sixteen, which had a quite high iTunes chart entry. Here is the title track of that disc.
Write Like A Girl – The Concert
The four artists did a classic songwriters round (see for example the one I visited with Kenny Foster and friends in Nashville a week before). Each girl performed five songs, three before the intermission, two thereafter. The evening started at 19:45 roughly and hit the 22:00 curfew quite well. Before the intermission, Lucy May Walker started, followed by Maisie Johnson, Vic Allen and Erin Bowman. This order was reverted after the intermission, which took significantly longer than the announced 15 minutes.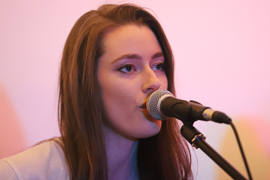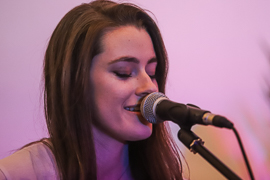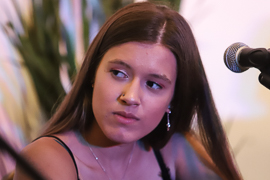 The four artists were very different in their focus. Maisie Johnson impressed with two slow songs before the intermission. She returned after a some two year absence from stage – as she has just completed her school on the day of the concert. Erin Bowman was very present. The new face seemed to have attracted quite many UK attendees. Lucy May Walker did not play her new single, but some other new material. Vic Allen has quite a variety of songs nowadays, so that she chose from classic and new ones. Of course, she finished with her current single, Talk.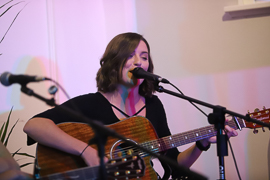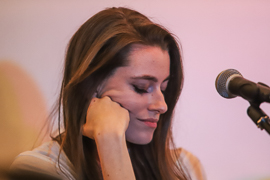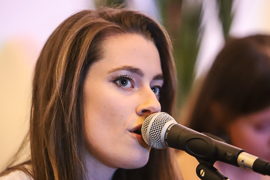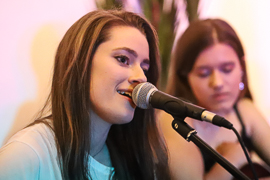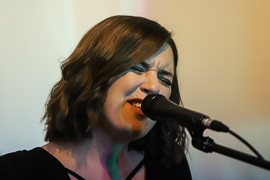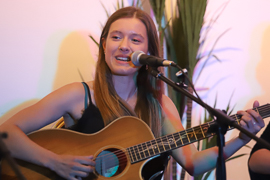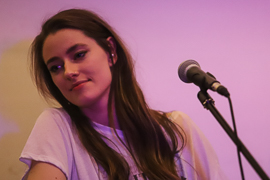 The atmosphere in the venue was lovely. The light was challenging from a photographic perspective, but the people were listening to the songs without too much disturbing noise.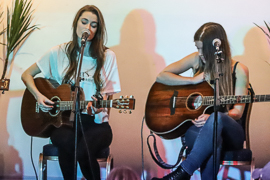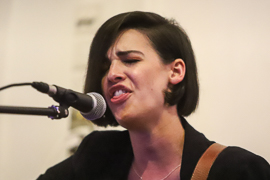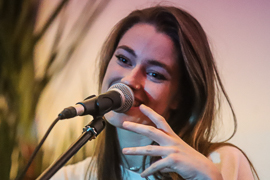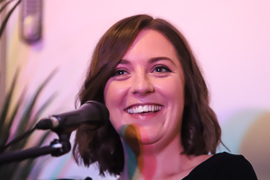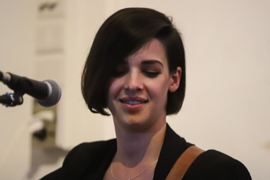 Write Like A Girl – My View
I would not agree to the organizer that "If they are the best talents in London, they are the best of the world" – there is Nashville and Austin, which are dominating talent sources currently. Nevertheless, there were four great talents on stage, every with individual strengths. I fell in love to the soft, but still (when needed) powerful voice of Masie Johnson. Erin Bowman feels very professional and had the most soul on stage. In regards of storytelling, I loved Lucy May Walker and her partially ironic musical footnotes. And Vic Allen? Without her, I wouldn't have traveled to Camben. She was to me the most mature and versatile act on stage on that evening.
All four independent artists are definitely worth listening to. It is a matter of taste, finally. It was the first time I could enjoy Vic Allen live on stage, so my heart is with her a bit more.
Write Like A Girl – Gallery
Despite the dark venue and the rather limited picture quality, I dare to publish a 399 major size picture gallery:
Flyctory.com about Country Music
Here are all Country Music-related postings on Flyctory.com: