266 million streams on Spotify and a bout 150 million views on YouTube – Dustin Lynch definitely crushed the country music scene in 2017 with his Small Town Boy. Any release by the artist is of course in focus of fans and industry. Thus, many people long for his 2022 fifth album, Blue In The Sky. I had a chance to listen before the release on 11th February 2022. Here is my review.
Dustin Lynch – About The Artist
Dustin Charles Lynch was born on 14th May 1985 in Tullahoma, Tennessee, Southeast of Nashville. He also thought to pursue a medical career, but finally he signed his first contract in 2011. One year later, he released his first, self-titled album. Especially driven by his debut single Cowboys and Angels, boosted the success of the album, which finally topped the US Country Album Charts. Even though his following three albums have all been very successful and the second one, Where It's At (2014), even had better sales, no Dustin Lynch album could connect to it. Despite many Top 10 songs, none of his singles topped the US Charts. He had been very successful in airplay, though. Eight Dustin Lynch songs were the most popular ones of their time in country radio, the latest being Thinking 'Bout You, which he recorded with Lauren Alaina as well as MacKenzie Porter.
Dustin Lynch – Blue In The Sky – Track by Track
The twelve song album lasts 39 minutes.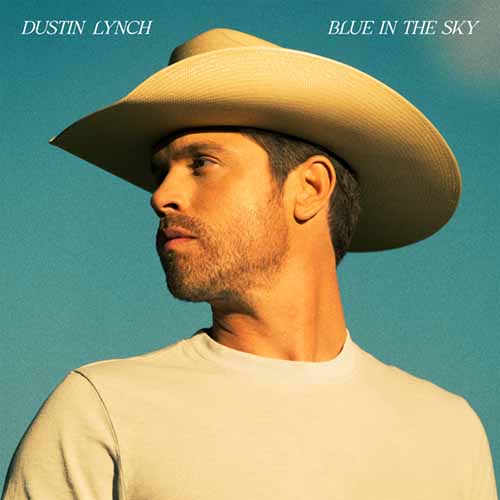 1. Party Mode
It simply can't be too bad to start the album in Party Mode, can it? Indeed, Dustin Lynch is giving summer and dancing vibes in this first song of Blue In The Sky. Good one, which makes you smile while listening.
2. Thinking 'Bout You (feat. MacKenzie Porter)
One of Dustin Lynch's most popular songs in recent times. And still a good listen. You know this track anyway – hope you like it as much as I do.
3. Stars Like Confetti
Even though Stars Like Confetti is a new track, it feels quite familiar. It is simply in line with the "standard" Dustin Lynch sound. Yeah, that makes the song a bit of predictable, but it also means it is an energetic song which is made to provide great fun on the next Dustin Lynch tour. I like it, for sure.
4. Somethin' That Makes You Smile
Definitely not a slow track, but this fourth song is a bit more on the emotional side. It thereby also feels a bit more intimate, more direct to the listener. Nice one, but not as good as the first three songs in my point of view.
5. Break It On A Beach
Beach, summer, party – I don't really feel like that at a mid-February album release. Nashville is around zero degrees Celsius, but Dustin Lynch is going for the water and asks whether Baby is able to break his heart on a beach. This feels to raise the temperature already, at least by a little bit.
6. Tequila On A Boat (feat. Chris Lane)
Just being in beach feeling in deep winter, this previously released collaboration with Chris Lane feels to be the perfect following song. Cheers.
7. Tennessee Trouble
The Dustin Lynch vibe is continuing. The Tennessee Trouble is not at all troublesome as a listener. Nice change from very energetic to quiet moments. This also avoids to have a certain bothering feeling of monotony.
8. Summer Never Ended
I'd be alright if summer never ended – the more I listen to songs like this, I ask myself if Dustin Lynch and his team delayed this release by too much. A good song, which does not feel too different to some other songs on the album. There is just a bit too much summer in here. I would rather go for Santa Clause related songs in February than thinking about lying at the beach – but maybe all the Nashville people are in Cancun currently.
9. Back Road TN
A classic country music stereotype song about praising home (here: a back road in Tennessee). Again, I struggle with that the song feels rather similar to the other songs to me. This one is not adding too much to the album to me.
10. Huntin' Land (feat. Riley Green)
Just when I lost a bit of faith regarding listening to the album, this collaboration with Riley Green and its very special vibe is just right. A bit more "dirty" and rocking, a stronger groove – this song is special. Good single release.
11. Pasadena
Like Huntin' Land, the last songs of the album have been released before 11th February 2022. Pasadena beautifully shows that Dustin Lynch is great on the emotional side of country music, for sure. Beautiful song.
12. Not Every Cowboy
Less rocking, more traditional: Not only due to the nice melody line provided by the steel guitar, this song is another really enjoyable listen. Thumbs up for the closing song of the album.
Dustin Lynch – Blue In The Sky – Spotify
Here is the Spotify widget for Blue In The Sky:
Dustin Lynch – Blue In The Sky – My View
I struggle with Blue In The Sky. On the one hand, it is without a doubt a great album. There is not really a single weak song. Unfortunately, some of the songs feel very similar and the summer topic is a bit too present on a February release. Individual songs of Blue In The Sky will be an amazing summer 2022 soundtrack. The album as such is "just" a good to very good one.
Flyctory.com Country Music Top Picks! Reviews in 2021
Here are all 2021-published Media reviews about Country Music with a Top Pick! rating:
(Greater) Reykjavik
Here are all my postings related to (Greater) Reykjavik: