Take It Like A Man – that's the title of the new Amanda Shires album. After I had a really enjoyable 2021 Christmas album For Christmas, I looked forward to listen to this new release. Release date of her tenth solo studio album overall is at 29th July 2022.
Amanda Shires – About The Artist
Solo artist, being a duo with Jason Isbell and – last, but not least – part of the supergroup The Highwomen – the 1982-born artist is definitely a very busy person. In the 2010's decade only, she released eleven albums either solo or as part of one of the collaborations mentioned. You can find more information about her in the For Christmas review.
Amanda Shires – Take It Like A Man – Track by Track
The ten track album lasts 37 minutes.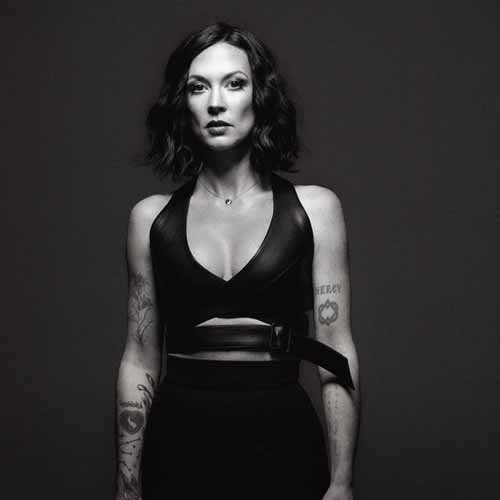 1. Hawk For The Dove
There have been four single releases taken from Take It Like A Man – and the album is opening with three of them. Hawk For The Dove is the first one. A song with a dark note, which is creating a very special atmosphere. And: once you listened to it, you just don't get it out of your head. You can call it serious trouble, cuz that's what I want – great song!
2. Take It Like A Man
The title track is rather slow – but similar to the opener, it is a rather present and intense listen. You feel the Americana signature behind this song, even though this one rather feels like a pop track. Great instrumentation and atmosphere.
I was snared by your wrist
I know what the cost is
The octaves of consequence
I know the cost of flight is landing
and I know I could take it like a man
I know I could take it like a man
3. Empty Cups (feat. Maren Morris)
A touch of Highwomen: even though Maren Morris is rather active in the harmony vocals, it is nice to see these two artist (re-)united for this piano ballad. The topic of the song is almost an Amanda Shires stereotype in her songwriting: failed relationships. But she is just doing so great in her
4. Don't Be Alarmed
Don't Be Alarmed adds some stronger country vibes to the album. Again, Shires nicely makes use of a few musical elements to create a beautiful atmosphere around this piano and acoustic guitar song.
Stay right where you're standing
Take it all in
Don't call it dramatic
See it to the end
5. Fault Lines
Fault Lines closes the set of three rather slow songs. A very impressive description on a break-up. The song is not as present as others, but it is an absolutely nice write.
6. Here He Comes
After this slow section, Here He Comes comes with a swinging, soulful rhythm. This leads also to a bit of an ironic touch of the song to me. On the other hand, the pop-ish rhythm also leads to a cheeky character.
Just when you think you've had enough
All you could take
Here he comes
When you think you've got no more
Heart left to break
Here he comes
7. Bad Behavior
The seventh track is the last track on the album, which Amanda Shires fan already know as a single release. Again, the song is rather a track in the soul-pop spheres than an Americana one. But Shires' high voice in here delivers a beautiful sound. Nice one.
8. Stupid Love
After all the breakup and unhappy relationship tracks, what could be a better one than Stupid Love? The song is a bit closer to the genres you typically know Amanda Shires from.
9. Lonely At Night
The title is already telling us: in case you expect a happy song in here – you might be wrong! Again, Shires works with the piano, brass sounds and a lot of of dramatic elements when she is doing statements like
I'm not joking when I say this, there's no one I want more
How bout you save it and replay it I've only ever been yours
Can you just stop with theses little wars?
Can you just hold on and hope a little longer?
I can't make it better but don't threaten me with an open door
One of the longest songs on the album (4:12 minutes).
10. Everything Has Its Time
Interestingly, my press kit indicates another song (My Own Galaxy) as the closer of the album. Everything Has Its Time is taking over that duty instead. Needless to say that the song is rather mournful again. But it is an impressive finale.
Amanda Shires – Take It Like A Man – Spotify
Here is Take It Like A Man on Spotify:
Amanda Shires – Take It Like A Man – My View
Amanda Shires indeed takes an unexpected journey in Take It Like A Man. I feel that she did a great write in here. However, it is a bit too much for me. The droopy style leads to too much monotony and feels a bit too much. Nonetheless, the album comes with strong messages and good songs – the rating is in line with that.
Free Entry Locations (USA)
Here are all my free admission reviews, which are related to the USA:
Hotel Reviews in 2022
Here are all my hotel reviews published in 2022: