The Altas Underground series continues: just some six weeks after Tom Morello released The Atlas Underground Fire, which was full of amazing guest musicians and great music, there is another album by the New York City artist from this series of songs: on 3rd December, Tom Morello is presenting The Atlas Underground Flood. Here is my review.
Tom Morello – About The Artist
The previous edition of the The Atlas Underground series already featured some bio. Thus, I refer you to the The Atlas Underground Fire review.
Tom Morello – The Atlas Underground Flood – Track by Track
The twelve song album lasts 43 minutes.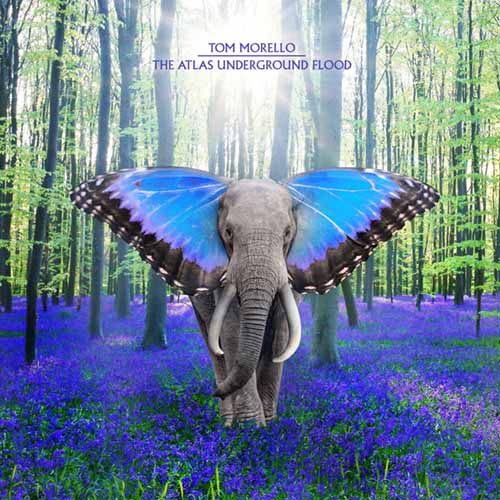 1. A Radical in the Family (feat. San Holo)
Okay, I give in – I haven't really prepared myself before listening to The Atlas Underground Flood. I loved The Atlas Underground Fire – and when I received the second album of this series, I definitely wanted to go for a review. I should have expected something very different when I read the name San Holo – the Dutch DJ stands for trap and ambient music, not at all for rock. And already this first track tells you: this second Atlas Underground album is even more experimental than the first one. Very atmospheric, electronic music. Unexpected, but really well done.
2. Human (feat. Barns Courtney)
Oh my god, I'm an animal
Oh my god, I'm 'a have it all
I'm losing, I'm losing my way back to human
Barns Courtney is rather a folk and blues rock/pop musician. In the collaboration with Tom Morello, Human feels very modern and catching. A powerful, present sound, which feels especially good in the catching chorus. Nice guitar work and groove in this song, for sure.
3. Hard Times (feat. Nathaniel Rateliff, Jim Jones, and Chipotle Joe)
Groovy sound, rap parts, but also some really jiggy guitar riffs: Hard Times merges a lot of influences to a rhythmic, powerful, loud song, which turns into a lush Southern rock song in the chorus. Interesting work. I like it.
4. You'll Get Yours (feat. X Ambassadors)
After rather loud and present songs, You'll Get Yours is a significantly more quiet and feels like a gentle folk rock song. The semi-acoustic sound gives a really nice new touch to the album. Really good song.
5. I Have Seen the Way (feat. Alex Lifeson, Kirk Hammett, and Dr. Fresch)
Tom Morello feels to work with even more guest musicians than in the first Atlas Underground part. For I Have Seen the Way, he choses two muscians, which come with a clear rock background (Kirk Hammet and Alex Lifeson), but also Dr. Fresch, who is adding the electronic touch again. This leads to a rocking sound, which feels a bit of boring and monotonous.
6. The Lost Cause (feat. Manchester Orchestra)
After this bombastig, almost a bit of chavvy song, The Lost Cause feels very fragile. The song has a nice ease and comes with a beautiful atmosphere, which gets an additional nice touch by the Atlanta indie-rock band Manchester Orchestra.
7. The Maze (feat. Andrew McMahon in the Wilderness)
For The Maze, Tom Morello is supported by rock pianist Andrew McMahon. A song with a folk rock touch and a lot of harmony. Feel plushy and enjoy!
8. Ride At Dawn (feat. BreakCode)
Fast and hard rhythms, powerful dance floor style – no song feels like the previous one at The Atlas Underground Flood. Rock meets techno in this song. For me, it is a bit too much – but I am sure that the song will be loved by some listeners.
9. Raising Hell (feat. Ben Harper)
The song starts with acoustic guitar sounds – and already tell you that we left the rave space already again. The three time Grammy winner Ben Harper does a great performance on the microphone here. Easy, simple, marching forward – you don't need too much to create a great song, which stays in your mind.
10. The Bachelor (feat. IDLES)
With the English punk rock band IDLES, the album expectedly presents a bit of a harder and darker song. However, in contrast to other tracks on the album, Tom Morello and his guest musicians do not try to push too many elements into the song – which I feel is the right option. Nonetheless, the song is not part of my favorites of the album.
11. Parallels (feat. Jim James)
Parallels is not too loud, but feels very experimental with his distorted melodic lines and the strong focus on Jim James' voice. This moves the focus away from the virtuously played guitar in this song. The instrumental performance is better than the song as such, though.
12. Warrior Spirit (feat. Rodrigo y Gabriela)
Warrior Spirit leads to a very fascinating finale of the album. Rodrigo y Gabriela are a Mexican acoustic guitar duo, who have global success with their instrumental music. The rhythm of the song gives a pop flavor, but the guitars lead to a nice Latin music feeling. This song does not need any vocals to make you dance – the magical track at the end of the album is the best one out of all twelve to me.
Tom Morello – The Atlas Underground Flood – Spotify
Here is The Atlas Underground Flood on Spotify:
Tom Morello – The Atlas Underground Flood – My View
Tom Morello is sailing his The Atlas Underground ship on very different waters of music. He is never shipwrecking with this experiment, but indeed fascinating with a very versatile album. Some songs are a bit too experimental to me, so that I finally rather go for the Fire than for the Flood in his album repertoire. Nonetheless, the album is a good one and will make quite some people happy.
Postings about US Rock Music
Here are all my Music & Media postings about rock music and the USA:
Travel Postings – New York
Here are all my Travel postings related to New York (city):