Likely, being an Ordinary Man is one of the attributes you would least assign to Ozzy Ozbourne spontaneously. Nevertheless, the former Black Sabbath voice, who has been called "The Prince of Darkness" during these ages, named his twelth solo studio album exactly that way – not the only reason to have a look at the record, which has been released on 21st February 2020.
Ozzy Osbourne – About the Artist
John Michael Osbourne was born on 3rd December 1948 in Aston near Birmingham in the United Kingdom. He had his nowadays well-known nickname Ozzy since the very early school ages already. Osbourne suffered a quite serious school time, suffering from dyslexia / reading problems as well as sexual abuse. He also played in theater plays in this period. Due to burglary in his apprenticeship years, he spent six weeks in prison. The roots of Black Sabbath are then dated to 1967, when he and Geezer Butler formed a couple of unsuccessful band projects until a project was called like this in August 1969. Already their first album, which was self-titled, hit the Top 10 album charts in the United Kingdom, but also in the Netherlands and Germany. There was also some commercial success in the USA. The title track and first single of the second album Paranoid was the ultimate breakthrough to the band, which overall published 19 studio albums, the latest in 2013.
Compared to the Black Sabbath albums, the solo albums by "Ozzy" were less successful. However, they regularly hit the Top 10 as well. His solo debut, the 1980 Blizzard of Oz, was especially successful in the United Kingdom and Canada, for example. Osbourne's previous solo album, Scream, has been published in 2010, and was a worldwide success, even though the chart placements in his home country were worse than in most other worldwide markets. Ozzy's most successful solo single is likely the 2001 Dreamer, which was part of the Down to Earth album.
Ozzy Osbourne – Ordinary Man – Track by Track
The eleven tracks of the album last 49 minutes.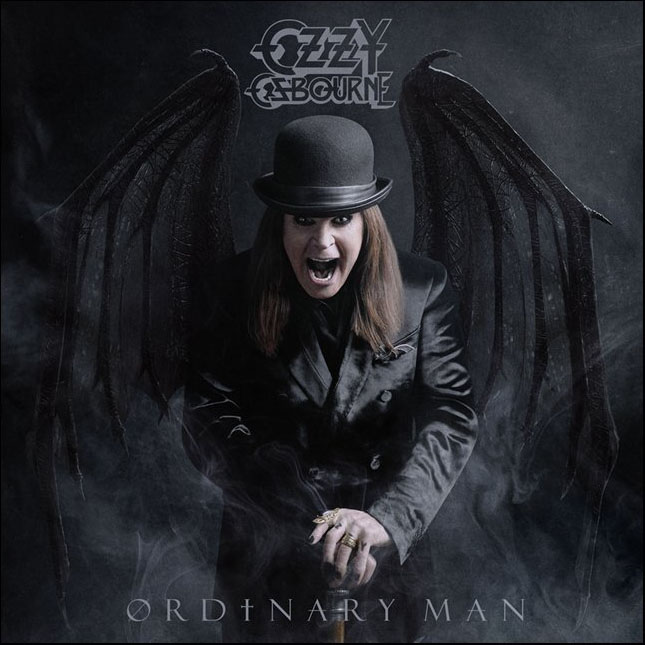 1. Straight to Hell
Alright now, come on now are the first verses of the album, the first track takes you Straight to Hell – sounds like good old Ozzy? it is a good old Ozzy definitely! The track rocks, the guitars what guitars just have to do when this not-that ordinary man is on stage. Nice inception of the album!
2. All my Life
I've been living in yesterday
All my life
A dollar short and a day too late
All my life
The second track is definitely softer than the opener, but it has its guitar moments as welll.
3. Goodbye
Did you hear it, purgatory
Not afraid to burn in hell
All my friends are waiting for me
I can hear them crying out for help
This track is a bit of a shocker to me. Especially at its beginning, the song is very deep, very intense before the interlude and the bridge make it feel easier. Wow.
4. Ordinary Man feat. Elton John
Ozzy Osbourne and Elton John – two great names of the music business, who stand for such different kinds of music. When I was preparing for this review, this was likely the track I was must curious about. The song is a lovely composition, a great rock ballad – somehow as deep as Dreamer, even though it may not be such a commercial success. A lovely farewell song – I am not a die-hard Ozzy fan, but this track just touches me massively. Thank you Ozzy!
Don't forget me as the colors fade
When the lights go down, it's just an empty stage
Okay
Yes, I've been a bad guy
Been higher than the blue sky
And the truth is I don't wanna die an ordinary man
I've made momma cry
Don't know why I'm still alive
Yes, the truth is I don't wanna die an ordinary man
5. Under the Graveyard
Under the Graveyard is another deep and intense Ozzy track, which is having soft elements, but also hard guitar sections. Very good lyrics again – and another proof that Ozzy is definitely not that ordinary.
6. Eat me
This track begins with harmonica play – but overall, it is just a good and great to listen to some 4:20 minute rock track.
7. Today is the End
The sun is black the sky is red
And it feels like today is the end
The kids are running as fast as they can
Could it be that today is the end
The song feels a bit too psychodelic and dark to me. I am sure Ozzy fans love it, though.
8. Scary little Green Men
The style of Scary Little Green Men is quite close to Today is the end. However, this track has a lot of potential for the upcoming tour (see below) to me.
9. Holy for tonight
What will I think of when I speak my final words?
What will it feel like? And I wonder if it hurts
I've just got a mile and I can taste the kiss of death
What will I think of when I take my final breath?
The topic "death" is dominant – not too surprising at an Ozzy Osbourne album. Holy for tonight is however another one of these very deep and impressing tracks. Great song!
10. It's a Raid feat. Post Malone
This track is a very fast, intense. Post Malone, who is much more known for his Rhythm & Blues productions, feels to add a great groove and melody style to this song. It still feels like Ozzy – and I like it, though songs which feel Ozzy may always be a bit on the confusing side…
11. Take what you want feat. Post Malone & Travis Scott
This second colllaboration with Post Malone on the album makes me smile most: ladies and gentleman, Ozzy is doing R&B. FInally, he is a musical genius, a unique person – he does even sound good in this one!
Ozzy Osbourne – Ordinary Man – Spotify
Here is the Spotify widget for Ordinary Man:

Ozzy Osbourne – Ordinary Man – My View
We might not have too many more Ozzy Osbourne albums in the future – the more I am happy to say: thank you Ozzy, this one is iconic! Quite a wide range of songs – even a soul-alike track at the end of Ordinary Man. Ozzy Osbourne is definitely not ordinary – and he proofs it with his 2020 album. Top Pick!
Ozzy Osbourne – 2020 Tour
The "Prince of Darkness" is going back. In addition to some UK tour dates he had to postpone, Ozzy Osbourne will tour Europe in late 2020. Here are the tourdates:
| | | |
| --- | --- | --- |
| Fr 23.10.2020 | Newcastle (UK), Utilita Arena | |
| So 25.10.2020 | Glasgow (UK), SSE Hydro | |
| We 28.10.2020 | London (UK), The O2 | |
| Sa 31.10.2020 | Birmingham (UK), Resorts World Arena | |
| Mo 02.11.2020 | Manchester (UK), Manchester Arena | |
| Th 05.11.2020 | Dublin (IRL), 3Arena | |
| Su 08.11.2020 | Nottingham (UK), Motorpoint Arena | |
| We 11.11.2020 | Dortmund, Westfallenhalle | |
| Fr 13.11.2020 | Prague (CZ), O2 Arena | |
| Mo 16.11.2020 | Vienna (AT), Stadthalle | |
| Th 19.11.2020 | Bologna (IT), Unipol Arena | |
| Su 22.11.2020 | Madrid (ES), WiZink Arena | |
| Tu 24.11.2020 | Zurich (CH), Hallenstadion | |
| Th 26.11.2020 | Munich, Olympiahalle | |
| Sa 28.11.2020 | Mannheim, SAP Arena | |
| Tu 30.11.2020 | Berlin, Mercedes-Benz Arena | |
| Th 03.12.2020 | Hamburg, Barclaycard Arena | |
| Sa 05.12.2020 | Stockholm (SE), Friends Arena | |
| Mo 07.12.2020 | Helsinki (FI), Hartwall Arena | |
Album cover, tour poster: Artist material
British Media Reviews
Here are more music and other media reviews about bands originated in the United Kingdom:
Postings with Tour Dates
Here are all Flyctory.com postings, which include tour dates: