If you think about Grey Daze, you automatically think about Chester Bennington. The charismatic lead singer, who committed suicide just a few months before a reunion concert in 2017, is nonetheless part of the band's new release, The Phoenix. Like Grey Daze already did in the 2020 Amends album, they use existing recordings from early Grey Daze years and re-arrange them to a modern sound. By the way, this is happening under explicit consent of Benningtons daughters Lily and Lila as well as his widow Talinda. Release date of this very special album is 1st July 2022.
Grey Daze – About The Artists
Grey Daze are a band from Phoenix, Arizona, USA. The band has originally been founded by drummer Sean Dowdell and bassist Jonathan Krause. They completed the band with guitarist Steve Mitchell and Chester Bennington, who was part of the band between 1993 and 1998. He became even more famous as lead singer of Linkin Park, which he was part of from 1999 until his death. In fact, Grey Daze just released two albums, the 1994 Wake Me and … No Sun Today in 1997. Amends, which was already a Bennington post-mortem, was especially successful in Germany, where the album had a short Top 10 appearance.
Grey Daze – The Phoenix – Track by Track
The ten track album lasts 39 minutes.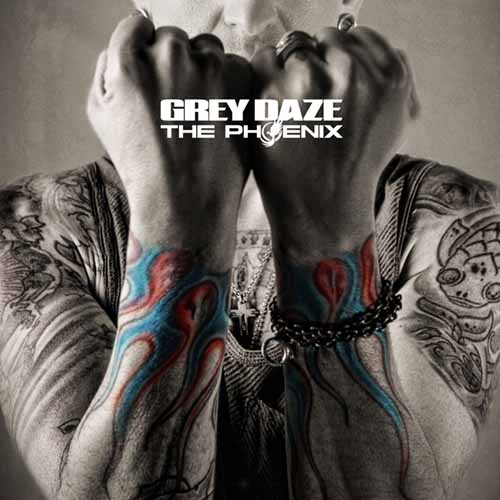 1. Saturation (Strange Love)
The single release Saturation (Strange Love) feels like the perfect opener. What a great rock track with impressive breaks between different styles, cool bass groove. Hard to believe that Bennington was at most in his very early 20's when he released this song.
2. Starting To Fly
After the very pleasing opener, Starting To Fly is definitely not a worse listen. Especially the shouted vocal parts are leaving a deep mark in your memories. It is somehow frightening that you can "glue" that good songs from existing vocal recordings of a dead singer – but the result is impressively good.
3. Be Your Man
The focus of Be Your Man is definitely on the melodic chorus. The song is a nice listen, but it cannot connect to the very strong ones at the beginning of the album.
4. Holding You (feat. Dave Navarro)
Double music legend forces: apart from the samples of Chester Bennington's voice, Red Hot Chili Peppers' Dave Navarro is adding magical spirit to Holding You. Unfortunately, I am missing a bit of that magic in the final song. I like the slight grunge touch of the song, but apart from that, the listen is just average to me.
5. Hole
Hole starts with a children's choir or similar, before the song aims towards a traditional Grey Daze sound. However, I am missing energy, the special power. It feels like that recording is rather a demo than a "full" studio recording. Not bad, but I feel that this track is just reaching half of its potential.
6. Drag
The sixth song has been used as a featured single as well. A song, which works with a lot of atmosphere and screaming-alike Bennington recordings. This special vocal touch leads the to a very characteristic sound and a unique character.
7. Believe Me (feat. Richard Patrick)
Another interesting guest musician: Richard Patrick has been a Nin Inch Nails member until the early 1990's. Believe Me turns into a very moody, melodic song with a bit of energy. Not too much of a special spirit, but a solid listen.
8. Anything, Anything
Please don't tell me what the hell is wrong. Again, Grey Daze create a pretty solid song out of the recordings they got and the ones they could add to their archives. While I overall rate the second half of The Phoenix weaker than the first one, this is one is one of my favorites. It also feels more authentic than some of the other songs you listen to before and therefter.
9. Spin
I could almost copy and paste my comments about Hole and put it in here. Spin feels like a song with a lot of potential – you just cannot make Grey Daze's former singer going back to the studio and record it properly. Thus, this 2022 Spin rather feels like recorded by an at most average Linkin Park tribute band singer in a less than average studio. Bad luck.
10. Wake Me
There is definitely no need for a wake up call after you listened to The Phoenix. However, I don't feel that the closer is really an uplifting, energizing finale as well.  I guess this one has been much more magical three decades ago.
Grey Daze – The Phoenix – Spotify
Here is The Phoenix on Spotify:
Grey Daze – The Phoenix – My View
What is The Phoenix really? Is it a final tribute to a music legend? Is it an experiment, what you nowadays can achieve by doing highly professional recording and mastering techniques? The story of The Phoenix would simply not be told correctly if you just take it as an ordinary album. And that makes it also hard to judge on it. I feel it is touching, amazing – but a certain part of that is the possibility to create these tracks five years after the very tragic death of the band's former lead singer. Thus, the rating is a good average one.
Music Legends on Flyctory.com
Who belongs to the music legends? Here on Flyctory.com, it's only me who decides on this:
Flyctory.com in Las Vegas
Here are all postings about Las Vegas and surrounding: