If you are not a living music lexicon, most of you might not associate too much with the band Edie Brickell & New Bohemians. However, I am quite sure you know one song of the band, What I Am, which has been a global success. However, this song has been released in 1988. The band is still active and is releasing a new album on 19th February 2021. The title is Hunter And The Dog Star.
Edie Brickell & New Bohemians – About The Artists
Edie Brickell & New Bohemians is an alternative rock band, which has already been founded in 1985 in Dallas. The band is active until now, they however had a hiatus between 1991 and 1997. The leader of the band is Edie Brickell, who is the singer and plays the guitar. Brandon Aly is on the drums, John Walter Bush the percussionist, John Bradley Houser and Kenneth Neil Withrow are additional guitar players. The band started as the New Bohemians as a three member band already in the early 1980's. Their biggest success was their very first single taken from their very first album. What I Am was huge in multiple markets and topped the Canadian charts. The corresponding album, Shooting Rubberbands at the Stars went up to the fourth spot in the US Billboard, but also had significant chart success in many other markets.
Apart from the big hit, the second single Circle additionally lead to success. Even though the band had some average chart placements until 1990 and their second album Ghost of a Dog also had some sales, they could not connect to their success any more. After their hiatus, the following studio album was Stranger Things in 2006. Hunter and the Dog Star is the band's fifth studio release.
Edie Brickell & New Bohemians – Hunter And The Dog Star – Track by Track
The eleven track album lasts fourty minutes.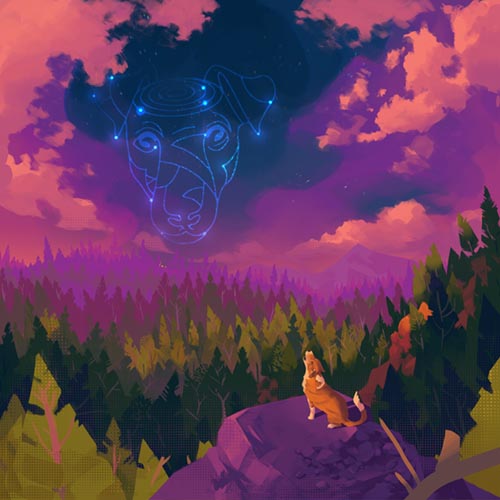 1. Sleeve
Started out with one then he got two then he got three, four, five, six
seven eight nine ten eleven twelve tattoos
Then he went back, and he surpassed twenty-three
Now he got a sleeve
The album starts with Sleeve, which feels like a synth pop track. The song is indeed naming all the tattoos on that inked sleeve. A very special opener – I struggle to enjoy it, honestly.
2. Don't Get In The Bed Dirty
Don't get in the bed dirty if you love the one you love – the second song is more rhythmic and, has some guitar riffs. And, of course, it comes with a clear hygienic message. I can't stand to smile while listening to this song. By the way, the chorus is a really catching melody, while the verses almost feel like spoken words.
3. I Don't Know
I Don't Know comes with a cool rhythm and especially some nice percussion sounds. Really good listen.
4. Stubborn Love
Stubborn Love is describing a very special love affair between two strong characters meeting in a bowling alley. As in the songs before, the way Edie Brickell & New Bohemians describe the scenery and story makes me laugh. Nice irony and sense of humor.
5. Rough Beginnings
Despite Brickell's high voice, the Rough Beginnings have almost a dark atmosphere. A song which is dealing with very traditional values and lifestyle.
6. Tripwire
It is quite amazing that Tripwire is a song I found a video for – in fact, it is just an 89 second track with a short message:
I never think about the consequences of my own
actions until it's too late
I want to get a better, broader perspective where
everyone is connected
In time and in space
I'm in the middle of a crippling ripple effect of
thoughts that I let trip a wire
I wouldn't mind a mindful reminder to pull me higher
and higher
Higher and higher
7. Horse's Mouth
If you don't hear it from the horse's mouth
You're hearing it from a horse's ass
Clear message, ain't it? It is amazing that the album touches so many styles and genres. The chorus, especially, comes with a strong country touch. The piano bridge is also quite cool.
8. I Found You
This song is quite minimalistic. There is a strong focus on the vocals, which are just accompanied by a marching drums sound and scattered guitar play.
9. Miracles
Miracles aren't just for believers
Anyone anywhere receives them
Oh, they happen all the time
Break open your heart and change your mind
I seen it with my own eyes
Edie Brickell & New Bohemians create a six minute track out of a quite limited amount of lyrics. The song is experimenting with very different sounds, electric and synth sounds. I feel it turns Miracles into a fascinating composition – even though it sometimes feels tough to follow the tunes of the songs.
10. Evidence
Evidence is an instrumental track, which is mixing electric sounds with long guitar riffs. To me, it is a track which is not really worth listening to.
11. My Power
Everybody tried to tell me don't do that
Keep it for yourself don't give it to that man
I gave it all away I'm trying to get it back
My Power
After some very experimental minutes with Hunter And The Dog Star, the album closes with a very melodic and great to keep in head song. Nice finisher.
Edie Brickell & New Bohemians – Hunter And The Dog Star – Spotify
Here is the album on Spotify:
Edie Brickell & New Bohemians – Hunter And The Dog Star – My View
I have mixed feelings about Hunter And The Dog Star. The band is doing good music and interesting compositions, indeed. The lyrics are sometimes really, really cool. Especially the last track, My Power, illustrates how great music by Edie Brickell & New Bohemians could be – but I feel they overdo some of there ambitions towards music. That's sad – there is so much talent in this band, this album.
Postings about US Rock Music
Here are all my Music & Media postings about rock music and the USA:
Excellent Museums & Exhibitions
Here are all Museums & Exhibitions on Flyctory.com, which received the Top Pick! rating: