Lina Larissa Strahl, as a musical act simply called LINA, is having a bit of an age issue: the nowadays 23 year old actress and singer became big in Germany by playing in singing in a series of popular childrens' movies. She grew up as well as parts of her fans. However, her fan base is still quite young. Nonetheless, I was always quite fond of what she was doing, especially on the music side. Her new EP release, Meins ("Mine"), was definitely something I have been very curious about. Here is my review.
LINA – About The Artist
Lina Larissa Strahl, born on 15th December 1997 in Seelze near Hanover, started her career on the music side. At the age of 16, she won the contest driven by a German children channel as the "Songwriting talent of the year". The winning song, Freakin' Out, has been recorded together with the Berlin pop music group MIA. Until now, this 2013 release is LINA's highest chart entry on the singles side in Germany (#63, 1 week). A follow-up single did not work well commercially. However, during the summer of 2013, Strahl has been casted for the main actor of the Bibi & Tina kids' movies, Bibi Blocksberg. The character is a very popular audio drama for kids in Germany. There have been four movies, which all have parts in which Strahl is also singing songs recorded for soundtrack albums. None of them was worse than twelfth in the German album charts, with the 2016 Bibi und Tina: Mädchen gegen Jungs ("Bibi and Tina: Girls vs. Boys") soundtrack even topping the German charts with a double platinum status. The albums have also lead to significant sales in Austria and Switzerland.
Since 2015, Strahl is also publishing solo music as LINA. None of her solo singles made it to the charts yet – which is quite strange, as she is very successful in streaming – the song EGOIST below has some 17 million views on YouTube only. Her albums, though, were quite successful. Her 2016 debut Official went up to the twelfth spot in the album charts and received gold status. The 2017 Ego and 2018 R3bellin ("Rebel") even climbed up to fourth and second place, both staying in the Top 100 for quite a while. In 2017, LINA also released her EP Unvestärkt ("Non-amplified"). As a non-press visitor, I reviewed her concert in June 2018 in Bonn. I really liked her live performance, but struggled with the circumstances of the concert.
LINA – Meins – Track by Track
The five song EP lasts 13 minutes. The EP has been pre-sold in a bundle, which also granted access to a fanclub-alike platform.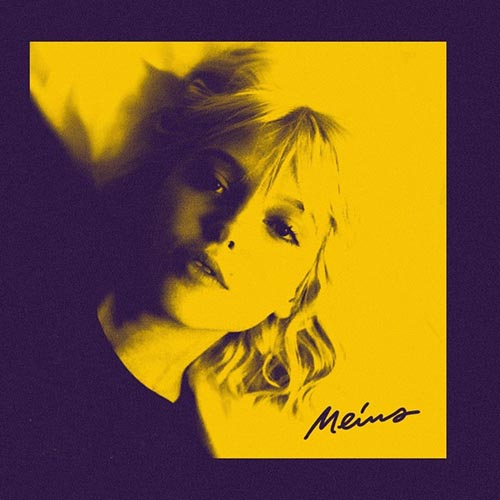 1. Meins
The EP starts with the title track – and the only song released before the actual EP release. A song about being independent after a failed love. The chorus is pretty cool. The video, by the way illustrates quite nicely how Lina and her team struggle between her young and girlish image and becoming more mature and adult. I like the song, indeed.
2. Es ist okay
Es ist okay für mich,
wenn Du nicht mehr bei mir bist.
Es ist okay für mich,
wenn Du mich nicht vermisst
Er ist okay wenn Du gehst,
scheißegal, es ist eh schon zu spät
Es ist okay für mich
wenn Du mich für immer vergisst.
("It is okay to me
if you are no longer with me.
It is okay to me
if you do not miss me
It is okay when you leave,
dan, it is already too late
It is okay to me
if you forget me forever.")
This song, with its beautiful fragility of a break-up experience, is the best song of the EP to me. I like the atmosphere, the mood – a good pop track with a clear line and nice lyrics.
3. Utopie
The Utopie in this song is the utopia to be happy together forever. Thus, the song is about love from the happy side. I feel that this middle track of the album is a good listen, but it is weaker than the first two songs.
4. C'est la Vie
Meins is in general a very emotional, intimate EP. C'est la Vie is about emotional ups and downs in difficult situations.
Doch es geht schon irgendwie
alles Gut, C'est la Vie
("But it is working out somehow,
everything fine, c'est la vie / That's life")
The positive message in this song sounds a bit too agonised. Like the hard times in life.
5. Tu bitte nicht so
On the lyrics side, Tu bitte nicht so ("Don't act like that") is the song which makes me smile most. A song about a guy being too keen on living a luxury life.
Du sprichst nur von Money
ich von meiner Mami
Sei leise und fahr' Deinen Ferrari
Ich komm nur fürs WLAN auf Deine Party.
("You only talk about money,
I about my mother.
Shut up and drive your Ferrari,
I only visit your party for the WiFi")
A song which is accusing influencer life and just act for the appearances' sake. Love the message.
LINA – Meins – Spotify
Here is the Spotify widget to Meins:
LINA – Meins – My View
During listen to Meins, I thought a lot about the struggle of Lina Larissa Strahl's fight between her image (which is still generating quite a lot of new fans) and growing up and being mature. She might not be the most talented vocal out there and her voice is sometimes a bit of thin, but the songwriting is cool and overall, Meins comes with five good and straight pop tracks. The EP is definitely a step towards maturity and adulting – but finally, she cannot influence too much if the German speaking public is taking her for what she really is nowadays: a quite cool, young German pop artist. I definitely enjoyed listening to her EP.
Pop Music EP reviews
Here are all media reviews on EPs covering pop music:
Travel Postings about the Cologne Region
Here are all Flyctory.com travel postings of the region around Cologne: