Harmonie by Phil Solo is one of these reviews which just happened to Flyctory.com while scanning promotion platforms. I ran into the music by that German singer-songwriter, enjoyed the sound and felt that this release is worth sharing. Release date of the album is 21st May 2021.
Phil Solo – About The Artist
Phil Solo's civil name is Philipp Meyer. He is a singer-songwriter in is early 40's from Detmold in the Lippe region, East Northrhine-Westphalia, Germany. He started as a drummer, but while playing as a teenager in several bands, missing the direct contact to the audience while sitting on the drum machine, he also invested in his guitar skills. Nowadays, he rather sees himself as a guitarist than a drummer. He founded the band Frame Of Mind, which had two albums and an EP release in the first decade of the 2000's. Become a solo artist as well has been just by luck: the band was about to play a sold-out gig in Berlin in 2009 – but as part of the band members were ill, he did the gig solo. A producer saw the show and he recorded his first solo record.
The debut album took until 2018, when Phil Solo released Scheint So ("Seems to be so"). Though his releases are German songs, he is also performing English tracks on stage.
Phil Solo – Harmonie – Track by Track
The twelve songs album lasts 47 minutes.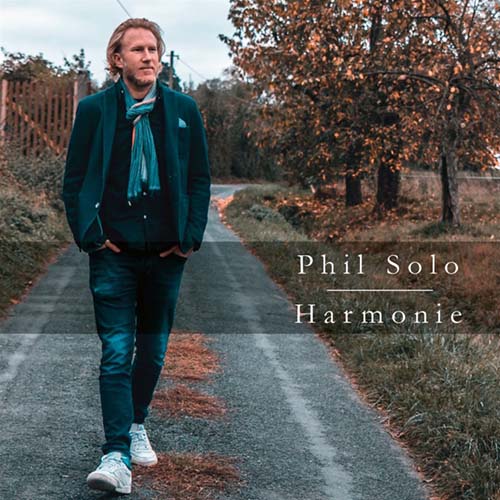 1. Beginn
The album starts with the song Beginn – which simply means "start" and is thus absolutely predestined for that position in the album. A witty, happy sounding rock track with good lyrics. Just a good starter.
2. Ja
Ja / "Yes" almost comes with a slight touch of alternative and punk. This also nice corresponds to the sometimes a bit imprecise vocal performance. Good arrangement of the song, which comes with a high party factor when Phil Solo is on stage the next time.
3. Moment
It feels very hard to me to describe the style of Moment in words – but Phil Solo definitely again manages to create a happy and catchy atmosphere. I especially enjoy the chorus of this track. Nice song, even though I preferred the two starters.
4. Harmonie
The title track ("Harmony") starts like a pop track, especially due to the very present rhythm in the first 80 seconds. The accentuated way of singing in this track slights reminds me of famous German Herbert Grönemeyer. Just good music, which feels very straight, honest and handmade.
5. Aufgewacht
The fifth track is a rather slow track about love. Phil Solo is just accompanied by an acoustic guitar, which leads to a lovely feeling while listening to the song. I enjoy listening to his voice, even though the song itself does not catch me as much as in other songs. The songs adds more instruments like electric guitar and drums towards its end.
6. Farben
Farben ("Colors") gives a happy mood from the very beginning. The song is a bit more towards an indie style. A love song about a girl Marie, who seems to be a really fascinating young lady.
Die grellen Farben
Dein Lächeln in allen Farben
Das wollen alle haben
Und ein Stück so sein wie Du.
("Die bright colors
Your smile in all colors
That's what everybody wants to have
And to be a bit like you")
7. Bewegung
Bewegung ("Movement") is another really catching song, which I could imagine could be very energetic at a concert. The high guitar chords give a very special touch – the song comes with a lovely groove.
8. Leben
I feel Leben ("Life") could have the potential to be the best song on the album – unfortunately, I am not too happy with the recording. Especially in the chorus, it does not feel overwhelmingly precise. At least it is not annoying – just notable.
9. Atem
Even though the ninth track comes with some powerful rhythmic parts, I rather prefer other tracks on the album. At least, Phil Solo keeps is style and straight, handmade music.
10. Detmold
There are thousands of songs about my home town Cologne – but I guess the people in Detmold will really praise this anthem about their one. Good rock track. I am sure it cheers up any crowd in and around the city. If you try to understand the James Bond reference in the lyrics, by the way: it is not working with the original movie – just with the German dubbing.
11. Zusammenhalten
Phil Solo published this song in order to honor the all the helping hands in the Covid-19 crisis. Nice slow acoustic guitar ballad.
12. Zeit
A song about turning back the time and thinking about memories. Zeit ("Time") is a nice finisher, which closes the album with a happy feeling.
Phil Solo – Harmonie – Spotify
Here is Harmonie on Spotify:
Phil Solo – Harmonie – My View
Harmonie is maybe not an absolute must-listen – but it is really a nice singer-songwriter album with good lyrics, a nice personal touch. The guitar play and the lyrics are the key elements – but songs like Detmold will definitely win the hearts of a bunch of people. Very solid recording, which is fun to listen.
Travel Postings about the Cologne Region
Here are all Flyctory.com travel postings of the region around Cologne:
German Artists in 2021
Here are all my Music & Media postings about German artists in 2021: