A band which has been named based on their nudist colony background feels to be a promising basis for a review on Flyctory.com, doesn't it? The Nude parts are a US band, which are just about to release their second album. Midnight Manor will be released on 2nd October 2020.
The Nude Party – About The Artists
The Nude Party are in Indie Rock / Psychodelic Rock project, which has been founded in North Carolina. The band consists of Patton Maggee, Shaun Couture, Alec Castillo, Connor Mikita, Don Merrill and Austin Brose. The band name has a quite funny history: the project has been found during the members' University years. From a student dormitory, they moved to a house at a lake, which turned into a nudist colony. During their first gigs, they partially indeed played naked. Now, some eight years later, the band is more addicted to clothing and also released quite a bunch of music. The first longer player was their 2016 seven track EP Hot Tub. In 2018 The Nude Party has been the band's first album.
The Nude Party – Midnight Manor – Track by Track
The twelve track album lasts 43 minutes.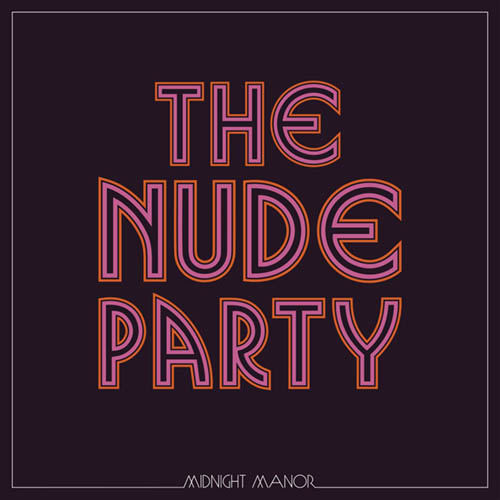 1. Lonely Heather
When I first listened to Midnight Manor, I honestly had no idea what the band's songs will be like. What a step back in time. The Nude Party sounds like the early years of the stones. Rock'n'Roll at its best. Cool stuff – which unfortunately is just a two minute song.
2. Pardon Me Satan
After the short starter, The Nude Party finally caught me with Pardon Me Satan. It feels so much like the beginnings of rock music era, but more like Buddy Holly than Jimmy Hendrix. Clear sound, even with a touch of country music, and very melodic. Cool!
3. Cure is You
Cure is You feels a little bit like a ballad, but also has very angry and powerful elements (which then remind me of the Stones again). Is this really the 2020's? I love that time travel so far.
4. Easier Said Than Done
The guitars have a stronger role at Easier Said Than Done again. The song is still very melodic. More the sound of the mid 1970's in this song – the track has a lovely and catching melody.
5. Shine Your Light
Shine Your Light was the first single released from Midnight Manor. The track has a lovely melody and even reminds me of some tracks of the 1980's. Thereby, the song has an amazing presence, you just cannot stop listening to it. A well-deserved title track of an – so far – really great album.
6. What's The Deal?
What's The Deal? has a lot of speed and power. The beautiful piano bridge is very catching as well. Feels a lot like partying.
7. Cities
If you doubt that The Nude Party are really a psychedelic rock band, you should just give Cities a listen. The song takes you back to the peak times of the genre, the early 1970's. Not my kind of music, but well done.
8. Thirsty Drinking Blues
The Thirsty Drinking Blues gives you a nice trip into blues rock. There is also quite a lot of rock'n'roll in the song again. The end-1960's dancefloors would have loved that song, for sure.
9. Time Moves On
Time for the emotional side of music again: Times Moves On for about five minutes, this is at least the playing time of this beautiful ballad. Don't raise your mobile phone when the band plays this one on stage – in their era, this job was still up to the lighter!
10. Judith
Judith has a lot of power. I love the piano player's sound in here – Don Merrill is just creating a lot of action during this song.
11. Things Fall Apart
Just when you got into the early 1970's rock groove, the band presents a die-hard ballad on their eleventh track: Things Fall Apart is to me the most beautiful song of the whole album. It reminds me of so many big names of the business during that period – I just do not want to compare them with a band, who is just releasing their second album. Love it!
12. Nashville Record Co.
As if The Nude Party want that I indeed love their music, they close the album with a track which has quite a country music touch – and finally deals with working for the Nashville Record Co. Authentic and lovely finish.
The Nude Party – Midnight Manor – Spotify
Here is the The Nude Party's album on Spotify:
The Nude Party – Midnight Manor – My View
Is Marty McFly somewhere out there? The Nude Party just give their audience the perfect illusion of travelling back in time, into the era of our parents (or even two generations ahead of us). I just love that trip. Just when the album tends to become a little boring, the band is starting to present a wide variety of different sounds – they are as beautiful in old school rock as in ballads. If you love to rock, give this guys a listen. It is just a lot of fun.
Musical History
These are all articles, in which I dealt with events and places influencing musical history:
Rock Music Reviews
Here are all media reviews dealing with Rock Music: