Heading to Hamburg for a day just in the middle of Weird Al Yankovic tour-chasing for country music? February and March 2023 has truely been a weird time for me. Just the day Weird Al was coming as close as possible to my residence, having the show in Dusseldorf, I headed back North in Germany (where I have been a week before… For a Weird Al show…) and had some two really interesting artists. Mitchell Tenpenny and Morgan Evans entered the stage of the Hamburg KENT Club. As I was already en route to the Pittsburgh Penguins when these artists were about to play in Cologne, I visited the first of the Sound of Nashville shows.
This posting comes with 141 major size pictures as part of the concert gallery.
KENT Club – About The Venue
The Kent Club is a venue located in the same building as the Stage Theater Neue Flora musical stage. The rather small venue is located right at the Holstenstraße commuter rail station, just three stops away from Hamburg Main Station. The venue is charming, I however felt that it was just suitable for concerts in a limited way. For example, there are two major pillars in a rather central position. However, I could imagine that the Kent Club could be a nice place for comedy or songwriters round-alike shows.
Mitchell Tenpenny & Morgan Evans – About The Artists
Mitchell Tenpenny is one of the "real" Nashville country artists. He was born in Music City on 17th August 1989. He is having a certain music background in the family, as his grandmother was the CEO of Sony Music Publishing for over ten years. While Tenpenny's first album Black Crow (2015) was not that successful, the 2018 Telling All My Secrets was his breakthrough and even made it to the Top 5 of the US Country Album Charts. He is currently touring with his fourth album, This Is The Heavy, which he released in 2022. With Drunk Me (2018) and Truth About You (2021), he has two #2 singles in the US country charts.
Morgan John Evans is an Australian country music artist, who was born on 25th April 1985 in Newcastle, New South Wales. His music career started in a rock band called Extortion, which later renamed to Solver. Even though the band did have quite some success, Evans rather performed a solo career and released his debut EP Big Skies n 2007..After two additional EP releases, he finally released his self-titled debut album in 2014. Morgan Evans has been a country-chart topping album in his home country, but did not work out in the US. This changed with the 2018 album things That We Drink To, which also was a Top 10 in the Country Billboards. The album also contained Kiss Somebody, which has been a platinum single in Australia and a golden one in the USA.
Mitchell Tenpenny & Morgan Evans – The Show
Both artist were scheduled to do a one hour set. This lead to the rather early beginning of the show at 19:00, with doors one hour earlier. However, the admission was quite delayed, there were queues at the wardrobe and the bar, so that Morgan Evans started his set of songs at about 19:12. After a 2019 gig in Berlin, this was his second show in Germany. Morgan Evans had a good touch for the crowd so that even though his set felt to start a bit of slow, Hamburg more and more liked him.
He also dealt in a very charming way with the situation that the PA broke down twice during his songs. Thereby, Evans also presented so rather "minor" songs like American Dream Truck. The Australian felt to enjoy the show as well and closed his one hour set presenting his band with a couple of solos.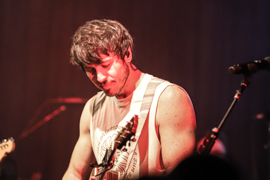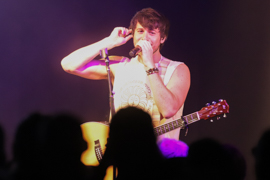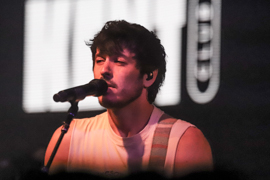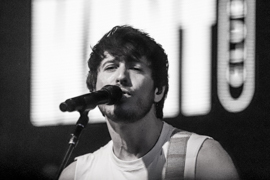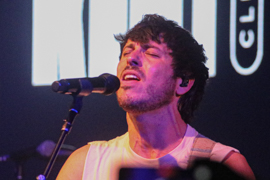 Hamburg parties with Tenpenny
The intermission between the two acts, who both came with their very own band, was regarded to be rather short. However, the KENT Club crowd finally had to wait a little bit longer than half an hour for Mitchell Tenpenny. The light was even worse than at Evans. Apart from that, Tenpenny went for rather short songs at the beginning (you typically are just allowed to take pictures at the first three songs), so that I am not too happy with the pictures. However, the crowd was even more happy with his show. Hamburg had a blast.
With the songs At the End of a Bar and We Got History latest, Tenpenny could rely on the Northern Germans singing with him at his delight. No technical issues interrupted the show and especially towards the end, there were some really rocking songs, like Alcohol You Later. However, there were also rather quiet moments, like Truth About You. His closing track was Bitches, closing after a total time of roughly 65 minutes.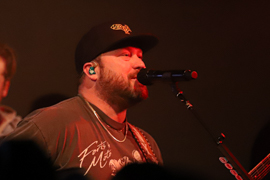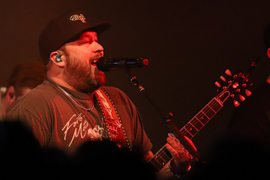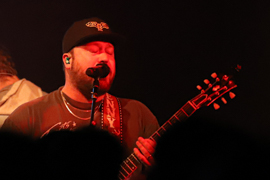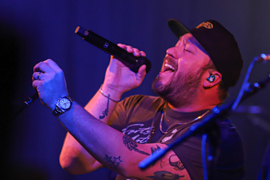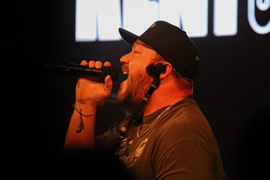 Mitchell Tenpenny & Morgan Evans – The Gallery
Here are 141 major size pictures of the show. They are located in the concert gallery:
Mitchell Tenpenny & Morgan Evans – My View
Morgan Evans started solidly and finally gave a good show. I was wondering before the show which of the two acts wiill be the "leading" or "main" one – but Tenpenny did not allow this question. His show was awesome. Both acts obviously had a lot of fun with the German crowds, Evans handled the technical issues with a lot of routine. Even though the club had some challenges for me behind the camera, I feel that the people really had a nice time.
Music in Hamburg
Here are all Music & Media postings related to Hamburg:
2023 Postings with Gallery
Here are all my postings with a major size picture gallery published in 2023: