The first time I saw Danielle Hope on stage was in the female lead character Sherrie in my favorite musical Rock of Ages. She started the 2018/19 UK Tour with the cast and left in late November in order to join the SnowWhite cast at London's Palladium. As I loved her performances, I felt to travel over to her 17th February 2019 concert held at "The Crazy Coqs", an intimate theater-like venue at the Zedel Brasserie, Piccadilly Circus. Before the concert, Danielle announced that she will also play some new songs which she is going to release soon. Overall, there was a lot of potential for a great afternoon show, so that I chose a day trip to the UK capital to see her.
There is a designated gallery with more pictures of Danielle Hope's show in London.
Danielle Hope – About the Artist
Danielle was born in 1992 in Manchester. She had her breakthrough in the 2010 BBC TV format Over the rainbow, which she won and thus qualified to play Dorothy in The Wizard of Oz in London's West End. For her performance, she was awarded to be Best Leading Actress in a Musical in 2011. She left the production after about a year and played Les Miserables, followed by a couple of other musicals.
She released two records so far. As part of her BBC success, "Over the Rainbow" has been released as a single. In 2014, she released her first album, "Bring the Future Faster", which is in fact a live album recorded at the New York 54 Below Club. Danielle lives in London and New York.
There is unfortunately not too much public sound or video material (you may listen to her on the official West End Wizard of Oz soundtrack, though). I found this one, at least, which has been recorded during her Rock of Ages time in later 2018.
Zedel / The Crazy Coqs – The Venue
You cannot miss the Zedel, in which "The Crazy Coqs" is located. Sherwood Street is just too close to Piccadilly Circus – and it is really just 200 meters walk from the world-famous advertisements.
The Zedel complex hosts several places in one. You may be confused as on street level, there is just a cafe, which does not seem to be too large. All key places are underground. The most visited place is the Brasserie, which is very posh and right across the venue. Next to it is an American Bar. The Crazy Coqs is at the opposite side. It is a very intimate venue, which is popular among musical and other artists and also hosts cabaret. I would guess it fits some 300 people. It is an absolutely beautiful place. Danielle's show was not sold out, but the venue was quite full. You do not receive paper tickets. Instead you are admitted by your reservation / name. The admission for the show was 20 GBP. You sit at tables inside, which are serviced. The prices are within a reasonable range.
Danielle Hope – The Concert
The show started with a couple of musical classics, e.g. Disney songs, but also parts of the Rocky musical, which was much more popular in Germany than in other locations. Danielle gave a nice variety of powerful songs, ballads and some a bit more crazy stuff like some of the Disney songs.
In the second half of the show, she presented a couple of songs of her soon-to-be-released album. Therefore, a guitar player was added to the pianist on stage. Danielle stated that her own style is highly influenced by country music, which made me like her performance even more. The final song of her performance was "Go your own way" by Fleetwood Mac.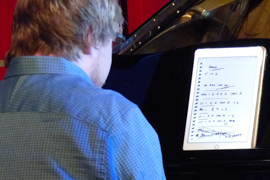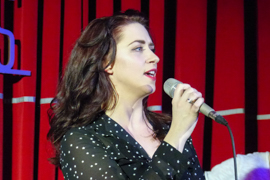 The concert lasted roughly 65 to 70 minutes. On Monday after the concert, Danielle shared this new song on her Youtube account:
Danielle Hope – My View
That is the way of concert I just like. A lovely, intimate venue, a great and extremely versatile artist. You felt how much Danielle Hope loves music, loves her music. It was also cute to see how nervous she was after all those years in her career, just playing at a quite small venue. Especially when she spoke about her new songs, she spoke even faster than she does anyway. I felt gifted to have a brief chat with her before I had to leave back to Heathrow Terminal 5 to head home. I absolutely loved her music and her spirit.
A Dutch friend of mine saw her on stage fourty times already. I may not end up in these numbers, but I hope to add some more soon. If she is on stage, there is a guarantee for a great time – no matter if she is doing the Sherrie at Rock of Ages or this magical solo performance. Top Pick!
Danielle Hope – Full Gallery
I was not able to move too much during the concert and just had a minor camera with me. Nevertheless, here is a major size 80 picture gallery:
Danielle Hope – Bring the Future Faster
Though there will be another album comparably soon, you might be interested in listening to Danielle's 2014 album, which you may still purchase on Amazon:
Postings with Gallery
Here are all Flyctory.com postings, which come with a larger size picture gallery:
Postings about London
Here are all postings related to the UK Capital: