On 13th March 2020, there was some sort of national holiday for the British country music community: not only that the C2C: Country To Country festival was thought to happen (and had to be cancelled due to Corona), their national icon of the genre, The Shires, were about to released their latest album. Here is my view on Good Years.
The Shires  – About The Artists
The Shires are a British country duo composed of Ben Earle and Crissie Rhodes. Though the duo already feels like a legend in the British country music scene, they in fact just formed in 2013 and released their debut album Brave in 2015. They origin from Hertfordshire and Bedfordshire in England. Chrisse Rhodes was thought to be one of the favorites of the 2013 The X Factor edition, but failed comparably early. At that time, Earle, who also tried to make it big in The X Factor, was already a solo artist with decent success. The duo formed after Ben Earle was desperately searching for another country vocalist in social media. One of their first gigs was the 2014 Country To Country, where they played on Town Square mainly. In order to promote Brave, they toured with Little Big Town and Ward Thomas. The album became a massive success and did not only top the UK Country charts, but even placed tenth in the general UK album charts. The successor My Universe, released in 2016, was even the fastest selling UK country album in history. Two years later, Accidententally on Purpose again topped the charts and become third in the UK album, like its predecessor. Good Years is the fourth studio album by Earle and Rhodes.
The Shires  – Good Years – Track by Track
The twelve songs of the 2020 album by The Shires last 40 minutes.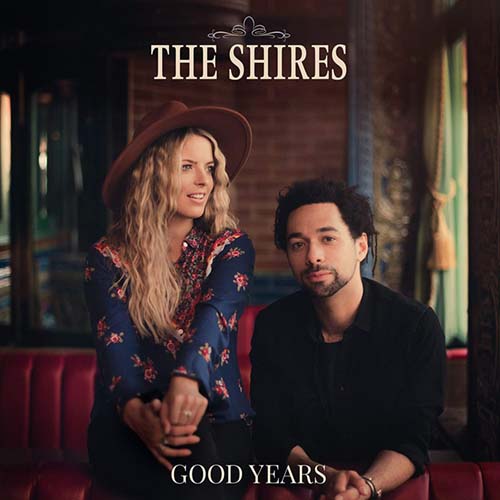 1. Lightning Strikes
Standin' outside, rainin' in the summer
Will you remind me why we ain't lovers?
Maybe you and I were too young
Didn't even know what love was
These are the first words of Lightning Strikes, the first worlds of the whole album. The song reminds me a lot of some songs of Taylor Swift's latest album, Lover – a modern pop song with a country touch. Great sound!
2. On The Day I Die
On The Day I Die – another really catching song. Is that really European country music? Wow, I love that production. Well done!
3. Good Years
The third song of the album is the title track – and it is another great one. Wow, I am really amazed of these songs, which feel so modern, so good… And compared to Lightning Skies, I feel quite a lot of country music in these tracks.
4. No Secrets
Yeah we fight when we're tired baby you and I
We ain't perfect we work at it day and night
We can hurt but it works baby you and I
We never lie
Our only secret
Is we got no secrets
What a great sound of music. The chorus is supported by strong background voices, the song is really beautifully arranged. Love that!
5. About Last Night
About Last Night is the first song of the album, which does not catch me that much. It is a nice tune, but overall, it felt weaker to me than the tracks before – and it is also quite similar. Matter of taste.
6. New Year
At the time of year of writing, New Year was the best rated song of the album on Amazon. This track is a very acoustic, country-alike sound, definitely a good one!
7. Only Always
Only Always is one of the tracks on the album with the most classic country sound – still, of course, it is very modern. Nice one!
8. Independence Day
Yes, this song is really about the US-American Independence Day. And: yes, it works! Even though the track was published before the album, somehow one of the most surprising (and best) tracks of the whole album:
I can see the fireworks soarin'
Even though your tears are fallin'
For every star, every stripe
There's a scar on your heart tonight
True love will never take your freedom
Right now I know you don't believe it
But, baby, one day, hey
You're gonna celebrate
Your Independence Day
9. Thank You Whiskey
How could a song be more Nashville-like, more country like than a song called Thank you Whiskey?
We've had good times
Wild nights
Both been down and burned sometimes
We've seen mad love
Bad luck
Pour it on the rocks we'll be alright
Raise a toast
To the highs and lows
You've always been there for me
Thank you whiskey
The track starts slow, but more and more becomes a nice drinking and party song. I guess that could be one of the most alcoholic songs while The Shires are on Tour.
10. People Like Us
The combination of the two voices of Earle and Rhodes just lead to an amazing sound – and People Like Us is a great example for that.
11. Better Place
Better Place is a great rhythmic track with very strong vocals (again)… Great one!
12. Crazy Days
The album finishes in style – with a slow piano ballad. Love to have that kind of sound on the album as well
The Shires  – Good Years – Spotify
Here is the Spotify widget for Good Years:
The Shires  – Good Years – My View
I have to admit, I am not too much a fan of The Shires – but with Good Years, they just leave me one option: loving them! The album is modern, versatile, well produced, great voices… Is there anything negative about it? Not really… Great stuff – Top Pick!
British Media Reviews
Here are more music and other media reviews about bands originated in the United Kingdom:
Postings about London
Here are all postings related to the UK Capital: