What an amazing series of country music interviews on Flyctory.com in September 2022: after I finally managed to publish the chat with Lindsay Ell, right before her Sound of Nashville show in Cologne, I was able to talk to one of my huge country music favorites, Carly Pearce. Again, we talked before a show of the German country music concert series. The phone call was just a few hours before Carly stepped on a German stage for the first time, at the Gruenspan in Hamburg. Hope you enjoy my chat with her.
Flyctory.com meets Carly Pearce
FLYC: It is the first time you are in Germany – how do you feel about it?
Carly: I am really excited. I am going to see so many places
FLYC: I guess one day your management came to you and said you have the chance to tour Switzerland, Germany, the UK and Ireland. What was your very first reaction?
Carly: You know I think it is obviously very different from North American touring. But I was very excited to the opportunity to get to see international fans. I think they have been so good to me. To enabled to do this is really special.
FLYC: You are supported by Sarah Darling, who is well connected to the UK and also to Germany. Is this something which is helping you?
Carly:  I've always loved Sarah's music, so I am very excited to get to have her on this tour. And expided that she has been here a lot and she can some kind of show me how to do it.
FLYC: First time I saw you live was almost exactly five years ago, at a festival called Red White and Boom in Lexington Kentucky. You were more or less the local girl opening for Blake Shelton, Dustin Lynch, William Michael Morgan on Day 3. Now you are in the top lineups, printed in large and bold letters. What do you think is the key factor for your success?
Carly: Oh gosh. I think it is just the music. You know, I work really hard. Just continuing to really define who I am as an artist and making music that seems to have a direct going to it and a really distinct sound. I think fans have really gravitated towards that.
FLYC: And vice versa, which is maybe the skill you still would like to be improve in?
Carly: I think, if I just continue to raise the bar for myself and hopefully can make new tracks that people love and hopefully can be one of these A list stars.
FLYC: At that time I saw you in Lexington, you already had your first hits. But if we turn back time a bit more – is there anything you miss most about the Kentucky town life you had a couple of years ago?
Carly: Hmm, I mean I live pretty simply still, so I did not do much of change. Maybe I miss my house a little bit more.
FLYC: Your first album already produced some great hits, but your your amazing work so far was the EP 29. How much do you look back to the music you have written in the past, especially when you are not on stage like today?
Carly: I think every song I write and record and put on an album, it kind of symbolizes the different times of my life. So it is very fun for me to get a look around and look back at music, see how far I have come and look at the different place I have been in my life. And what I have chosen to put out and write. I am really happy that I got to have that.
FLYC: How have written so many songs already. Is there maybe a song of which you would say that it is the most special one – and why?
Carly: I think my song 29 was that – it's the most personal song I did ever write.
FLYC: You played two shows in Switzerland already. Have there been songs you have been surprised about the reaction of the audience – either because they reacted more than you expected or because it worked less than in the US?
Carly: I think it's just the language barrier, which is a little bit challenging. But you know, we have been figuring it out – and everybody has been really sweet, though.
FLYC: Apart from the Hamburg show, which has been upgraded in venue, all European shows have been sold out. How much does that mean to you?
Carly: I always wanted to make music, which actually has an impact. These songs bringing me all around the world is really awesome.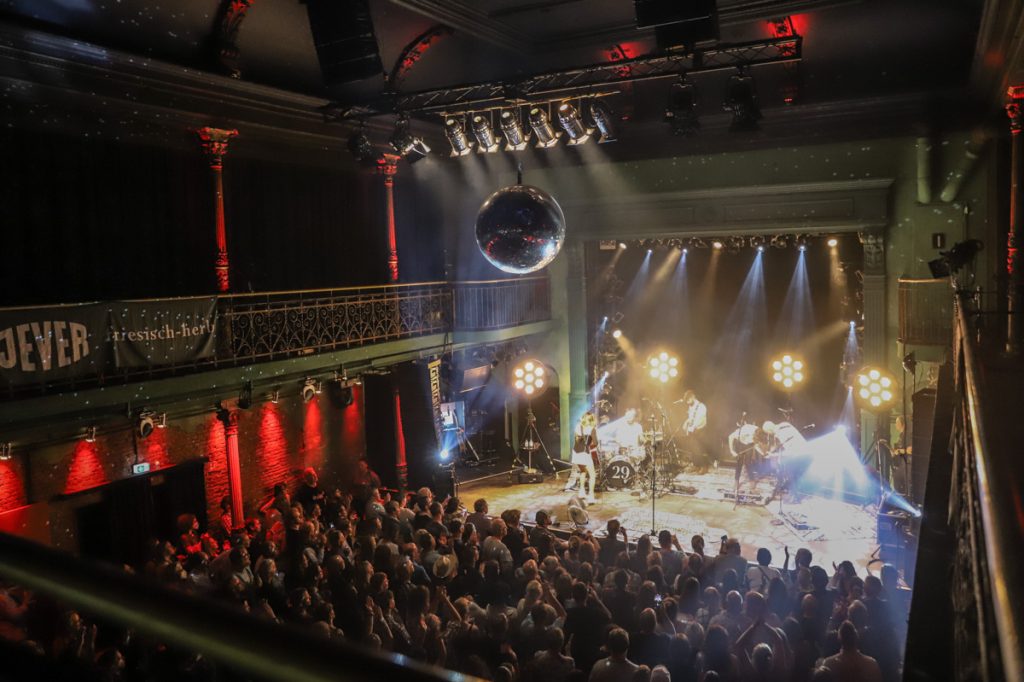 FLYC: Nonetheless, compared to North American shows, these concerts are very small. How does that feel to you? Is it a bit like "Going back to the roots" for you?
Carly: I think that every show is a little different, so I love just doing different experiences and – again – just bringing my music over here is really awesome.
FLYC: The most exciting thing happening in recent times is that you have been nominated five times for the prestigous CMA Awards this year. What was your reaction when you got the message?
Carly: Oh gosh. I am just so honored, so excited. I am just really, really blessed that people seem to like what I am doing.
FLYC: After the European tour and some shows in the US thereafter, there will be a bigger 2023 tour in the US. What else can we expect of you the next months?
Carly: Get working on new music and finishing out the year strong!
FLYC: Last but not least, a relaxed question at the end: after being in Germany and Switzerland for a few days, what is the weirdest thing from your North American perspective you have explored here so far?
Carly: *laughing* The food is very different.
FLYC: Did you try some of that already?
Carly: No, I did not try any of this, I live on a very few things while I am over here.
Follow Christina Taylor Online
Women Country in my Spotlight Interviews
Here are all Flyctory.com Spotlight interviews, in which I chat with female country artists:
Flyctory.com on Eating & Drinking
Flyctory.com is not a culinary blog. Nevertheless, here are all posts dealing with Eating and Drinking: