From a school band to a flat share and finally their debut album – this is a very short wrap-up of the Kicker Dibs. The German rock band is already looking back to quite a long band history, but Vagabund ("Vagabound") is in fact their debut album. The eight track collection is released on 21st May 2021.
Kicker Dibs – About The Artists
The Kicker Dibs are an indie-rock trio from Berlin. Niki Nubel is the lead singer and guitarist of the band, the two other members are Tingel (bass) and Lenny (drums). Kicker Dibs has been founded in their school years, the band released their debut EP Sonnemondstern in 2016.
Kicker Dibs – Vagabund – Track by Track
The eight song album lasts 23 minutes.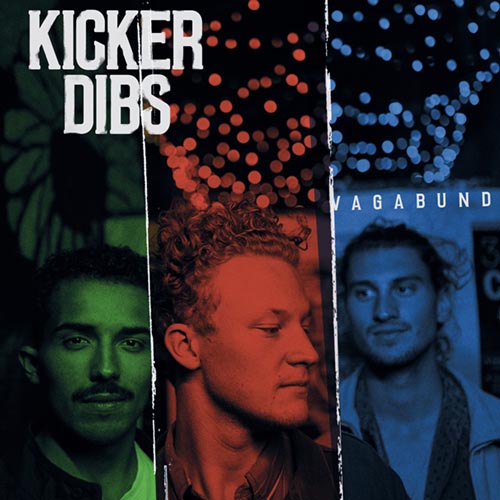 1. Vagabund
Lenny on the drums is hammering a clear rhythm to the title track from the very beginning. The song is powerful, a bit of angry and even has a slight pop touch to me. Definitely a nice starter. Good listen.
2. Draußen Regnet's
Draußen Regnet's simply means "It is raining outside". Thus, this at least feels to be a song you can easily relate to. The song is very melancholic, even has a touch of a depressive feelings, The backing vocals make the song very easy to listen to, very catchy. Listen to this one until the end, when Niki Nubel shouts Ich wär lieber bei Dir – "I would rather be with you". The song is becoming a very powerful one then.
3. Ohne Dich
The Kicker Dibs songs on the album are compact (the longest one is 3:19 minutes), but very powerful. Ohne Dich tells a desperate love story in 2:33 minutes. It is just a good piece of indie-rock, which is not that "indie" that you hardly dare to listen to it.
4. Schmetterlinge
After rather rocking and loud tracks, this song illustrates that the band is also good in going for the rather softer tunes. Not a ballad, maybe, but a melodic mid-tempo song with a nice guitar work and present vocals.
5. Jacky
The song is maybe the most characteristic song on the album. Great melody, very catching, absolute great listen – and they even do the chorus in Spanish! A song about a party night – I absolutely love it!
Jacky will tanzen gehen
Jacky ist wunderschön
Jacky, das Diskokugellicht
("Jacky wants to dance
Jacky is so beautiful
Jacky, the disco ball light")
6. Hey Leben
What a contrast to the melodic tunes before: the guitar riffs feel a distorted and a bit of damped at the beginning of Hey Leben ("Hey Life"). The chorus turns to be a very catching experience then again. The song has a nice old school rock touch. The musical way to do some philosophy about living… Maybe after a bit of too much alcohol…
7. Internet Kaputt
"Internet broken" – the seventh song definitely has a Generation Z dramatic element. Denn ohne Netz fällt mir das denken schwer – und ich empfange keine Liebe mehr – or: "'Cause without internet I really struggle to think – and don't receive love any more". Ich existier' nur digital ("I just exist digitally"). The song has already been released in 2019, a very nice social-critic song, which feels even more up-to-date than two years ago.
8. Winter in Berlin
Winter in Berlin. This song is about the dark, cold times in the German capital. The song is full of desperation, full of loneliness. The song cannot beat Jacky on my list of favorite Vagabund album – but it is the best description of emotions of the album. I absolute feel Winter in Berlin while listening it – regardless whether I listen to the melody or to lyrics like Das einzige, was sich nicht ändert ist der Pisse-Geruch im Bahnhof Zoo – "the only thing which does not change is the smell of piss at Zoo Station".
Kicker Dibs – Vagabund – Spotify
Here is the album widget to Vagabund:
Kicker Dibs – Vagabund – My View
Just 23 minutes – that's all I have to say on the negative said about Kicker Dibs and their lifestyle musical stories in the German capital. I just love to listen to them, the guys are doing a precise songwriting with good musical elements and (sometimes even too) picturesque lyrics. Great one – I absolutely recommend a listen to these short eight songs.
Flyctory.com in Berlin
Here are all postings related to the German capital:
German Rock Music Reviews
Here are all my Media Reviews of rock music related to Germany: