P!nk is one of the music megastars of our current generation. Many people looked forward to th 26th April, when the Pennsylvania girl released her eigth album. Hurts 2B Human is a strong and hard title for this one – but is it also a good album? Here is my review.
I will use the spelling Pink for the remaining posting.
Pink – About the Artist
Do I really need to introduce you to Pink? You likely know anything I would put into some rows of a WordPress posting anyway.
Born 1979, she has sold some 40 million albums and 70 million singles worldwide so far. While her first album Can't take me home was majorly successful in the US and UK, her career as a mega-star started with the 2001 M!ssundaztood, which reached gold and platinum records in numerous countries, selling over five million times in the US only. Likely, the two most popular songs of that album were Get the Party Started and Just like a Pill.
Interestingly, Pink "just" won three Grammys in her career so far.
Pink – Hurts 2B Human – Track by Track
Pink's 2019 album contains 13 tracks. The total duration is roughly 47 minutes.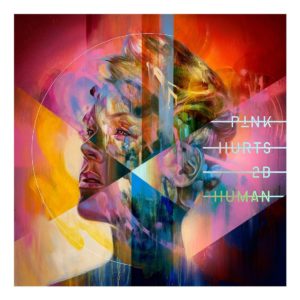 1. Hustle
This introduction track did not catch me at all. A dance track. "Don't hustle me, don't fuck with me" – at least we have some typical Pink lyrics in here.
2. (Hey Why) Miss You Sometime
A Dance-Pop track. Danceable, with the Pink-typical F-word in the lyrics. Not bad, not good. Just average.
3. Walk Me Home
Walk me Home is definitely very catchy. Fun to listen to. Not too surprising this one has been released before the album.
4. My Attic
To me, My Attic is maybe the most characteristic track of the album. It is not all bad. Somehow I like it – but I just forget it again too quickly.
5. 90 Days (featuring Wrabel)
This track as been recorded with the American Singer-Songwriter Wrabel. A slow duet, still a bit rhythmic. I love Pink's voice in this track, but somehow it creates similar thoughts like My Attic. Why doesn't it touch me?
6. Hurts 2B Human (featuring Khalid)
The title track is another slow duet, this time sung with Khalid. I would have expected more of that one, just because it should characterize the album somehow.
7. Can We Pretend (featuring Cash Cash)
I haven't heard about the New Jersey based House music trio Cash Cash before. This track is quite interesting: it got quite some nice rhythm and hookline. But just when it starts to make you dancing, there is a slow part again. Hurts 2B Human is not intended to dance.
8. Courage
Have I the courage to change?
Have I the courage to change?
Have I the courage to change today?
Quite catchy song, especially the simple, but strong chorus. One of the better songs of that album.
9. Happy
Since I was 17
I've always hated my body
And it feels like my body's hated me
Can somebody find me a pill to make me un-afraid of me?
This biographic songs is the song which impressed me most. It may not become a huge success, but the lyrics are really great and I love to listen to it.
10. We Could Have It All
Looking for good radio songs on Hurts 2B Human? We Could Have it All is definitely easy to grasp with some nice backing vocals. Radio pop. Maybe not the best lyrics of the album, but a song you will remember.
11. Love Me Anyway (featuring Chris Stapleton)
As a country music fan, having Pink together in one song with Chris Stapleton, was definitely the one I was looking forward to listen to most. I felt to Chris had a rather mixed performance at the Country 2 Country 2019 in London. This song even confused me more. No country, no rock, even hardly any guitars, but strings. A die-hard ballad about with Chris giving some nice vocals. However, he is too much in the background to me.
12. Circle Game
A close to five minute song without leaving a real impact to me. Pink is quiet, thoughtful on this 2019 one. I love quiet strong songs (just think of the amazing Maker's Mark and You  on Lauren Jenkins' album No Saint I recently reviewed). It gets a bit more powerful at the end. But still, not impressed.
13. The Last Song Of Your Life
A guitar, Pink with gentle, fragile vocals. This song is close to a country ballad – and it is one of the best songs of this album. When I talked about strong and quiet songs when listening to Circle Game, this one is definitely quiet and strong.
It would be so good to see the real you again
It's been a long time, my friend
If this is the last song of your life
Then I'm inviting you to get it right
Lovely chorus – and a great finish of the album!
Pink – Hurts 2B Human – My View
Very hard to judge on Pink's latest album for me. There are some really nice songs, but overall, Hard 2B Human does not catch me too much. It is not the kind of music I expected of artist. However, it does have some interesting aspects and tendencies. I especially love The Last Song Of Your Life, which shows an interesting development. Finally, this album might not be Pink's masterpiece, but it could be a turning point to whatever album number 9 will be like.
Pink – Hurts 2B Human – Links to Amazon.de
Here are purchase links if you are interested in buying Pink's latest album:
Flyctory.com Media Reviews
Here are all CD, book and movie reviews: