Stuck WIth You or Hip To Be Square turned him to a musical legend. Ten years after the last album of the combo, Huey Lewis and his band, The News, surprised by releasing a new album, Weather. Dark clouds or sunshine? Here is my review.
Huey Lewis & The News – About The Artists
THe civil name of Huey Lewis is Hugh Anthony Cregg III. He was born in 1950 in New York City. He is quite successful as a songwriter for a lot of bands, but with his own project, The News, he became very popular and famous. Nevertheless, Lewis is also well-known for the Back To The Future soundtrack, for example. He played in a lot of bands during the 1978 and had some guest appearances in additional ones like Thin Lizzy. The initial success of Huey Lewis & The News, a projecti initiated in 1980 was a bit limited, but the 1982 album Picture this was the breakthrough for the combo. Stuck With You, which has been released as part of the Fore! album in 1986, was likely the biggest success of the band.The last album of the band, however, was Soulsville released on October 2010.
Huey Lewis & The News – Weather – Track by Track
The album just contains seven songs. The playtime is 26 minutes: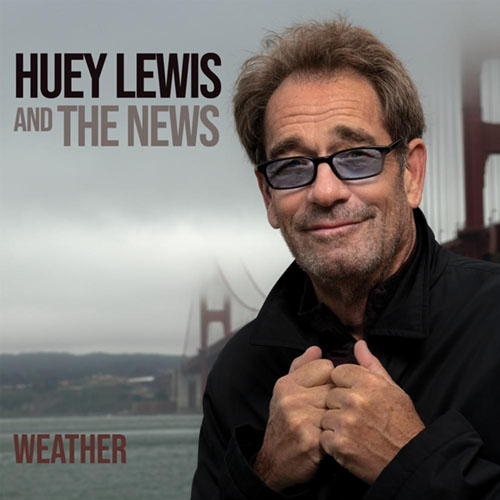 1. While We're Young
Life is short – let's take advantage of every opportunity. The album starts with a good mood sound with the impressive Huey Lewis voice, a nice and wide arrangement. I just cannot stop swaying to this track, which even has a slight touch of soul in the verses.
2. Her Love Is Killin' Me
This song, the second single of the album, is the one which just makes me smile most. It feel so much like Huey LewIs & the News in the 1980s, I just have to love it!
3. I Am There For You
This voice… Huey Lewis just gives me so many memories and feelings, just by listening to him. A very straight 1980s track with nice lyrics, good song.
4. Hurry Back Baby
Hurry Back Baby is much more Rhythm and Blues. Strong guitar play, quite intense brass sounds as well here and there and a very classic keyboard / organ setup. Love it!
5. Remind Me Why I Love You Again
Wow, I love this one – and cannot stop smiling. Very ironic, straight text, nice melody. Good stuff!
6. Pretty Girls Everywhere
This is one of the tracks which illustrates the depth of the album to me. It is just seven songs, but Huey Lewis seems to be to fulfil any genre – this one has a very classic country music sound. And it is good… Love it!
7. One of the Boys
Damn, another track which feels soooo old-fashioned, but is so good. Love to listen to it, also the way it is developing after a slow start.
Huey Lewis & The News – Weather – Spotify
Here you can pre-listen to Weather via Spotify:
Huey Lewis & The News – Weather – My View
I start my view with some negative words: the album is just too short. 28 minutes – I know that this is more and more not that unusual in the States, but I just hoped for more. Finally, the album would have deserved it – Weather is just a great compilation of songs and it is just quite a bunch of fun to listen to the new tunes of Huey Lewis. Well done, Mr Stuck With You! Please don't wait ten more years for the next one (and maybe do some two or three more songs as well).
US-American Media Reviews
Here are more music and other media reviews about bands originated in the USA: