Honestly, when I ran into his debut album Achtung Leben, I did not know anything about Michael Heppes. However, the album was exactly that kind of album, which is impressing you from the very first moment and I just had to share it with you. Hope you enjoy introducing you to this new German pop / rock artist. Release date of the album is 29th October 2021.
Michael Heppes – About The Artist
Unfortunately, I don't have too much information about Heppes, who is a Hanover-origin German artist, who nowadays lives in Bad Kissingen in Northern Bavaria. All music material I found reflect songs which are published as part of Achtung Leben.
Michael Heppes – Achtung Leben – Track by Track
The ten song album lasts 34 minutes.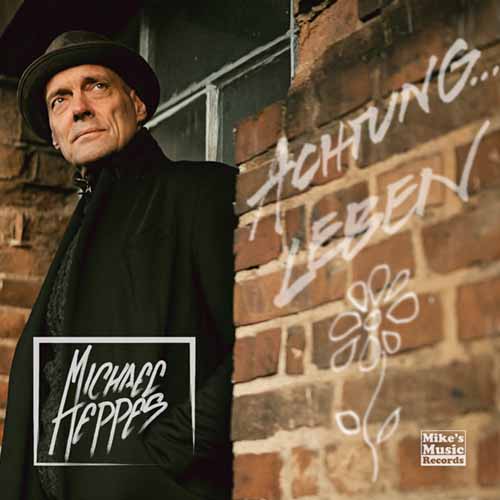 1. Küssen
The album starts with Heppes' very first single Küssen ("Kissing"), which has been released about a year before the album. A song which strongly reminds me of Heinz-Rudolf Kunze. Cool lyrics in a powerful German rock style. Good one.
2. Zuhaus
The second song uses more acoustic and handmade sounds – but Zuhaus ("At Home") comes with a very similar speed and drive than the opening track. Again, a good listen and a beautifully told story.
3. Miss Miss
Miss Miss oh Miss Miss Miss Miststück – a funny wordplay is the key element of the chorus and the song (Miststück is a bad word, typically for a female being). An angry song, with a folk-rock touch. Lovely raspy voice by Michael Heppes here.
4. Damals
In the fourth Damals ("Back then"), Michael Heppes describing meeting a former-time and talking about all the things they did together in the past. Reminds me that next year, I will have my 25th A-level / High School graduation anniversary. There may be a lot of talks like that in this party.
In dieser Zeit gab's kein zurück
Wir lebten nur vom Glück
Kein Weg war uns zu weit
Zu allem noch bereit
Waren uns beiden noch nicht fremd
Nicht meilenweit getrennt
Und wenn ich heute daran denk'
Dann war damals ein Geschenk
("In this time there was no going back
We just lived from luck
No way was too far
We were ready for everything
We haven't grown apart
We haven't been miles apart
And when I look back at that today
Then back then has been a present")
5. Koffer
This beautiful piano ballad is about opening an old suitcase full of memories. After the energetic songs at the beginning of the album a great, thoughtful song to cool down. Later in the song, Heppes is thinking about the suitcase of his very own memories. Very metaphoric, beautiful lyrics.
6. Alles wieder gut
After the song takes a very slow and thoughtful song, it turns into an angry rocker. "Everything will be fine again" – a motivating song about friendship and full of optimism.
7. Bum Bum
Es ist nur mein Herz, es macht… ("It is just my heart, it does…") – that's the Bum Bum in this song. The rock sound of the verses is a cool contrast to the happy, childish post-chorus. Nice songwriting.
8. Tätowiert
In this song, the piano is the key instrument again. A song with a very special song about suddenly being alone. Again, Heppes' lyrics are a real beauty.
9. Immer noch verrückt
This song is praising still feeling like an explorer, trying out things. Ich bin immer noch verrückt – "I am still crazy". One of the best and most inspiring songs which is claiming that you shall live your dreams, coming in a very powerful rock style.
10. Zweifellos
The album closes with its longest song. A slow ballad about being loved with a very intense feeling – Du tust mir gut, Du tust mir einfach gut ("You are good to me, you are simply good to me"). A hymn on the simplicity of love.
Michael Heppes – Achtung Leben – Spotify
Here is Achtung Leben on Spotify:
Michael Heppes – Achtung Leben – My View
Wow, Michael Heppes could be one of the best German rising artists of the year. Achtung Leben comes with ten amazing songs, a nice rock with some folk touch and very deep lyrics. I simply enjoyed listening to his stories. Especially if you do understand German, I feel you should have a listen to these tracks.
Postings about Hanover, Germany
Here are all postings related to Hanover / Hannover :
Media Reviews – 2021 Debut EPs/Albums
Here are all my 2021-released Media Reviews about Debut EPs and Albums: