Now that Christmas is getting closer, it is also a great opportunity for less known artists to receive some additional recognition with music releases. One of these releases might be Nur Du, the new album by German artist Nicole Scholz. I had a listen to the 17th December 2022 release.
Nicole Scholz – About The Artist
Nicole Scholz is a German artist from the Lake Constance region. She was born in 1995 in Singen (Hohentwil) and grew up in a town in that area. One of her career highlights was to be on stage with German rock artist Peter Maffay. She is also a typical artist you may book for parties and events. However, her music has already been covered in regional radio stations like SWR. Nur Du is Scholz's debut album.
Nicole Scholz – Nur Du – Track by Track
The ten track album lasts 35 minutes.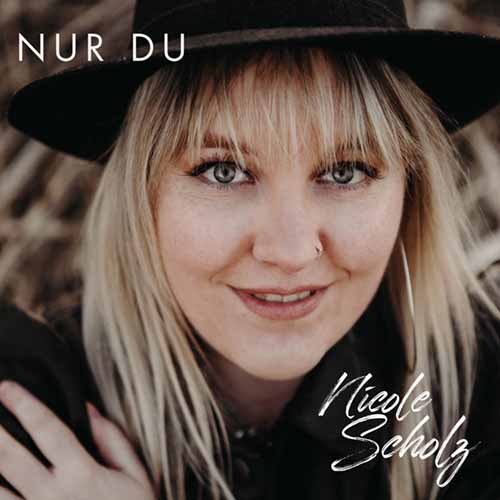 1. Kometen
The opener of the album is Kometen ("Comets"). The song is a nice, mid-tempo pop track with a schlager touch – which is more or less the mixture of genres of the whole album. Nice vocal performance. The bridge is maybe a bit too much.
Denn wir sind wie zwei Kometen
Und fliegen immer aneinander vorbei
Sind zu schnell um zu reden
Die Stille lässt uns nie allein
("'Cause we are like two comets
And we fly passed each other all the time
Are to fast to talk
And the silence never leaves us alone")
2. Hör nicht auf
The second song is more rhythmic. The lyrics are a bit more soppy so that the song overall feels a bit more schlager-alike.
3. Ich will sing'n
The third song has been selected as one of the feature songs so far. The slower, laid back groove of the song leads to a nice summer touch. Unfortunately, the recording makes Scholz's voice feel a bit thinner than it
4. Ich schlaf wieder nicht ein
The fourth song is the longest song of the album. Ich schlaf wieder nicht ein ("I am again not falling asleep") lasts 4:24 minutes and is a really nice vocal showcase of the artist. The song describes how she is struggling thinking about what her ex and his new love is doing right now. Nice (even though not too surprising) write.
5. Lift me up
Apart from the three words featured in the title, the song is a German lyric one. A typical present rhythm dance song with a nice background melody. Good track for a party – even though the song might not stay in your head for too long.
6. Ich sterb & lebe für dich
The sixth song is a straight ballad. I get around with her voice in this song much better than in the slow and emotional moments before. The emotions could be more catching, though.
7. Ich rette dich
Ich rette dich ("I rescue you") keeps the album on the ballad side. I feel that this song is a great one when Scholz is doing one of her private event shows, like a wedding party. Very intense one – to me, the best ballad and one of the best songs of the album.
8. Dieser eine Moment
After this emotional highlight, the album presents the straight schlager-pop track Dieser eine Moment. Unfortunately, the song is not adding too many special moments. It's simply a pretty solid listen.
9. Nur Du
One reason why Dieser eine Moment feels to be a bit strange is the context of the album. With Nur Du ("Only you"), Nicole Scholz presents another track, which is at most a mid-tempo one. The song rather feels like a keyboard ballad with some string background sounds. Not too bad.
10. Lass die Geigen spiel'n
The chucker-out's title translates to "Let the violins play". The song has a cheeky, young attitude and is definitely a nice part of the album experience. One of the most present choruses of the album.
Nicole Scholz – Nur Du – Spotify
I will add the Spotify widget once the album has been published. 
Nicole Scholz – Nur Du – My View
Nur Du is not going for the schlager-pop release of the year. But, indeed, the Southern German recorded a pretty decent album. There are a few weaker spots in it, but overall, it is a pretty solid listen. Wise choice to receive some additional attention for it during this time of year.
Lake Constance (Bodensee)
Here are more postings related to Lake Constance (Bodensee) region:
German Schlager in 2022
Here are all my postings related to German schlager published in 2022: