I am really gifted to chat with some interesting artists in August 2020 in my Spotlight interview section. Right after I had a chat with Sandra North, who moved from Sweden to Los Angeles to pursue her music, Tiffany Johnson shares with us how she is commuting between South Dakota and Nashville. Just 16 years old, she already gained some success and first reputation in the country music industry. I selected her song Lemonade for my New Country Hits playlists. Next Friday (14th August 2020), she is releasing her new single Out Of My Head. I loved to listen about the challenges and merits combining a South Dakota teenager life with the paths of a rising country music artist.
Flyctory.com meets Tiffany Johnson
FLYC: Tiffany, thanks for joining me in this chat. You are a 16 year old South Dakota girl, who is now more and more taking her first steps into the national country music scene. When did you feel that music is the dream you want to pursue?
Tiffany: I think I've always known that music is my thing. I used to dress up and put on little concerts in my house, or write songs while playing the the backyard. I would always gravitated towards anything musical. I remember the first time I visited Nashville and all my wildest dreams felt like they were right in front of me. There have been so many little moments throughout my life that remind me how much I love music.
FLYC: You are a an artist as well as a songwriter. What have your first steps in writing been? Is there maybe an early song of yours which is special to you?
Tiffany: I learned how to properly structure a song when I was eight years old. The first song I really remember was called This is My Year. It was co-written song with a mentor of mine at the time. That song has always special to me because it was the first song that I was really excited about writing. I even got to record the song and make a music video for it, which was super cool.
FLYC: You family is having musical background as well. How important is it to have people backing you who understand the industry?
Tiffany: Growing up in a musical family was definitely one of the biggest factors to me becoming a musician. My dad played in a local band and I would always get to sing a song or two with him. I learned to love the stage from a very young age. When I started writing songs no one in my family really new knew much about the actual Industry side of music. We went to a lot of seminars and did a ton of research in order to learn about the industry. I am so beyond thankful for my supportive parents who were willing to take me to conventions and camps in Nashville so I can follow my dream!
FLYC: What was it like when you first visited Nashville?
Tiffany: I remember my first trip to Nashville like it was yesterday. We drove 20 hours from South Dakota, but I was so excited to get there it felt like we were driving for a lifetime. I can still vividly picture pulling into town and seeing the sky scrapers in the distance. The first week I was there I went to a camp and met some of my best songwriter friends who I still talk to today! I got to see the Grand Ole Opry, sing at the Blue Bird Café and at the Country Music Hall of Fame!
FLYC: Your debut single Paralyzed has been released in May 2019. How do you manage to coordinate your musical career in parallel to going to school?
Tiffany: It can be really difficult balancing the two sometimes. I am super busy and miss quite a bit of school, but luckily my teachers are usually very understanding about my music! I've had to learn good time management and get my homework done right away so I have time to perform and write songs.
FLYC: The song won the Nashville Songwriters Association International Best of Tin Pan South Festival. How did that feel?
Tiffany: I was very honored. It was amazing just to be a part of the festival. Having my song recognized was just really cool!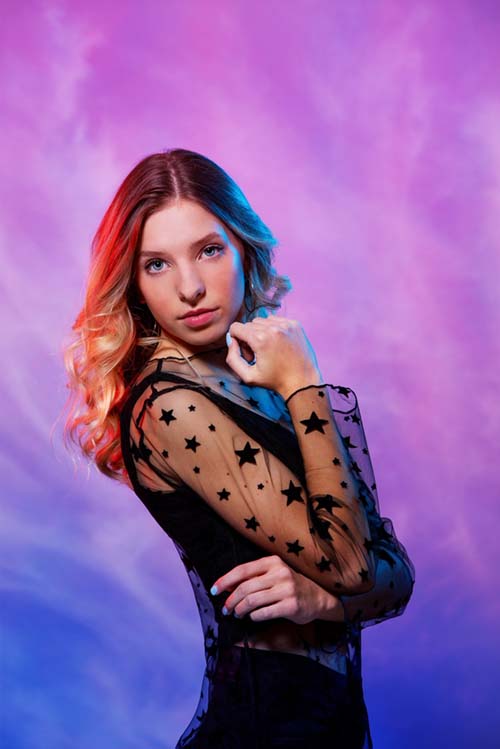 FLYC: As far as I understood, you are currently commuting between South Dakota and Nashville. At your young age, are there already thoughts to change it? Or is it still manageable?
Tiffany: Well, I'm currently commuting between the two places and it's manageable for now. I definitely will move to Nashville in the future!
FLYC: Let's go to your songs. If I just look at Spotify streams, your third single, Here's to Forgetting You was your most successful one so far. What is the song about?
Tiffany: Here's to Forgetting You is a song about leaving the past behind and moving on to the chapter of your life. It's about admitting your mistakes, learning from them and then leaving them in the past.
FLYC: You already released three singles this year. Before we talk about your current single, can you tell us a bit about the stories behind It's Just the Weather and He's Not You?
Tiffany:It's Just the Weather is a song about blaming your feelings on the cold weather and dreary days instead of admitting you're truly upset. This song came from thinking about that type of idea.
He's Not You – This song is about meeting someone and thinking maybe they are perfect for you or that something about them is perfect, but for some reason, it just doesn't feel right because they're just not your person.
FLYC: On 17th July 2020, you released  Lemonade, which also made it to my New Hits playhits. What made you write this song?
Tiffany: I wanted a fun, summery song that had a different spin on the phrase when life gives you lemons, make lemonade. I sat down at my piano and thought about how messy life can be sometimes. I used that idea to write a more upbeat song about when things don't go as planned and you have to deal with it.
FLYC: You also played some really cool venues, including the Bluebird in Nashville. Is there any special concert or venue you remember most?
Tiffany: The Bluebird was definitely magical. I could just feel all the history that was there. It was really cool, especially as a songwriter. Actually, one of my other favorite memories of performing happened just recently in South Dakota when I played at a local venue called The Beacon. It was memorable and fun because I played with a live band, with amazing musicians!
FLYC: With Covid-19, it was likely more difficult to promote yourself, especially as a young artist. How did you manage that time?
Tiffany: During Covid I really focused on writing and recording music. I took the time to better myself as an person and as an artist. I finished recording an EP and I found myself doing a lot of zoom co-writes and meetings! I am thankful to have the internet during this time because I can still accomplish so much remotely.
FLYC: In an interview with you I read, you stated Ultimately I want to travel around the world and be able to perform and sing my own songs on like big tours in front of lots of people. Did you already get feedback or gain fans from other countries apart from the US?
Tiffany: Yeah! It's really crazy seeing all the different places my music has been streamed. My fan base is mostly from America but I've started to gain fans in places such as Brazil, Australia, Canada, Europe, Singapore, Korea and more! My song Lemonade even played on the radio in the Netherlands!
FLYC: Let's look forward. What are your plans for 2020 and maybe also 2021? New releases, tours, etc.?
Tiffany: Like many other artist, my plans for 2020 and 2021 have kind of went down the drain, but during quarantine I was able to finish a six song EP that will be available on August 28th! It is a self titled EP with songs that are a mix of Pop and Country with a taste of indie/alt. I also have a single that will be out on August 14th called Out of My Head. I am so so excited for these songs to finally be out in the world!
FLYC: Last, but not least: when you are a 16-year old South Dakota girl and have some free time from music and school, what is Tiffany Johnson enjoying most?
Tiffany: When I'm not doing music I enjoy spending time with my friends and family! I love doing outdoor activities such as hiking, biking, exploring, camping etc. This summer I learned to long board so I guess I'm a skater girl now too. South Dakota is honestly such a beautiful place and there is a lot of pretty scenery to enjoy.
I am also a very artsy person so I love painting, drawing and up-cycling clothes. A lot of the outfits I wear for photoshoot and performances are actually clothes that my mom and I thrifted and up-cycled! While music and school keep me really busy I always find time for the other little things that I enjoy!
All pictures: Artist material
Spotlight – Flyctory.com Interviews
Here are all postings of my interview section Spotlight:
Women Country
Here are more postings dealing with female country music artists: