Without a doubt, Glee is one of the most well-known (and most important) TV music shows. The excellent vocalists covered so many songs, including tracks from my favorite musical, Rock of Ages. Noah Guthrie is part of this legendary, talented bunch, he played Roderick Meeks. On 14th January 2022, he is back with a new album, Blue Wall. I had a listen.
Noah Guthrie – About The Artist
Noah Guthrie was born in 1994 in South Carolina. Stating to play guitar at the age of 14, his initial fame was by covering songs and putting them on YouTube. His breakthrough has likely been Sexy and I Know It by LMFAO, which Guthrie turned into a blues track. From 2014 onward, he released some of the covers as part of albums as well. His debut album, however, featured originals. It was named Among the Wildest Things (2014). The second studio album with original songs was The Valley in 2017. Blue Wall has been majorly funded by a Kickstarter campaign.
Noah Guthrie – Blue Wall – Track by Track
The twelve song album lasts 48 minutes.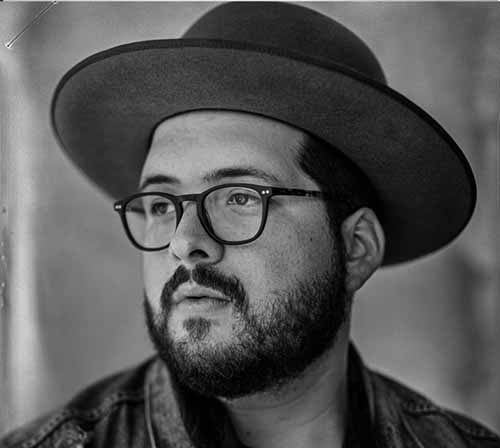 1. Hell Or High Water
Five of the twelve songs are already known to Noah Guthrie fans – this is one of them. Hell Or High Water is a nice rocking opener with some Americana sprinkles. One of these tracks they would never call "country" or "Americana" in Germany. Good one.
2. That's All
The second track is a thoughtful song with a very deep touch. At most mid-tempo, the song comes with a beautiful vocal performance. I definitely enjoy the listen.
3. Things To Fix
The first "newbie" on the album, which is not yet known to loyal Noah Guthrie fans. Things To Fix has a very similar character than its predecessor – Guthrie wants to tell his story to the listener and thus creates a nice focus on his dark, but warm voice. Good.
4. Welcome The Stranger
Welcome The Stranger has a nice groove on the one hand, but also a beautiful flow in the song. Thus, it feels a bit of blues-ish to me, without leaving its country music heart behind. A really enjoyable and energetic one.
5. High Enough
With High Enough, Noah Guthrie presents a lovely die-hard blues rocker. At the guitar solo latest, you just have to fall in love with the vibe of this track. So good!
6. Wishing I Was Wrong
The range of songs and moods on Guthrie's 2022 album is really outstanding. After the rather massive blues vibes, Wishing I Was Wrong is a country track, in which the fiddle is spreading a lovely ease. Entertaining one.
7. Feel It Now
The main theme in the background leads to a very catching and easy listening of Feel It Now. Very good chorus as well. A song which is staying in your mind so nicely.
8. Let The Damn Thing Break
The eighth track is coming with a nice contrast between rather quiet verses, in which you there is not much more than the vocals and the strumming rhythm of the guitars in the background – and very energetic chorus, in which Guthrie almost shouts into the microphone so that you can hear him.
9. When You Go
Did you ever doubt that Guthrie can write beautiful ballads as well? Just skip the songs up to this ninth track and you will be a believer of his abilities in this kind of song. Lovely one.
10. Last Time I Think Of You
Not a ballad, but a rather slow song is on the tenth spot of the album. A very intense listen with a nice country touch and blues influence. One of the best performances on the microphone in here.
11. Only Light I Need
Honey, you're the only light I need – the second last song of the album (and the last of five previous releases) shows a very intimate, emotional Noah Guthrie. And this leads to another really good listen.
12. Blue Wall
Just Guthrie and his guitar – the final song Blue Wall illustrates that this guy is able to do the grand finale as well – great atmosphere and storytelling.
Noah Guthrie – Blue Wall – Spotify
Here is the album on Spotify:
Noah Guthrie – Blue Wall – My View
I wonder why Noah Guthrie is not that present in US country media. This guy is an awesome talent, a great singer and his songs are really on point. Need a proof for that? Just listen to Blue Wall! Such a versatile album, really love it.
Blues Music
Here are all postings related to blues music:
Flyctory.com in Poland
Here are all my postings related to Poland: