Not just because David Coverdale and his band are presenting a couple of songs in my favorite musical, Rock of Ages, I was looking very much forward to listen to the new Whitesnake album released on 10th May 2019. Flesh & Blood is their 14th studio album. The last album which reached Top 10 status in Germany or UK happened quite some years ago. Will the 2019 one be able to give Whitesnake a small combeack? Here is my review to give you my view on that question.
Whitesnake – About the Band
Whitesnake, whose roots are in the late 1970's in Middlesbrough, UK, are likely one of the most well-known rock bands of their times. The list of musicians playing for the project is comparably long, though. The only constant in their lineup is singer David Coverdale. If you just look at the charts, their greatest success was Here I go again, which topped the Canadian and US Charts in its 1987 remake. In their home country, the song made it to the Top 10, similar as Fool For Your Loving. Their latest albums had significant charts positions in several countries.
Whitesnake – Flesh & Blood – Track by Track
Flesh & Blood contains 13 songs in the normal edition. The deluxe edition features 18 songs. Three of them are remixes of Flesh & Blood songs. I thus just present the two real bonus tracks in here. The total deluxe version playtime is 82 minutes.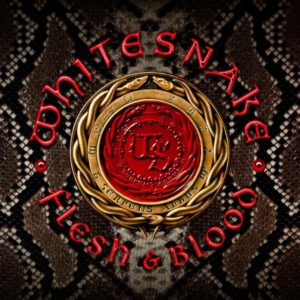 1. Good To See You Again
Good To See You Again – what a welcome to the new album. Hard, powerful, but melodic. Love that track definitely. One of the best. Will be cool to have it live on stage.
2. Gonna Be Alright
Not as impressing as Good To See You Again, but a nice second track of the album. Seems like these guys never get older and just keep on playing their music.
3. Shut Up & Kiss Me
One of the first songs released of this album. When I heard Shut Up & Kiss Me for the first time, preparing this posting for the album for the album release, it just catched me. Yeah, that's rock'n'roll. Maybe not the most complex lyrics ever, but party-rock. Whitesnake as we love them! The drum finish nearly sounds like a live version.
4. Hey You (You Make Me Rock)
This track was also available before the album was published. Sounds like another party anthem. Absolutely catching song – ready for some headbanging! You make me rock, you make me roll is stated in the lyrics, Whitesnake definitely do that with this song.
5. Always & Forever
I love this melodic track. One of the first tracks which caught me. A bit more on the softer side, but very melodic. Definitely worth listening to.
6. When I Think Of You (Color Me Blue)
Very melodic, nice guitar play and very present voice by Coverdale in this song. This song is a lovely rock ballad. Maybe not what rockers want to do best – but to me, one of the really nice tracks on the album.
7. Trouble Is Your Middle Name
The song name has a certain potential, doesn't it? Maybe not as good as Shut Up & Kiss Me and Hey You (You Make Me Rock), the other two pre-released tracks, but definitely a good rock song.
8. Flesh & Blood
The title track is harder one. However, I have to admit that I do not feel it is one of the best tracks of the album. Nice guitar riffs, though.
9. Well I Never
Well I Never
I never ever
Well I Never
Never loved a girl like you
That's the chorus. Typical Whitesnake, ain't it? A nice rock track, though 🙂
10. Heart Of Stone
With 6:42 minutes, Heart of Stone is the longest track on this album. Nice rock ballad.
11. Get Up
Shoter than Heart Of Stone and a lot more powerful. The album just provides a number of nice classic rock-alike party tracks. This is one of them.
12. After All
Very unusual start for a Flesh & Bone track: this song has acoustic instead of electric guitars. What a soft and nice ballad. It is not one of my favorite tracks as a song, but I like to have this fragile contrast on the long-player.
13. Sands Of Time
Quite classic Whitesnake track. Nice chorus, but the rest of the song does not fully catch me. Nevertheless, it is a quite solid one.
14. Can't Do Right For Doing Wrong
Another ballad, but more on the rock side. I like that track. Nice guitar play, nice voice and just lovely to listen to.
15. If I Can't Have You
Starting close to choral singing, the list of songs (just remixes thereafter) finishes with a nice rock song. Nice romantic rock anthem with a sway-and-headbang potential. Like it!
Whitesnake – Flesh & Blood – My View
I feel it makes fun to listen to Flesh & Blood. It is just very classic, very Whitesnake. That's the music you expect them to deliver – and they do. There are some really good tracks, some characteristic ones and some in the average range, which you may forget rather quickly. The band has been successful in the past by delivering reliable, solid hard rock music. This is what Flesh & Blood is all about. Mission completed, nice one!
Whitesnake – 2019 Tour
In parallel to their album release, Whitesnake started a world tour, which will have several stops throughout Germany. The only show in Germany will be in Cologne. However, there will be some other concerts around.
| | | |
| --- | --- | --- |
| We 12.06.2019 | Tilburg (NED), 013 Poppodium | |
| Th 20.06.2019 | Zurich (SUI), Rock the Ring Festival | |
| So 23.06.2019 | Dessel (BEL), Graspop | |
| We 07.07.2019 | Cologne, Palladium | |
Whitesnake – Amazon Links
Here are the links to Amazon.de (CD, Vinyl, Download)
Flyctory.com Media Reviews
Here are all CD, book and movie reviews: