Chris Tomlin - Chris Tomlin & Friends
If you need any proof how close the country music scene in Nashville is bound to (Christian) religious attitudes, Chris Tomlin released a perfect illustration on 31st July 2020. His album Chris Tomlin & Friends contains Christian songs, more or less in country style. The list of friends reads like a (slightly limited) "Who is Who" of the country music scene. I dared a listen.
Chris Tomlin – About The Artist
Christopher Dwayne Tomlin is a 48-year old artist, who is originally from Grand Saline, Taxis. Born on 4th May 1972, he is not only known as a singer and songwriter, but also works as a worship leader. His key musical genre is Contemporary Worship / Contemporary Christian. He is releasing solo records and is also part of the Passion Conferences project. As a solo artist, Chris Tomlin & Friends is already his eleventh studio album. Six of his albums topped the US Christian charts. His key success was the Burning Lights album, which even topped the overall US charts. He has also been regularly nominated for the Grammy Award in the Best Contemporary Christian Music Song or Album category.
Chris Tomlin & Friends – Track by Track
The album contains 13 tracks and lasts 42 minutes: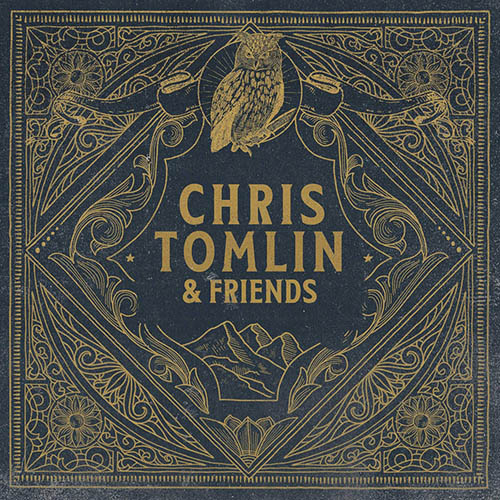 1. Thank You Lord (Intro)
The album starts with a gospel praise to God. I am atheist, skip it…
2. Thank You Lord feat. Florida Georgia Line & Thomas Rhett
The first "real" song of the album is having the same title, but is in fact a modern country pop track, very close to Florida Georgia Lines style. It is a song I can hardly stand. It is well produced, but the 2:48 minute track features the words Thank You Lord fifteen times if I haven't counted it incorrectly. That feels a bit too fundamental.
3. Reaching For You feat. We The Kingdom
We The Kingdom are a quite new band who do Christian / worship music as well. As stated, I am not religious at all, but what really bothers me is – again – the extreme repetition in the song, which feels extremely tiring. It is indeed a great production, but just too thin.
4. Who You Are To Me feat. Lady Antebellum
As the struggle between the "original" Lady A and the former band Lady Antebellum seems to end up in a big lawsuit, I decided to still use the country band's former name. I like the song much more than the tracks before – not too surprisingly, as this one is by far not as monotonous as the songs before. I am sure that if there is a God he does understand more complex stories as well. Thanks.
5. God Who Listens feat. Thomas Rhett
The fifth track brings back Thomas Rhett – this time without Florida Georgia Line, though.
I'm not just hoping
I'm not just wishing
I know I'm praying
To a God who listens
I know He hears me
I know He's living
Yes, I am praying
To a God who listens
Nice production. One of the best songs of the album to me.
6. Power feat. Bear Rinehart
Bear Rhinehart is the founder and lead singer of NeedToBreathe, which is a Christian Rock band. The song is like a gospel with country and rock influences.
7. Be The Moon feat. Brett Young & Cassadee Pope
I love Cassadee Pope so much – and her collaboration with Chris Tomlin and Brett Young is not bad at all – but after six songs of praising and being thankful for everything, I am just tired of listening to verses like
If You're shining on me, I'm shining right back for You
I wanna be the moon
Lord, I wanna be the moon for You
8. Sing feat. Russell Dickerson & Florida Georgia Line
The song got a nice groove, indeed. However, it is again so repetitve. Thirteen times You make me wanna sing – is this a song of praise and prayer or is it acoustic brainwash? They use similar methods. I do respect religion a lot and I am sure most of the listeners of the album will assign six out of five stars to it. But to me, it is just too much.
9. Chase Me Down feat. RaeLynn
Chase Me Down is quite submissive as well – but overall, it is one of my favorite tracks of the album. It is very melodic, I love RaeLynn's voice in here (not as squeaky as in some of her songs), which leads to a ballad-alike atmosphere.
10. Gifts From God feat. Chris Lane
I am blaming so many songs on this album – this is a really positive example. Yes, of course it is religious, it is praising God – that is simply what this album is about. But overall, it is a modern song, a story, which you enjoy to listen to. The song would be much better if there wasn't the bridge and the outro, which again fall back to this say-the-same-again-and-again thing.
11. Forever Home feat. Florida Georgia Line
To be, the most terrible-to-listen songs on this album are simply the three ones in collaboration with Florida Georgia Line. The song just gets boring very quickly, I am also not sure if I should really imagine my Forever Home like that… I guess I will rather be honest about my thoughts on that kind of music and look forward to be reborn as an ant.
12. Together feat. Russell Dickerson
Though the song feels to have a structure similar to a Tibetian prayer mill, I just have to admit that I somehow even feel a bit of joy when listening to it. You just cannot argue against it – this album is written and featured by excellent artists.
13. Tin Roof feat. Blessing Offor
This song recorded together with Nigerian Blessing Offor, who is now living in New York, is another positive example for Christian music to me. You can transport these messages in a way that people who are not fully in it can consume it. Happy ending.
Chris Tomlin & Friends – Spotify
Here is the album on Spotify:
Chris Tomlin & Friends – My View
As written above, the album first of all a proof for the strong links between the Nashville country scene and religion. I personally do not like that – country music is of course very traditional and their followers are as well (despite all recent Black Lives Matter demonstrations), but due to the way country music works in the US (see also my posting Nashville, Let The Girls Play), this also gives hidden economic links. The album is a record for die-hard fans. The production is very good, the songs are well arranged, sometimes a bit too boring. By the way: Chris Tomlin himself is extremely in the background in many of his own songs – the album is more like Chris Tomlin's Friends … & sometimes himself.
At least to me, the whole set of songs, however, makes me rather feel repellent against Christianity than missionary. Finally, the songs repeat in their submissiveness. I can hardly stand that – I need to be straight to you and give my thoughts even if it may lead to a shitstorm. If you want to listen to religious music which is bearable in my point of view, I recommend Jenn Bostic, for example her EP Take My Heart.
Postings about Nashville
Here are all reviews and more about and around Music City:
All "classic" blog posts
No reviews – just debating and certain topics – these are my "traditional" blog posts in the categories Just blogging, Just blogging on music and Sports Blogging: