While quite some major country music artists moved their release dates to (hopefully) better times in the future, Kenny Chesney decided to keep his release date for Here and Now, his nineteenth studio album. Definitely a good opportunity to listen to some promising country music!
Kenny Chesney – About The Artist
Kenneth Arnold Chesney was born in Knoxville, Tennessee, on 26th March 1968. His family has English and Irish background. At High School, he was a quite decent part of the sports teams. He graduated in Advertising in 1990. Already about he year before, he self-released a demo album, which sold 1,000 copies. After graduation, he moved to Nashville. He signed his first record deal in 1992 and released his decently successful In My Wildes Dreams in 1994. After another album, the 1995 All I Need To Know, the 1996 Me And You was the first album, which made it to the Top 10 of US Country. and thus some sort of breakthrough. His first album in the 2000's, No Shoes, No Shirt, No Problems, was a huge success in 2002 and topped the US Country album charts and the US album charts. Thereafter, only one Christmas song album did not make it to the top of the album charts. Chesney performed thirty number one singles.
Kenny Chesney – Here and Now – Track by Track
The album contains twelve songs and a total play time of 40 minutes.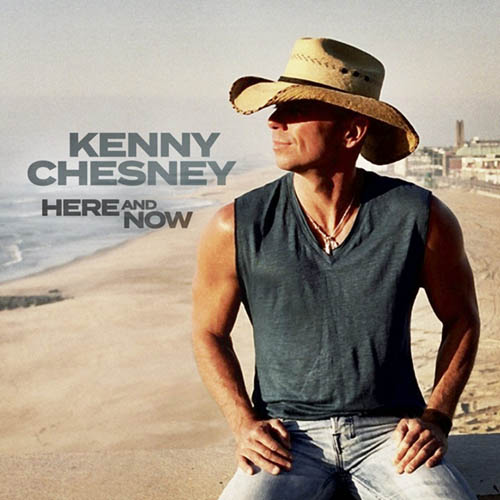 1. We Do
Could Here and Then be a good one? At least the starter feels like a good one. Typical Kenny sound, powerful modern country from the very beginning – the kind of song you love to sing along during a summer country music festival (bad luck that we won't have any this year…)
2. Here and Now
The second song on Here and Now is the title track. Even more powerful than We Do – I also love the idea of the song.
Seen the skyline in New York City
Fireflies in Tennessee
Sipped a little shine from a paper sack that'll
Knock the horns off a Cadillac
I must've sat on a dozen islands
Watched the sun sink into the sea
Been there, done that, got the t-shirt and hat
But my favorite place to be is
Here and now
3. Everyone She Knows
While I listened to Everyone She Knows, I just resigned that songs like that are not played in German radio. Such a straight and well-done write and recording. Would be a great radio track over here as well – if only it was not "stigmatized" as country music.
4. Wasted
Out of the first four songs, Wasted is definitely my favorite. Modern country with a classic touch, very good to listen to and a nice groove – that's just how I like it!
5. Knowing You
You need the right country music boost for a romantic moment nowadays? This one is definitely a great one to become a bit more emotional. If it does not work, you might need a therapist – or leave your partner and listen on to the album?
6. Heartbreakers
And I wonder, whatever happened to the heartbreakers?
To the dream chasers, to the renegades running this town?
Whatever happened to the born to runners?
To the "Let me get your number"?
Did they ever settle down?
Did they grow up and get old?
Do they have someone to hold?
I'll bet they're still beautiful
Whatever, whatever happened to the Saturday nights?
Under the carnival lights?
Knew how to kiss you goodbye
Whatever, whatever happened to the heartbreakers?
Wow, that speedy tracks has quite a chorus. Very individual sound and incredibly fast. A good one!
7. Someone to Fix
Not that much of a romantic, but an emotional, slower track. A good relax after the quick lyrics in the song before. Nice chorus melody.
8. Happy Does
The song does make you happy. Summerish vibe, which just gives a bunch of good mood to me. Love it!
9. Tip of My Tongue
No, this is not the same song as recently released (with the same title) by Gary Quinn. This song has been published in 2019 already, so that you might know that.
10. You Don't Get To
This track feels a bit hidden to me compared to other songs on the album. Nice production, definitely, but other songs in here have a much higher poteintial.
11. Beautiful World
It's a big old beautiful world out there
Sometimes you just gotta let it take you where
The roller coaster ride meets the tilt a whirl
It's a big old beautiful world
La-da-da-da-da-da-da
It's a big old beautiful world
Another of these listen-sway-feel happy songs. Even due the slightly carely la-da-da singing. this track has a very special touch.
12. Guys Named Captain
A slow song to finish the album. I really enjoy listening to it – the Captain really has a naval touch here and there with the accordion-alike sounds. Nice one!
Kenny Chesney – Here and Now – Spotify
Here is the Spotify link to Kenny Chesney's album:
Kenny Chesney – Here and Now – My View
Kenny Chesney delivers another good one. Not too surprisingly, Here and Now is a hot candidate for the hottest country music seller this week (and maybe the next ones as well… It is definitely well-deserved – Kenny Chesney delivers another really nice country album. Great listen!
Flyctory.com Country Music Concert Coverages
Here is a list of all concerts I covered, limited to Country Music:
Postings about London
Here are all postings related to the UK Capital: