Lee Brice is amazing in songwriting, but also a top name in the country music scene as an artist. On 20th November 2020, he is releasing his new album, which is called Hey World. Here are my thoughts about the listen.
Lee Brice – About The Artist
Kenneth Mobley Brice Junior was born on 10th June 1979 in Sumter, South Carolina. Funnily, it was his younger brother Lewis, who first stepped into a musical career, when Lewis appeared in Season 1 of Can You Duet on Country Music Television. Lee Brice, however, was quite talented in sports and had a University scholarship for American Football. An injury made Brice change his focus towards music. He became successful comparably quick as a songwriter. In 2007, for example, Garth Brook's released a single, More Than a Memory, written by Brice. Around that time, Brice also started to release singles. His first ones had some success, but their chart placements did not feel to justify the release of the corresponding album Picture of Me. Thus, Lee Brice's debut album, Love Like Crazy, is dated as of 8th June 2010. It made it to the US Country Top 10. and also contained the single with the same title.
His first Number One single was A Woman Like You in 2011, which also drove the 2014 album Hard 2 Love to the second spot in the US Country Charts (#5 overall). The album also contained two more Airplay Chart toppers, Hard to Love and I Drive Your Truck. The title track of the 2014 album I Don't Dance also topped the airplay and finally drove the album to the top of the US Country Charts as well. The best-selling song of his latest album, Lee Brice, was Rumor, which has almost 100 million streams on YouTube only. Thereafter, Brice was very successful alongside Carly Pearce when they performed I Hope You're Happy Now.
Lee Brice – Hey World – Track by Track
The fifteen track album lasts 47 minutes.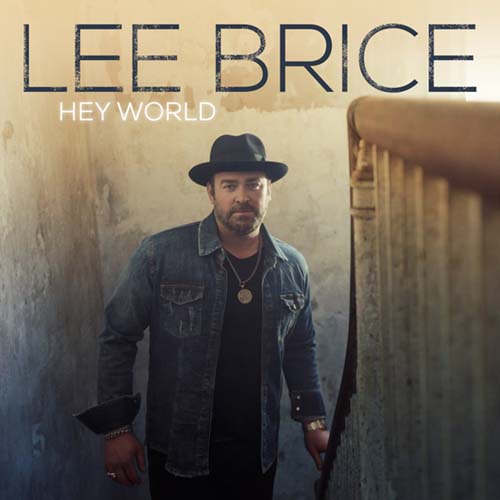 1. Atta Boy
Hey World starts with a straight modern country track – Atta Boy is a just a good track for the radio, for the road. It's got a touch of rock as well – just a good starter!
2. One Of Them Girls
And you're one of them girls, that
Ain't tryna meet nobody
You're just here for the party
If I'm wrong, then stop me, yeah
You're one of them girls that
Ain't handin' out your number
You like to make us want ya
You like to make us wonder
One of the big Lee Brice songs in 2020. The song is really powerful, cool story about dating – and desperately looking of one of them girls.
If you're one of them girls
Well, I'm one of them boys
Who'd trade his whole world
His whole world
For one of them girls
Cool.
3. More Beer
We gonna need more beer, gonna need more ice
Gonna need more cups, stack em up to the sky
Gonna need more crank on the knob of the radio
If tonight's gonna go like I think it's gonna go
One thing's clear
By the looks of the crowd in here
We gonna need more beer
Okay, that's a straight beer, drinking, party song. Sometimes, this is just what you need – and Lee Brice does it in style. Great one.
4. Memory I Don't Mess With
This rather slow-feeling track (all tracks so far in fact are between 91 and 95 BPM, so there is not difference in rhythm is a beautiful love track. Nice one.
5. Save The Roses
Save the roses // Don't waste them on me– the album continues dealing with love – this time from a unfortunate perspective. A slow and very intimate song, great listen.
6. Good Ol' Boys
After these two rather emotional tracks, there is more rhythm and guitar in Good Ol' Boys. A song about traditional lifestyle, reliability and believing. Good one – even though it is not my favorite one so far.
7. Don't Need No Reason
Don't Need No Reason is a lovely music love letter – a beautiful listen, really enjoy to listen to this track, which is very impressive and catching on the melodic side.
8. Do Not Disturb
There's a sign on the door
Baby you can ignore
Come in slip off your heels
Leave your dress on the floor
We need some do not disturb time baby
Some leave the world outside time baby
It's been a long time coming lately
Some do not disturb time baby
So do not disturb time
Wow, this one is getting hot. The song is having a touch of blues to me. Unfortunately, I feel that the song has higher potential than the actual recording is really reflecting.
9. Soul
I like your soul, baby
You've got that heart made of gold, baby
I'm gonna love you till I'm old, baby
I just wanna be your baby
I better not quote the artist I first thought about, but the song has a lot of early 1990's pop/rock touch to me. This also means: clear rhythm, good melody. Not bad at all.
10. Sons and Daughters
In this part of the album, Lee Brice is definitely moving away from country – this track is again having strong elements of 1990's / 2000's rock music. Not bad at all, but a bit surprising. I have to say that I enjoyed the beginning of the album more.
11. Country Knows
Country knows how I feel
It always has, it always will
It's in my heart,
it's been there from my beginning.
Back to (traditional) country tunes – which later get a bit a more rhythmic touch. This song is a beautiful praise to the country music genre. Lovely one.
12. Lies
Lies is a beautiful piano ballad, which creates a very emotional moment. The cruelest lies are those we tell ourselves – a very reflective song. Beauty!
13. If You
If You is rhythmic, it's powerful, it got guitars, it's dark. There are simply so many good elements in this song, which is to me one of the big highlights of the album.
14. I Hope You're Happy Now (feat. Carly Pearce)
After Carly Pearce released this song on her album Carly Pearce, Lee Brice does the same on Hey World. It's just too good, love it.
15. Hey World (feat. Blessing Offor)
We had to wait for the title song until the very last track – not too much thrill and suspense anyway, as it is one of the many songs which have been released before the album. Lovely way to finish this album.
Lee Brice – Hey World – Spotify
Here is the Spotify widget to the album:
Lee Brice – Hey World – My View
Hey World starts strong and feels to apply for a very strong rating from the very beginning. The first tracks and most of the last third are strong recordings – unfortunately, I see too much weakness in the middle part. No doubt, this does not change a lot that I feel it is a good buy – it is just not a must-purchase. Very good – and knocking on country heaven's door… Just not getting in this time.
US Country Music Reviews
Here are any media reviews related to US-American country music:
Airport Hotels
Here are all hotels with a good airport connection: