In summer 2017, I visited a lovely country festival in Lexington, Kentucky called Red, White & Boom, which had an incredible lineup. However, one of the opening acts was a local girl called Carly Pearce. I oved her songs, I loved her stage presence, so that I became a huge fan of her music – like many others as well, as already her debuts had massive success. Now, the Kentucky girl is back with her second album, self-titled and released on 14th February 2020.
Carly Pearce – About The Artist
Carly Pearce, whose civil name is Carly Cristyne Slusser, was born on 24th April 1990 in Taylor Mill Kentucky. She took the first big step of her career at the age of 16, when she moved to Pigeon Forge in order to have five weekly Dollywood shows. Three years later, she signed a developmental deal with Sony Music, which however failed. Then, it took quite a while when Pearce stepped back into the music business as a female singer in a Josh Abbott Band's track, which also made her tour with the band. She became more famous and could produce her debut single Every Little Thing, which was an massive success, leading the US Country Airplay and Canadian Country charts. Later in 2017, she released the equivalently named album, which peaked forth place in the US country charts. The follwing single Hide The Wine was quite successful as well.
Carly Pearce – Carly Pearce – Track by Track
The thirteen songs have a total playing time of 43 minutes.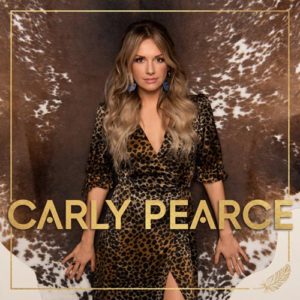 1. Closer To You
Closer To You is already more a classic than a release – Carly Pearce published this song as a single in 2018 already. I like the song, even though I feel it is not one of her best ones.
2. Call Me
I love the rhythm in this track, which feels a bit like summer, reggae, holiday – it makes me smile. Might not be a too complex song ever written, but I like it.
3. I Hope You're Happy Now (feat. Lee Brice)
What I shall write about this duet with Lee Brice? One of the songs previously released – it was on the Flyctory.com Playlists already and I just love it. It was a great one before the album release – and it stays a great one now!
4. Dashboard Jesus
Maybe she'll find a little one horse town
Dip her toes in the sand on the edge of the ocean and put her roots down
Maybe bright city lights will call her name
Long as she's goin' somewhere, it don't matter to her either way
Everybody says she's dreamin'
Call her crazy for believin'
Sometimes, all you really need is
Fifty dollars and a dashboard Jesus
The first really new song on the album. Comparably classic sounds and just a great song with nice storytelling.
5. Halfway Home
Halfway right doesn't make it right
Halfway wrong is still wrong
Half of me is with you here tonight
And half of me is long gone
You can try to tell a heart to feel somethin' that it don't
But halfway to Heaven isn't Hell
And halfway home just ain't home
Cool track and lovely storytelling again. This voice is just doing magic to me. It is so intense, pulls me into the stories.
6. Heart's Going Out Of Its Mind
I like the light – a bit of childish arrangement of the background rhythms at the very beginning of the song. The quick lyrics just make me move and smile – so the song can't be too bad.
7. Finish Your Sentences feat. Michael Ray
Another duet on Carly Pearce's album – and this time, nobody but her husband himself went into the studio with her.
'Cause you know what I'm thinking 'fore I'm thinking it
Ooh, you light the fire and I keep it lit
Yeah, I know you better than you know yourself
You start it, I'll end it
I love that I can finish your sentences
Finish your sentences, yeah
Ain't that beautiful?
8. It Won't Always Be Like This
This track is more on the ballad side of country music. I have to say that I loved the first seven tracks – so unfortunately, this one is in a quite challenging situation. It is just weaker to me, but at least, it has its own character – and finally, it is not bad at all.
9. Lightning In A Bottle
Another slow track – but I like Lightning in A Bottle much more than the track before. Nice one!
10. Love Has No Heart
Love just don't care who's in its path
Love won't slow down, it don't look back
It don't give a damn who it tears apart
It just moves on and on and on and on and on and on and on
Love has no heart
I feel that this song is very intense and has a very special and catching way to be set up. Thus, it is one of the hidden highlights of Carly Pearce to me.
11. Woman Down
To me, Women Down is one of the less noticeable songs on the album. Still, it is not a bad one at all
12. You Kissed Me First
There are quite many pre-released songs on the album – You Kissed Me First is one of them. Thus, you likely know this track already. Definitely a good one!
13. Greener Grass
Yeah, it won't leave me alone and it cuts me to the bone
Knowing that I can't go back
To greener grass, greener grass
Greener grass, greener grass
The last words of the album. I love the songwriting again, I love the arrangement – you see that Carly Pearce is working with Busbee, who is just one of the top names of the business. Nice finish.
Carly Pearce – Carly Pearce – Spotify
Here is the Spotify widget to Carly Pearce's second album:
Carly Pearce – Carly Pearce – My View
If an artist has relased such an amazing debut album as Carly Pearce did, the second album is like the crossroad of her career. Does it continue to go straight up – or will you have to do the U-turn and go back to where you came from (and likely honor you for the rest of your life)? In case of Carly Pearce, I was very sure that it will be the uphill path – not only because quite a vast proportion of the album was already known / released before that Valentine's 2020. To make the story short: the album Carly Pearce is great to me –  not only because I admire her anyway. Very good productions, different sounds, great stories – if you want to persuade your friends that country music is a good thing (in case you have to), these 43 minutes could be a good argue. Love it – and of course this means it is a Top Pick!
Banner / Album cover: Artist Material
Flyctory.com Country Music Reviews
Here are reviews of all country music albums and EPs I reviewed earlier on the website:
Postings about Concerts
All postings about  concerts I visited: