After an ICE high speed train ride from Cologne, I chose the ibis Amsterdam Zentrum as my overnight during my visit of the Maren Morris and RaeLynn concert in May 2019 in the Dutch capital. As I had an early return train the next morning, I was majorly looking for a reasonable accomodation in close proximity to the central station. Here is a review of my stay.
ibis Amsterdam Centre – Location
It is really hard to miss ibis Amsterdam Centre if you take the right (main) exit of the station and end up at the Stationsplein plaza. The hotel is next to you on the right, you just have to pass one of the major Amsterdam bicycle parking garages.
The location of the hotel is quite ideal for an Amsterdam traveler. You are right at the station (which also connects you to Schiphol Airport), which provides you with some stores – some of them are at platform level, though, and require a train ticket. Most attractions of the Dutch capital are in short walking distance.
ibis Amsterdam Centre – Rooms
The hotel has two buildings. You enter the hotel at the main building, which has seven floors. It also features all major services like bar/restaurant and lockers (see below). In addition, there is the Red Tulip building in which my room was located. It only lasts from fifth to ninth floor, as it is built on top of the railroad tracks, some trains pass below it. To reach this part of the hotel, you have to take designated elevators to fifth floor, follow a passageway and then take another elevator, in case your room is higher than fifth floor. I was in ninth floor – quite a walk to take.
The room was quite nice and spacious, though. The furniture was standard ibis stuff – though I have to say that I loved the view over the platforms and Northern Amsterdam areas. Despite the rail traffic, the room was very quiet.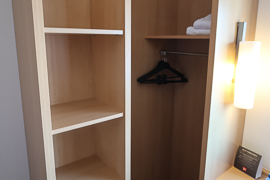 As an Accor Gold member, I was given a small present of flower seeds. I wondered what they do with non-European guests, who might not be allowed to take them home.
The bathroom was just what you expect in an ibis, very standard architecture. The room price was 158 EUR, reduced by my ibis Business Card, including breakfast.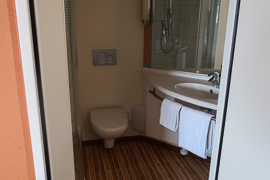 ibis Amsterdam Centre – Breakfast & Bar Area
The reception area at ibis Amsterdam Centre is really nice – and the breakfast was definitely on the positive side. There was quite a selection of items, which were nicely presented as well. The area is also used as a bar and restaurant which serves some basic dishes during daytime and the evening.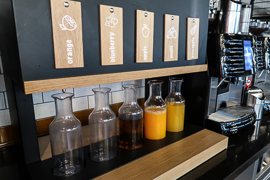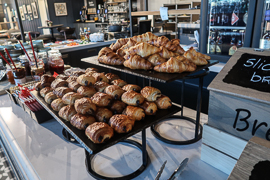 ibis Amsterdam Centre – Services
Like many ibis hotels nowadays, ibis Amsterdam Centre has no reception desk, you are checked in by staff which is around with a mobile device. The process took very long and was quite imprecise (which also lead to the situation that I took the right elevator).
There are some really nice services around the reception area. You may enjoy yourself in the photo booth or play a game of air hockey. The take away snack bar is very helpful as well and offered a nice variety of snacks. When I wanted to claim my complimentary drink as a status member there, I was initially told that I can only grab an alcoholic one, which was quite confusing.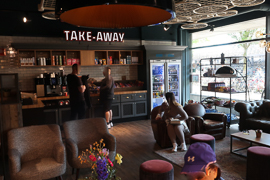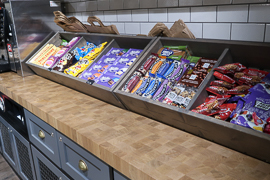 I do understand that it costs a some effort for a major to drive a left luggage service – but I feel it is a must-do service. ibis Amsterdam City shirks from that duty and offers chargeable lockers instead. The price ranges from 3 Euro for 6 hours of a small locker to 7 Euro for a 24 hour rental of a major locker. By the way, the signs are in English and German, not in Dutch. I feel that refusing this service is annoying.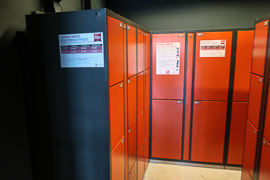 ibis Amsterdam Centre – My View
I would leave a mixed review for ibis Amsterdam Centre. On the one hand, there is a great location and the fantastic reception area. The breakfast was definitely above ibis average as well. On the service level, I felt definitely on the below average side. The WiFi was too slow as well. It is very hard to really judge the value for money here. Very similar to what I wrote about Hotel du Bois in Paris, the Amsterdam central hotel market is quite frustrating for travelers – there are just very few reasonably priced stays. ibis Amsterdam Centre is definitely not a bad option, but also not overwhelming.
Everything about the Netherlands
Here are all postings related to the Netherlands:
Accor Hotels Reviews
Here are all postings related to Accor Hotels: