Julian Taylor is just about to make it to Germany and the Netherlands. Right before the Sound of Nashville shows in my home country, including a show in Cologne, I had the opportunity to chat with the Canadian artist, talking about the tour and his music – and how his experience in the United Kingdom has been like so far. Enjoy the very interesting chat with him.
Flyctory.com meets Julian Taylor
FLYC: Julian, you just started your tour abroad with shows in the United Kingdom. How does it feel to be in Europe?
Julian: It feels amazing. I can't believe that it took me over two decades to get here. I really wish I had made the trek earlier in my career but I am thrilled to be here now.
FLYC: Most of the tour stops are in Great Britain, but you will tour Germany, the Netherlands and Belgium thereafter as well. What do you feel about these shows?
Julian: So far the audiences have been incredible.  Some people even already know some of the  songs which I find astonishing.  It's a real honor and compliment.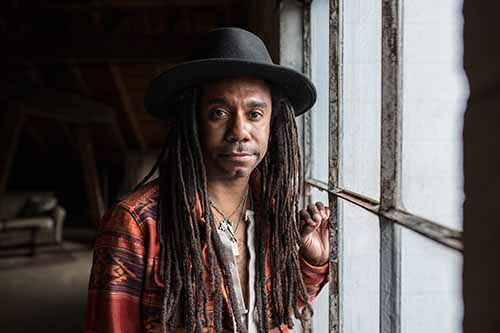 FLYC: What is the key difference for you between shows in Europe and shows in North America? Do you prepare yourself differently for a show over here?
Julian: I think the biggest difference is performing two sets. I'd never heard of an interval before.  I used to play multiple sets when I was in a cover band but as an original artist that's basically unheard of back home.
FLYC: Has there been maybe any show you especially looked or look forward to on this tour?
Julian: I look forward to every show.  Any chance to do what I love and share that with people is a blessing.
FLYC: You just released a new album recently, Beyond the Reservoir. Will that be in focus of your show or do you also present many tracks from the releases before?
Julian: Because I have two sets to perform I've been dipping into the back catalogue and it feels good.  I've had to relearn some songs and it's been fun. Thank god they're record for reference. LOL
FLYC: Your most successful album is very likely The Ridge, with the outstanding Ballad of a Young Troubadour. How would you compare your 2022 album to The Ridge?
Julian: To be honest I don't compare my albums to one another.  That would be counterproductive.  It may seem like The Ridge is my most successful album to date but I never look at things that way.  It's such a gift to be able to create so all of them are as successful as the next in my heart.  This new album grows on people and has a lot more to say than any of my other albums and some of my albums just make you feel good about life.
FLYC: And looking at the key song Ballad of a Young Troubadour, how much is it influencing your life as an artist today? With over six million streams, it is much more successful than other songs of you…
Julian: I've been writing about my life since I was a child. It's really all I know how to do. I only hope that my life and my stories might have a positive impact on others.  So I just keep doing that very thing. My life is my songs and that's the artist that I have become and continue to be.
FLYC: You are named to be an excellent storyteller in your songs. How do you typically get to the topics you want to share with your music?
Julian: To be honest I don't actually know.  Something just happens I guess and then I feel compelled to write stuff down.  I have a lot of feelings about what's happened to me and to others that I know in this lifetime.  We are very fortunate to be able to share our stories with one another and we all have stories to share.  When I think about it I believe that that's our best trait. Sharing stories with others that is. I just happen to be able to put music to mine.
FLYC: Is there maybe a song you are especially proud of?
Julian: Carry Me Home is my favorite song that I have written because it's about my Grandfather John Skanks.  He was a very soulful and beautiful man.  I feel so luck to have met him and shared so much with him.
FLYC: Your ancestry is Mohawk and Caribbean. How much did that influence your music?
Julian: I come from two incredible cultures. I am proud of who I am and where I come from.  We have an oral tradition that has survived. Maybe that's why people think I am a good storyteller.  I guess that I come by it honestly.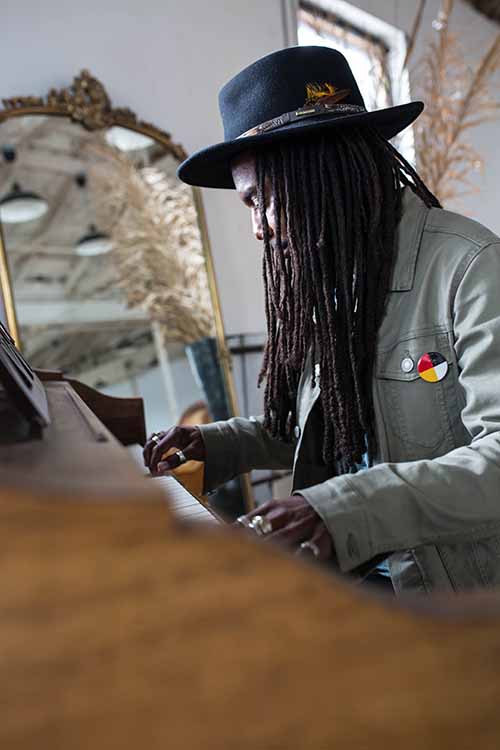 FLYC: What is a Julian Taylor show like? What can people expect if they visit one of the shows of your tour?
Julian: Well that has changed over the years. There was a time when I toured with an eight piece funk, soul and rock and roll band and since the pandemic it's mostly been me with an acoustic guitar.  I hope to meld the two one day.
FLYC: You are based in Toronto. What are you missing most of your home town while traveling through Europe?
Julian: That's easy. I miss my little girl the most.
FLYC: And, vice versa, is there anything you especially enjoy or appreciate while being here?
Julian: I am enjoying meeting people and sharing my music with them.  I am traveling and enjoying the scenery as well and being well looked after. It's rather white lovely.
Pictures: artist material, by Lisa MacIntosh)
Julian Taylor on Tour 2023
Here are the remaining tour dates of James Taylor in Germany, the Netherlands and Belgium. There has been a full list on my European Tour Dates page:
| | | |
| --- | --- | --- |
| We 15.02.2023 | Cologne (Germany) – Helios37 | Report |
| Th 16.02.2023 | Hamburg – Häkken | |
| Fr 17.02.2023 | Berlin – Badehaus | |
| Sa 18.02.2023 | Amen (Netherlands) – Cafe De Amer | |
| Su 19.02.2023 | Utrecht – TivoliVredenburg | |
| Mo 20.02.2023 | Brussels (Belgium) – Indies Keeping Secrets | |
Just a few days after I published this interview, I had the chance to report from his concert in Cologne:
Follow Julian Taylor Online
Sound of Nashville on Flyctory.com
Here are all postings related to the Sound of Nashville concert series in Germany and the Netherlands:
Canada Top Pick!s
Here are all my reviews related to Canada, which received a Top Pick! rating: