Mrs. Greenbird was the only Germany-based band who were playing at the C2C debut in Berlin 2019. This definitely illustrates their reputation in the international country music scene – though their music has strong elements of folk and pop as well. On 12th April 2019, in parallel to the new Emma Bunton album, they released Dark Waters. Here is a review of the CD.
Mrs. Greenbird – About the Artist
Mrs. Greenbird is a duo, based in Cologne, Germany. Sarah Nücken is the main voice. However, she is also playing the keyboard on stage. Her partner, Steffen Brückner is typically more on the backing vocals and plays the guitars. They are also a couple in private life.
Mrs. Greenbird became famous in Germany, when they won the X-Factor TV show in 2012. The album Mrs. Greenbird, which has been released at that time, topped the German charts and received gold status. The winning song Shooting Stars & Fairy Tales just barely missed the Top 10 of the German single charts. It has over 2 million views on YouTube. Their 2014 album Postcards still made it to the Top 50. Dark Waters is their third album, the first one which they are producing at their own music label.
Mrs. Greenbird – Dark Waters – Track by Track
Dark Waters is an eleven track album with a total duration of 41 minutes. It is published by the band's very own label, Greenbird Records.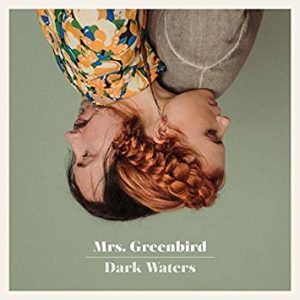 1. Long Time No See
Mrs. Greenbird songs are very often quite soft and balladesque, also due to the unique voice of Sarah Nücken. This first track of the 2019 album has quite powerful and danceable elements, though. Love to listen to it.
2. Morals
A rhythm that makes you sway, a happiness-spending hookline and lovely lyrics. Morals is definitely one of the tracks which surprise and amaze me on Dark Waters. Love that track.
3. Dark Waters
Dark Waters really feels dark. The title track of the album has a very melancholic sound and lyrics. Nevertheless, it is a good track.
4. One Day In June
This track was one of the first releases of the band from the new album. You just feel the summer sun at the midsummer night, One Day in June, we made a promise to remember. This track is definitely one to remember as well.
5. Careless Heart
This one is a track which is so characteristic for this album. I cannot really tell you what makes it special. But you just move to the rhythm, listen to the music and feel good. So it must be a good one.
6. Midnight Rose
This is one of the few tracks in which Steffen Brückner has significant parts as main vocalist. This gives this song a very unique character. I absolutely like to listen to it (which does not mean that I also love to listen to Sarah Nücken).
7. The Simple Things
You simply won't find country rock or folk rock on these 41 minutes from Cologne. The Simple Things is another soft, fragile track with lovely songwriting and the beautiful voice of Sarah Nücken.
8. Like A Song In My Head
Like a song in my head is more powerful than other tracks on this album, which makes it a bit special. It is still typical Mrs. Greenbird sound, though.
9. 1965
1965 is likely the song on Dark Waters, which has the strongest country music influence. It has rhythmic and melodic parts and I just love it – maybe just because it is country music. Worth listening! Just found a amateur concert recording of this track. Just felt like sharing it anyway.
10. Tides Are Turning
A very slow and intense track. Feels impressive.
11. Learn How To Love You
The final song of this album is just a wonderful ballad with beautiful lyrics. It just makes me stop whatever I do and listen to these wonderful lyrics. Great one, definitely!
Mrs. Greenbird – Dark Waters – My View
I saw Mrs. Greenbird twice in the last month, once as support act of Clare Bowen at their hometown show in Cologne and at the C2C in Berlin. I have to admit that I haven't been fully touched in both performances. The more I was surprised that I really like Dark Waters. I love the soft and fragile sound of the songs and the stories told. 1965 is the best track on the album to me. Overall, I felt that the album sound of their clear voices just suited them better than on stage. Nevertheless, I might give the duo another chance live on stage. The album is definitely worth listening! The best album I reviewed this year so far is still Lauren Jenkins' No Saint to me, though.
Here is the order link to Amazon.de:
Mrs. Greenbird – Dark Waters Tour 2019
There will be numerous Mrs. Greenbird shows all over Germany in 2019. Here is an overview:
| | | |
| --- | --- | --- |
| Tu 16.04.2019 | Hamburg, Grünspan | |
| We 17.04.2019 | Kiel, Kutlurforum in der Stadtgalerie | |
| Th 18.04.2019 | Cuxhaven, Captain Ahabs Culture Club | |
| Sa 20.04.2019 | Hoyerswerda, Speicher No. 1 | |
| So 21.04.2019 | Hoyerswerda, Speicher No. 1 | |
| Tu 23.04.2019 | Hanover, Pavillon | |
| We 24.04.2019 | Darmstadt, Centralstation | |
| Fr 26.04.2019 | Zwickau, Alter Gasometer | |
| Sa 27.04.2019 | Westhofen, Gut Leben am Morstein | |
| Mo 29.04.2019 | Cologne, Kulturkirche | |
| Fr 03.05.2019 | Worpswede, Music Hall | |
| Th 09.05.2019 | Munich, Zehner | |
| Fr 09.08.2019 | Xanten, Amphitheater | |
| Sa 10.08.2019 | Ludwigsburg, 7 Eichen | |
| We 30.10.2019 | Dresden, Scheune | |
| Th 31.10.2019 | Leipzig, Moritzbastei | |
| Sa 02.11.2019 | Hildesheim, Bischofsmühle | |
| Su 03.11.2019 | Brandenburg, Zickengang Golzow | |
| We 06.11.2019 | Berlin, Wabe | |
| Th 07.11.2019 | Frankfurt, Ponyhof | REPORT |
| Sa 09.11.2019 | Gaggenau, Kleine Bühne | |
| Th 14.11.2019 | Münster, Hot Jazz Club | |
| Sa 16.11.2019 | Wolfsburg, tbc | |
| Su 24.11.2019 | Mönchengladbach, Tig Theater | |
| Tu 26.11.2019 | Unna, Kühlschiff in der Lindenbrauerei | |
| We 27.11.2019 | Bielefeld, Bunker Ulmenwall | |
| Th 28.11.2019 | Göttingen, Norgelbuff | |
| Fr 06.12.2019 | Eckernförde, Carls Eventlocation | |
| Sa 07.12.2019 | Bremen, Kito | |
Postings of the Greater Cologne Region
Here are postings which are dealing with the Greater Cologne and Rhineland region:
Flyctory.com about Country Music
Here are all Country Music-related postings on Flyctory.com: