I started to enjoy the pop-Northern Soul style of the German band Die Liga der gewöhnlichen Gentlemen, when the recorded an album with one of my music idols, Andreas Dorau. Later, they even toured together. There was no doubt that I have to give the five band members and their new songs a listen, when I received their new album. It is called GschichterIn aus dem Park Cafe and has been released on 9th July 2021.
Die Liga der gewöhnlichen Gentlemen – About The Artists
Die Liga der gewöhnlichen Gentlemen is a Hamburg and Berlin-based band, which has been founded in 2012. It is a follow-up project of the band Superpunk, which had a similar style. Two Superpunk members are still at DLDGG, how the band is typically abbreviated: Carsten Friedrichs is the lead of the band, who is also the vocalist and guitarist, which Tim Jürgens is the bassist of the band. The other band members are Gunther Buskies (keyboard), Fabio Papais (guitar) and Heiko Franz (drums). They debuted in their founding year with the album Jeder auf Erden ist wunderschön ("Everybody on Earth is very beautiful). I initially ran into their music, when they backed Andreas Dorau in his 2014 album Aus der Bibliotheque. The last two studio album of the band made brief appearances in the German album charts. It's OK to Love DLDGG made it to the 60th spot in 2017, while Fuck Dance, Let's Art! was in the German Top 50 two years later.
Die Liga der gewöhnlichen Gentlemen – GschichterIn aus dem Park Cafe – Track by Track
The twelve track album lasts 34 minutes.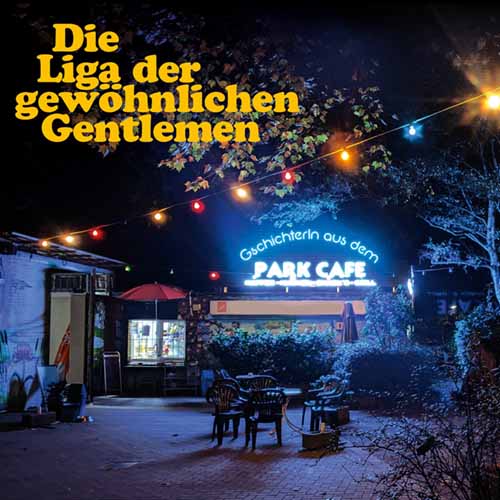 1. Yo Zwanie!
The first song of the album is a greeting to the former drummer of Die Liga der gewöhnlichen Gentlemen, Christoph Kähler, who is best known under his artist name Zwanie. The song reminds about band evenings in his cellars and all the common moments. A really promising opener.
2. Houston, wir haben kein Problem
This song simply translates to "Houston, we've got NO problem". The song comes with a nice drive and vibe. The sound of the song is hard to describe. The main topic feels so old-fashioned on the one hand – but on the other hand, the track is simply electrifying. Great listen.
3. Es ist nett, nett zu sein
The song is a typical DLDGG one. A bit of naive and simple, but so catching. The single feels like an Andreas Dorau one – just with more instruments. One of these "love it or hate it" tracks… I am smiling during the listen, indeed.
4. Männer mit schönen Haaren
Männer mit schönen Haaren
Sie sitzen am Pool und schreiben Memoiren
Männer mit schönen Frisuren
Sie haben Führerschein, sie tragen Armbanduhren.
("Men with beautiful hair
They sit at the pool and write their biography
Men with a nice haircut
They have a driving licence, they wear watches")
The simplicity of the lyrics, which still come with a message and the ease of the melody simply catch me. If you manage to follow the album to this track, you will quite likely enjoy the remaining songs as well. Die Liga der gewöhnlichen Gentlemen serve their fan's musical taste in perfection.
5. Gewöhnliche sur Mer (Album Mix)
The song comes without lyrics. It reminds me of the surfers music of earlier times and bad French movies. The Gentlemen just give it a pop-ish touch and add some synth to it.
6. Kilo Shop Mod Tip Top
Don't ask me to translate the lyrics exactly. The song, which has a nice groove, deals with a charity store, where the goods are majorly priced by their weight. The song feels like a re-interpretation of military marching songs. Quite weird, but a very unique style.
7. 2020 – Das erotische Jahr
I guess everyone has a quite strong opinion about the previous. DLDGG have their very own one – the title translates to "2020 – The erotic years". The song has a lot of power, but is a bit too weird and special for me.
8. Später kommen, früher gehen
"Come later – leave earlier" – always a good strategy for bad parties and unwanted meetings. And that's finally the advice the DLDGG have for the listener as well. The press kit calls the song the "old to the go-slow strike". Enjoy – and don't tell your boss it is due to a German artist song and Flyctory.com in case you follow their suggestion.
9. Ferien für immer
If you simply read the title of this song, Ferien für immer ("Holidays forever"), it is hard to assume that this song is demanding a stronger motivation at work. The song is a lovely soundtrack for your next trip for sure. Very nice work on the guitar.
10. Kleines Wochenende
The brass sounds introduce you to the tenth song about a Small Weekend. The second song, which with working without lyrics, but therefore shows the strength of the band to mix sounds and work with the synth. Nice interlude, which is in fact nothing but an instrumental song. To me even one of the highlights of the album.
11. Rebekka will ihr Rad zurück
Finally, DLDGG proof that you finally can write good songs about any topic. The title of this one is simply "Rebekka wants her bicycle back". A lot of reference to beach and surfers side as well as a very present rhythm dominate this song. Great listen in my point of view.
12. Cheer Up (You're On Holidays)
The vacation topic is the dominating one of the album – and it closes with this track, which is in fact a cover of the Munich sub pop band The Merricks. The song feels like a really nice fit to the other songs.
Die Liga der gewöhnlichen Gentlemen – GschichterIn aus dem Park Cafe – Spotify
Here is the album on Spotify:
Die Liga der gewöhnlichen Gentlemen – GschichterIn aus dem Park Cafe – My View
I wrote it above already – GschichterIn aus dem Park Cafe is a "love it or hate it"-album. Die Liga der gewöhnlichen Gentlemen deliver the kind of music the fans are expecting from them. A few songs do not work that well in my point of you – but overall, they did a really nice album. If you like their style or not – you just have to give them a try to find out!
Hamburg – Travel-related postings
Here are all my Travel-related postings about Hamburg:
Flyctory.com – List of all Media Reviews
Here is the list of all my Media Reviews (majorly music):