It was 1989 when Richard Marx was Right Here Waiting For You and gave a musical promise of love which touched a generation. Multiple albums later, he is releasing a new record 31 years later – Limitless will appeared in the record stores and download platforms on 7th Feburary 2020.
Richard Marx – About The Artist
Richard Marx was born on 16th September 1963 in Chicago. Both of his parents have musical company. His father drove a company which produced jingles, Richard Marx did first minor jobs at the age of five years already. When Marx was 17, Lionel Richie happened to receive a tape and recommended him to come to Los Angeles. His initial career there were majorly backing vocal jobs, but also minor acting roles. In one of these jobs, Marx ran into Kenny Rogers, who at a result had a number 1 song with the Marx track Crazy. Nevertheless, Marx' first solo album is dated as of 1987 and was already quite successful. Especially in North America, he hit the Top 10 several times, before he released Right Here Waiting in 1989. The song topped the charts in the USA, Canada, Germany and many other countries. The song also gained a Grammy nomination. Though Marx published regularly, he could not keep up with the success in the late 1980s and early 1990s any more.
Richard Marx – Limitless – Track By Track
Limitless has 12 songs and lasts 41 minutes.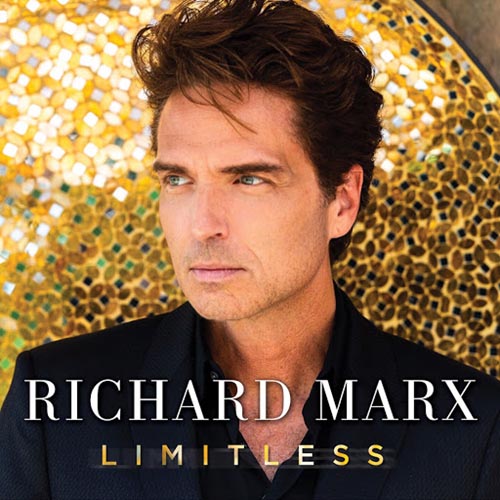 1. Another One Down
I have to admit that I haven't followed the career of Richard Marx too much. Thus this first song (which is also a single of the album) is like my new first touch with this artist. A bit of pop, a lot of rock… and am I dreaming or do you hear some portions of country music in here as well? Catching track!
2. Limitless
Though the song starts with some guitars and a bit of country rhythm, Limitless with its electric elements is definitely more on the pop/rock side… But I like it!
3. Love Affair That Lasts Forever
Love Affair That Lasts Forever is a slow, intense and also very atmospheric track. Three very interesting, but different track so far. The chorus reminds me most of his 1990s songs so far.
4. Let Go
I am at peace in darkness now
I've seen the light, it showed me how
All of my thoughts become my path
And I am limitless at last
Richard Marx released this song in October 2019 already. It's got a nice rhythm. Nice vocals, by the way.
5. All Along
1980s meet Modern Country? I grew up with Ultravox's Hymn, Europe's Final Countdown and still love all the Rock of Ages musical songs. If I imagine how Keith Urban or Luke Bryan might have sounded in the 1980s, when they woke up with Erasure, maybe All along could sound like this. Okay, I am dreaming, they would maybe just sound like classic country. But I like All Along 🙂
6. Up All Night
Call it paranoia or choose any other mental disease. Up All Night is a modern country music. Full stop. And I love it. Second full stop. Here you are, judge yourself:
7. Front Row Seat
Damn – this song reminds me so much of (maybe slightly thinner produced) Keith Urban songs – which means I just have to love this Front Row Seat. I just have to accept that.
8. Strong Enough feat. Jana Kramer
I need to read that title, that headline again and again. Richard Marx, who gave me that amazing song in my childhood on the one side – and on the other side Jana Kramer, this amazing country music lady. Meeting her at her fan meeting in Nashville in 2019 was one of the big highlights of my 2019 CMA Fest trip. I love these guys, I love duets… This song just makes me smile… and cry… both… Wow!
9. Not In Love
A slow ballad, piano music… Just what I need… After that Jana Kramer ballad some cooling down… Richard Marx does another great and intense song here, by the way.
10. Break My Heart Tonight
Break My Heart is very rhythmic, very accentuated, a good mood sound even though the title is not that positive. Like it!
11. Last Thing I Wanted
Cause it never works
Someone always gets hurt
Why would I ever do that again?
But now I can't even sleep
I'm seventeen in my head
I'm starting to think that I just might be obsessed
I am in two steps too deep
A hundred miles too far gone
How did I catch what I was running away from
It was the last thing I wanted, now it's all I want
This track confused me a bit, as it is in fact four years old already. Great song, definitely!
12. This One
Marx finishes his Limitless with a soft ballad. Great song again. Wow…
Richard Marx – Limitless – Spotify
Here is the full album's preview widget:
Richard Marx – Limitless – My View
I am just counting the negatives about Limitless – have I written anything critical about the album? It feels like an absolute masterpiece to me. Why have I missed this artist after he gave us all such an amazing hit with Right Here Waiting? The only bad luck is that the duration of the album is not that Limitless – but the 41 minutes are just superb music. Congrats, Mr Marx – this could be one of the albums of the year to me! (of course, this needs to be a Top Pick!)
Title / Album Cover: Artist Material
Chicago Postings
Here is all Flyctory.com contents about Greater Chicago:
Flyctory.com Media Reviews
Here are all CD, book and movie reviews: