The band which is featured in this review is called Löwen am Nordpol – "Lions at the North Pole". Apart from this strange imagination of lifestock in the the far North, the band felt to have made a quite straight career. They gained regular airplay and are now releasing their second album. The publication on 9th April 2021 is self-titled – so I don't need to give you the translation again.
Löwen am Nordpol – About The Artists
Löwen am Nordpol are an indie-rock band from Berlin, Germany. The band is a trio with vocalist and guitarist Andreas Kolczynski, bassist Daniel Voigt and Christoph Wegener on the drums. Their debut album was released in 2017 and called Vom Stochern in der Asche. There was a bit of a hiatus, before the band again started to release singles in 2020, leading to this album. Their most popular song so far was Glaub dir nicht ("Don't believe in you").
Löwen am Nordpol – Löwen am Nordpol – Track by Track
The ten track album lasts 31 minutes. All songs have been written by Voigt and Kolczynski.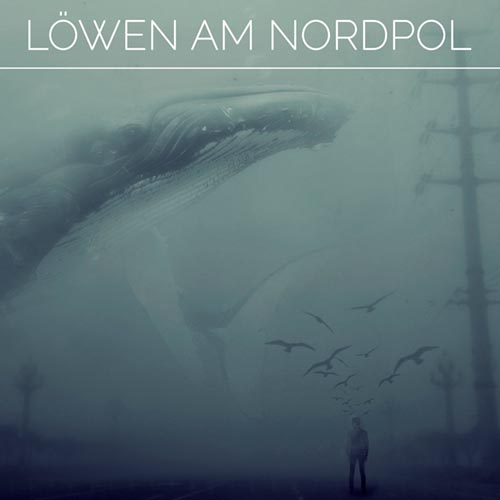 1. 95
The opener of the album is a nice indie-rock track with continuously hammering guitar riffs and the high voice of Andreas Kolczynski. The song comes with a wailing touch, it is not my favorite on the album, even though it quite nicely introduces the style of the band.
2. Es bringt mich um
The guitars are a bit harder, the song is a bit more melodic than in the opener – and we already got a first really catching song. Es bringt mich um ("It is killing me") is very powerul and also features a nice solo.
3. Gut zu wissen
Ich schaue zu Dir hoch
und ab und zu brennt Licht
Es tut gut zu wissen
dass es Dich noch gibt.
("I am looking up to you
and here there the light is on
It is good to know
That you are still there")
The third track is melancholic. But Löwen am Nordpol tell that story in a nice way.
4. Man muss das Leben nicht verstehen
Man muss das Leben nicht verstehen – "You don't need to understand the next one". Unfortunately, the more you listen to the album, the more the songs feel to be similar. The Berlin band is strong in the lyrics and they do a reasonable work at the instruments – but the melodies are very close to each other.
5. Aber sonst geht's mir gut
The translation of the fifth track is simply "Apart from that, I am fine". Again, the song is driven by powerful guitar plays, deep and thoughtful lyrics, which paint a precise picture of emotions. This song is about struggling with love and having multiple suicidal thoughts.
6. Mein letztes Kapitel
Mein letztes Kapitel, das trägt Deinen Namen – "My last chapter is named after you" – thoughts like that are a core topic of the album. A bit of too much, maybe, but the song is indeed a touching one.
7. Wenn man weint
Wenn man weint is a bit rougher and darker than the songs before. On the other hand, it suprises with a very melodic chorus. The voice of Kolyczynski in this track feels a bit too emotionalized in the high notes, though. Still, one of my favorites.
8. Ich werde Dir davon erzählen
I really like the main theme of this song. The guitar is doing a good job here. A song, which makes you listen to it.
9. Bevor Du sprichst
Bevor Du sprichst is my favorite song of the album. Bad luck that this powerhouse is a compact one – the song is over after 2:05 minutes.
10. Est
Est starts slow and feels to have a potential to add some new character. Finally, the band is going back into their comfort zone. Bad luck.
Löwen am Nordpol – Löwen am Nordpol – Spotify
Here is Löwen am Nordpol on Spotify:
Löwen am Nordpol – Löwen am Nordpol – My View
There is hardly a weak song on the album – so the Löwen am Nordpol do a good job in that way. Unfortunately, the songs are too close on the melodic side, too limited in the way instruments are played. On the lyrics side, the Berliners do a really nice job and tell good stories. I feel that is still not enough to really get to the top. Sorry.
Music in Berlin
Here are all my Music & Media postings related to Berlin:
Postings about Tennis
Here are all postings which are related to tennis on Flyctory.com