The studio album Perspektiven is actually my second album review of a Roland Kaiser release. After the Christmas album Weihnachtszeit, Kaiser is back in the record stores with a new set of originals. The album has been released on 2nd September 2022.
Roland Kaiser – About The Artist
Roland Kaiser is one of the most established artists in the German schlager music scene. Overall, he sold over 90 million records. His last studio album was the 2019 Alles oder Dich, which has been a platinum album in Germany and a golden one in Austria and made it to the second place of the charts in both countries. In Kaiser's home country Germany, the album stayed in the charts for 82 weeks. More bio info may be found in the Weihnachtszeit review. His duet Warum hast Du nicht nein gesagt with Maite Kelly is one of the most successful recent schlager tracks. On YouTube only, this 2014 release has been viewed some 145 million times.
Roland Kaiser – Perspektiven – Track by Track
The 15 track album lasts 57 minutes.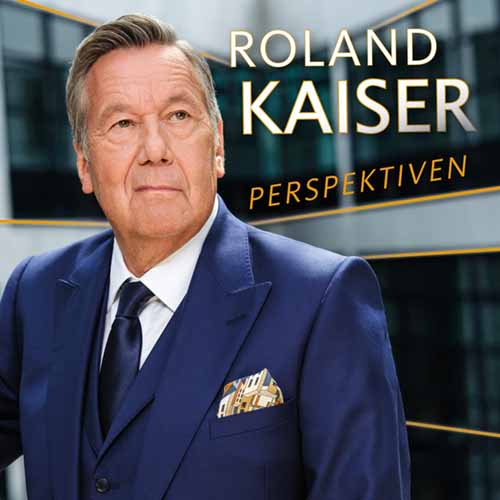 1. Liebe bleibt
Denn kein Mensch geht so ganz, LIebe bleibt is the key phrase of the opener. This roughly translates to "Because nobody is leaving completely. Love stays". The first song of this 2022 release is surprisingly lacking profile – something which I typically did not explore in Roland Kaiser's more recent publications.
2. Es ist alles ok
After rather mixed thoughts regarding the opener, I much more love this one. Roland Kaiser is looking back to his own life, the song includes a lot of quotes of former songs. On top of that, fans will love the ironic view on the way one of his biggest songs, Santa Maria has been written. 70 years of Roland Kaiser – and still the potential to write great songs like that.
3. Gegen die Liebe kommt man nicht an
The third song has been the most successful single before the album has been release. Two million streams on Spotify for this one. The 1980's style keyboard play distracts a bit from the beauty of the song – but people (still) feel to like it.
4. To all the girls I've loved before (feat. Giovanni Zarrella)
For the fourth song, Roland Kaiser is joined by German-Italian schlager singer Giovanni Zarrella (here is my review of his latest album Per Sempre). I was already amazed in some of the Roland Kaiser live shows how amazing the artist is in English language songs. Zarrella adds some Italian lyrics as well – but cannot fully keep up with the volume and quality of Roland Kaiser on the microphone.
5. Zuversicht
Schau mir bitte ins Gesicht
Ich will sehen, was dahinter ist
Hinter all dem Hass und den Parolen
Was hat Dir Dein Herz gestolen?
Komm zurück
Zu Dir
("Please look in my face
I want to see what is behind that
Behind all the hate and the slogans
Who has stolen your heart?
Come back
To yourself")
That's the kind of schlager song which I deeply miss nowadays. Roland Kaiser sents a great message against hate and for peace and tolerance. These 3:46 minute are a great moment of this album. I just don't understand why so many schlager acts just go for mainstream rhythmic schlager-pop songs.
6. Sag mir wann
This single release feels much more than typical schlager songs – but even with songs like Sag mir wann ("Tell me when"), the songs are deeper, more mature. Even though Roland Kaiser's Kaisermania concerts in Dresden are legendary – finally, this guy is simply underrated.
7. Du, deine Freundin und ich
Roland Kaiser always had songs which are coming with explicit lyrics. This track is just amazing and makes me smiling. An electro-pop track which makes a guy who is on German stages for some 50 years like a teenager. Great one – let the lyrics speak for themselves:
Du, Deine Freundin und ich
Machen was zusammen
Und alles steht in Flammen
Du, Deine Freundin und ich
Können uns doch mal küssen
Muss ja keiner wissen
("You, your (female) friend and I
Do something together
And everything is in flames
You, your (female) friend and I
Could do some kissing
Nobody needs to know it")
8. Eins musst du mir lassen
The contrast between the seventh track and Eins musst Du mir lassen could not be more significant: Roland Kaiser interprets this deep piano ballad. His vocal perfection is just a great match to the message of the song. Roland Kaiser (again) demonstrates that he is one of the best German pop voices out there.
9. Das erste Mal
In this song, Roland Kaiser is looking to his very first love. A rather slow track with a beautiful melody. Especially after the two songs before, this track is also a nice statement of Kaiser's amazing vocal versatility.
10. Wir spielten immer ohne Regeln
I had to smile already when I had to listen to the very first seconds of this song. Wir spielten immer ohne Regeln ("We always played without rules") could have easily been a leading song in one of his early 1980's works. Roland Kaiser gives a such a great range of song – some feel a bit like a nostalgic time travel. I love it!
11. Brich mir das Herz
I would name this song a "bombast ballad". On the one hand, it is definitely a ballad by its structure, but Roland Kaiser goes for the full volume of his voice here, similar to Eins musst du mir lassen. This combination leads to an amazing listening experience.
12. Freunde bleiben
Oh, we should talk about sexuality again, shouldn't we? Freunde bleiben translates to "Stay friends". The song is not about a fight between two souls trusting each other. It is about the night after a friendship turned into a friendship with benefits. The song is rather a traditional schlager style one.
Denn Freunde bleiben
Nicht über Nacht
Und Freunde liegen nicht so da
Am Morgen danach
Freunde bleiben
Das war ausgemacht
Aber so wie das jetzt läuft
War das eigentlich nicht so ganz gedacht
("Because friends stay
Not overnight
And friends don't lay like this
On the morning thereafter
Stay friends
That was agreed
But they it worked out now
Was not the way it was originally intended to be")
13. Weil du es kannst
The song feels a bit like a filler. It has a lot of these synth-keyboard sounds in the backgrounds. Somehow an non-replaceable element of this genre since the 1980's. Rather an easy song, which feels a bit thin in the context of this album.
14. Er, sie und er
This song translates to "He, she and him". The verses have a touch of Nancy Sinatra and Lee Hazlewood's classic Summer Wine. The chorus is not too bad, but overall the rich orchestra-style instrumentation cannot really change that this song is one of the weakest songs of Perspektiven.
15. Bis zum letzten Atemzug
Especially in the context of a Roland Kaiser album (the artist had a lung transplantation in 2010), a song translating to "Until the final breath" feels a bit of scary. A very thoughtful and personal track, which is an amazing finale of the album, even though the song has in fact not been written by Kaiser himself. Wow.
Roland Kaiser – Perspektiven – Spotify
Here is Perspektiven on Spotify:
Roland Kaiser – Perspektiven – My View
Yeah, there are a few weak spots. But overall, Roland Kaiser is just an amazing part of the German schlager scene. Perspektiven underlines this special position. So good to have an album of this genre with high quality productions and lyrics. Hope there will be many more Roland Kaiser albums to come. This one is – of course – a Top Pick!.
Reviews – German Schlager Top Pick!s
Here are all my Media Reviews related to German schlager, which lead to a Top Pick! rating:
Postings about Concerts
All postings about concerts I visited: