Music marketing made in the US: Courtney Cole had released three songs in the previous times already – at the day of the singles release of her Earthquake, she also bundled these four songs into an EP with the same name. Thus, you have a quite decent choice to purchase two options: if you like her, you paid her thrice already maybe and go for the single – or you opt for the set of four songs. As I did not know her music so far, I present you the EP, which has been released on 21st August 2020.
Courtney Cole – About The Artist
Courtney Cole grew up in Mandeville, Lousiana, in the outskirts of New Orleans. She was born there on 18th September 1987 and already had some stage appearances in very early years and studied music, dance and theater at the New Orleans Center for Creative Arts. She decided to move to Nashville and she stood six episodes of the CMT's Next Superstar TV show in 2011. Her bio states an EP in 2014, but I could not spot it online. There was definitely a 2015 three song self titled EP and another one in 2017, For The Love of Me. She is also releasing a podcast, The Love Freq.
Courtney Cole – Earthquake – Track by Track
The four track EP lasts 13 minutes.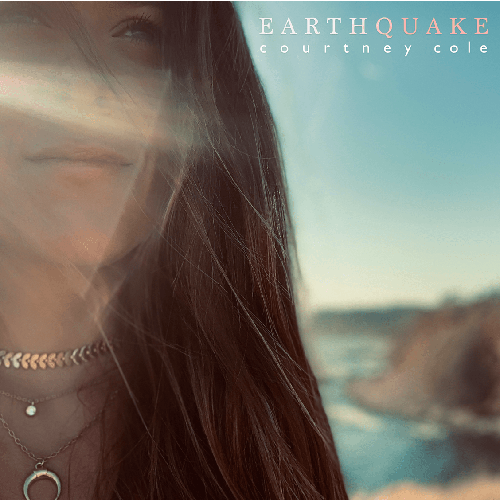 1. Spiritual
The last song I listened to to prepare for this EP was Free.99 (see above). Spiritual is quite a different sound. A piano dominated, slow track. The vocals here and there have that cheeky and fresh element, which you find in Free.99 permanently. Very concentrated on her vocals, a song to calm down, be quiet and listen.
2. Right Direction
Like at the first song, the key background instrument is the piano, the instruments are just there to create a gentle atmosphere for the dominating voice. Right Direction, however, is a bit wider and more powerful in the background compared to Spiritual.
3. New Eyes
It feels like the songs have more and more atmsophere and power on this EP: New Eyes is driven by the acoustic guitar, but there are also strings and other elements. I feel that New Eyes is a bit too thin, especially compared to Right Direction.
4. Earthquake
Earthquake was finally the song which convinced me to present this EP to me. I liked it very special atmosphere, the way Cole plays with so many sounds in the background to create a broad background sound. These 3:20 minutes are the best song of these four ones.
Courtney Cole – Earthquake – Spotify
Here is the Spotify widget to Earthquake:

Courtney Cole – Earthquake – My View
Courtney Cole creates a characteristic sound, a nice atmosphere, she makes you listen to your music. I definitely love that. On the other hand, it makes her music a bit too repetitive, I would also love to listen to other aspects and styles of her music.  Earthquake is not the EP showcase of a young artist who is presenting, but a musical statement of a mature singer-songwriter, though. You need to listen to more songs than these four ones to get a full picture of her music.
Media Reviews – Women Country
Here are all my music reviews of female country music artists:
All "classic" blog posts
No reviews – just debating and certain topics – these are my "traditional" blog posts in the categories Just blogging, Just blogging on music and Sports Blogging: